Alumni Matters - April 2015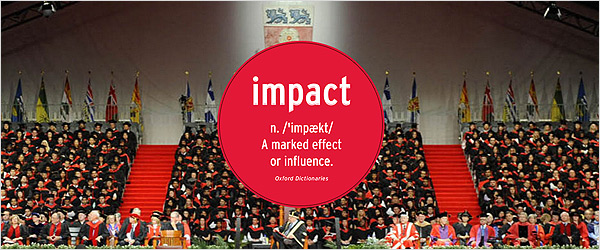 At York, our faculty, researchers, students and alumni are making a positive impact on the world in every field imaginable. Learn about the many shining examples of #YorkUImpact from last year — from discovering snow on Mars to translating leading-edge bullying prevention research into practice — in the 2014 President's Impact Report. More...








EVENTS

Faculty of Science 50th Anniversary Gala
May 1, Toronto, ON

Koerner Speaker Series
May 6, Toronto, ON

Dispatches from the Frontiers of Science
May 6, Toronto, ON

New York Alumni Reception
May 7, New York, NY

London Alumni Reception
June 4, London, UK

MYPAC Alumni Social
June 25, Toronto, ON

Keep up with upcoming York events by visiting the Alumni Events page and the main York Events page.

DID YOU KNOW?

Did You Know? York's Lassonde School of Engineering has invested
$1.5 million to become first Canadian engineering school with a 50:50 gender balance.

Click here to learn more
about the groundbreaking Lassonde 50:50 Challenge.