Alumni Matters - October 2014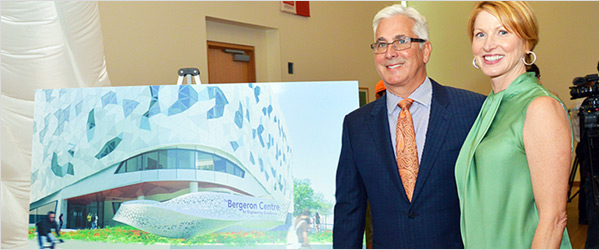 On Sept. 29, York University announced that Doug and Sandra Bergeron have increased
their support of the Lassonde School of Engineering to a record-breaking $10-million. In recognition of this exceptional and continued support from the Bergeron family, the school's new home will be named the Bergeron Centre for Engineering Excellence. More...
EVENTS

Chancellor's Book Launch
Reception and book signing (includes free signed copy)
Oct. 30, Toronto, ON

!Viva Creatividad!
FES alumni art expo, celebration and fundraiser
Nov. 2, Toronto, ON

Fall Campus Day 2014
Tours, talks and lectures for prospective York students
Nov. 8, Keele campus
Nov. 9, Glendon campus

Hamilton Alumni Reception
Nov. 25, Hamilton, ON

Lambert Lecture on Indigenous Peoples and Neotropical Conservation
Nov. 26, Toronto, ON

The York Circle
Lecture series feat. exciting topics and York's top profs
Nov. 29, Toronto, ON

*Keep up with upcoming York events by visiting the Alumni Events page and the main York Events page.

DID YOU KNOW?

One of this fall's honorary doctorate recipients was
none other than Rick Mercer, Canadian comedian and television personality.

Click here to hear what advice Mercer and our other four hon docs had to share with more than 2,000 graduating York students at Fall Convocation.


MORE NEWS FROM YORK
Almost one third of Torontonians think taxes should increase, according to York study

York researchers claim perfectionism is bigger suicide risk factor than previously thought

More than meets the eye — York research tracks eye movements in those with chronic pain

York brings two top-tier researchers on board through Canada Research Chair Program

Those who believe in guardian angels more risk averse, according to York study