Alumni Matters - November 2014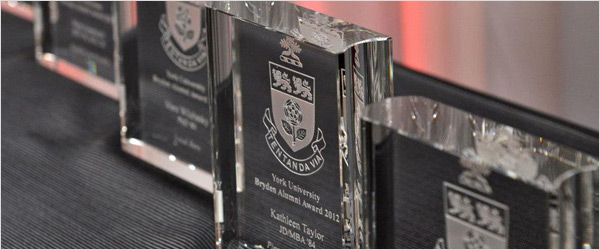 The 2014 Bryden recipients are: particle physicist Nigel Lockyer; lawyer Samuel Schwartz; York recruitment officer Sonia Cianfarani; Ontario Superior Court of Justice Judge Kofi N. Barnes; and Irvin Studin, editor-in-chief and publisher, Global Brief, and president, Institute for 21st Century Questions. More...
Grads deliver valuable career advice to current students at FES mentoring event

EVENTS

Hamilton Alumni Reception
Connect with fellow York grads while reconnecting
with your alma mater
Nov. 25, Hamilton, ON

Lambert Lecture on Indigenous Peoples and Neotropical Conservation
Nov. 26, Toronto, ON

Frost Library Ribbon Cutting @ Glendon Campus
Nov. 27, Toronto, ON

The York Circle
Lecture series feat. exciting topics and York's top profs
Nov. 29, Toronto, ON

The Economist's 2014 Canada Summit
Dec. 3, Toronto, ON

Keep up with upcoming York events by visiting the Alumni Events page and the main York Events page.

DID YOU KNOW?

Did You Know? York Region is the only region of its size in North America without a university campus?

York University and its partners want to change that by building a new campus in York Region, which will be home to 5,000 students in five years and 10,000 to 20,000 students in 20 years. 

Find out more and show your support at yestoyork.ca.

MORE NEWS FROM YORK
Inspiring future vision lands York student Lidia Kazakova free tuition in "my time" contest

Annual Red-and-White Day celebration proves that the YorkU spirit is alive and well

John Tory and Bonnie Crombie lead pack of victorious grads in Ont. municipal elections
YorkU men's soccer team take home second OUA title and named CIS national champs

Pausing to remember Canada's fallen soldiers: York hosts moving Remembrance Day ceremony

Can Toronto be a sustainable city? Chief Toronto planner Jennifer Keesmaat tells us how
Think we'd survive a zombie apocalypse? Two YorkU professors use math to find out!

Study: how reminding people of their religious beliefs can help subdue hostility

Why every home should have an emergency preparedness kit, with or without zombies