pour toucher la vie.

---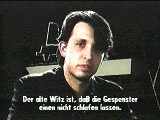 I couldn't go backnow. There'd be no point. The old joke is that the ghosts won't let you sleep ...
---
Wir haben das Rohr durch das Autofenster
von diesem Typ gesteckt, ich glaube, es war
ein Rolls Royce, und wir habendas Auto mit
nassem Zement gefüllt.


---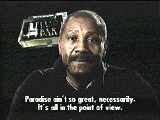 Le paradis, ce n'est
pas toujours fameux, faut croire.