Posted on | February 27, 2007 | No Comments
The Public Access Collective invites you
to celebrate the launch of PUBLIC 34
d:\personal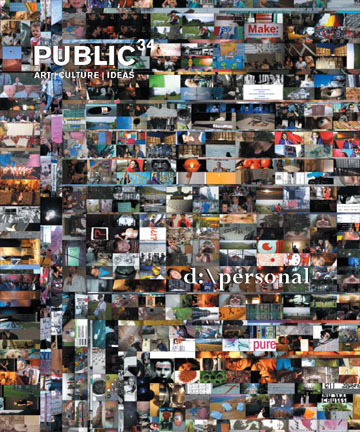 Thursday March 1st
7pm-11pm
Camera Bar
1028 Queen St. West
(Queen & Ossington)
Toronto
This extraordinary multimedia issue of the acclaimed interdisciplinary journal PUBLIC features critical writings and artists' projects focused on practices of the personal and confessional in relation to new media.
Come experience a stellar collection of digital art and narrative and be part of the first community to screen the DVD! Special price on issues and subscriptions available only at the launch!
Issue 34 Contributors include:
Chloë Brushwood-Rose, Lynn Cazabon, Michael Current, Hasan Elahi, Caitlin Fisher, Joyce Goggin, Nancy Han, Ben Hoh, Jennifer Lafontaine, Joe Lambert, Takahiro Ogasawara, Helen Papagiannis, Sascha Pohflepp, Leticia Ramirez-Arana, Rebecca Rouse, Jason Salavon, Edward Shen, Naohito Shimizu, Xiao Li Tan, Chao-Ming James Teng, Camille Turner, and Daisuke Uriu.
Comments