York Community
Career support for your faculty, department, unit or student organization
The Career Centre is committed to working with members of the York community to provide targeted career support to students across the York campus.
While we offer workshops, special events and one-on-one career support to all students and new graduates across Faculties and from all levels of study, we are frequently asked to provide career support to targeted groups of students throughout the campus. Here are some of the activities we provide:
Career support available:
Sample activities:
Orientation presentation or mini workshop for new students and/or parents
During College orientations the Career Centre has a skit on professional etiquette handshaking techniques, which is brief, interactive and lets new students know that professional etiquette is just one of the many services offered by the Career Centre.
On-site advising at career events
The Career Centre team has provided on-the-spot career advising, information and resources to students attending Faculty-specific career fairs.
On-site advising at recruitment events
The Career Centre team has provided on-the-spot career advising, information and resources to students and parents attending recruitment activities such as the Ontario Universities Fair (OUF) and Spring Gala.
While we would ask that you refer students to workshops that are offered daily at the Career Centre, we sometimes offer these workshops to specific student cohorts such as:
Job Search Strategies for International Students
Professional Etiquette for Student Leaders
Who Am I? for New Grads
Career panel participation and/or moderation
Members of the Career Centre team have participated as panelists to provide subject matter expertise in the areas of job search and career development such as the "Academic Job Search Panel" for PhD students.
Please note: The Career Centre offers two types of panel discussion as part of it's regular repertoire of activities:
Descriptions and messaging about Career Centre events and activities for use in promotion and marketing to students
The Career Centre is happy to provide you with a description of our services for publications such as:
College Handbooks
Undergraduate Calendars
Faculty newsletters
Faculty web pages with career content
If you need messaging for a publication or your website, please contact Julie Rahmer at jrahmer@yorku.ca
Deadlines for Booking
To ensure our availability, we ask that requests for career support be submitted by the following deadlines:
Fall term: Please submit your request by August 1st for events taking place September through December
Winter term: Please submit your request by December 1st for events taking place January through April.
Summer term: Please submit your request by April 1st for events taking place May through August.
If you would like to arrange any of the above or explore other options for career support for students in your Faculty, department, unit, or student organization/club please contact:
Dianne Twombly
Manager, Career Development
dtwombly@yorku.ca
---
Hire a York student or new graduate
You know first-hand the talent here at York. If you're hiring be sure to post a job on the
Career Centre's online job posting system
. It's free and easy to use with over 40,000 students and new graduates registered in our system. If you have full-time,
on-campus or part-time
, summer or volunteer positions available, why not give a York student or new graduate the opportunity to apply?
Recruitment Policies and Disclaimer
On this Page: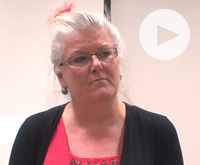 VIDEO: Classrooms to Careers: Where Do you Fit In? by Ruth Lawton, University Learning and Teaching Fellow for Employability, Birmingham City University [mp4]
IBM Canada Ltd.

Bell Canada

Research in Motion

Primerica Financial Services

Microsoft

Shepell.fgi

Waterfront Toronto

Adecco

Canadian Red Cross

City of Mississauga

Canadian Cancer Society

Avison Young

RBC Financial Group

Investors Group

Celestica

Stratford Shakespeare Festival

BMO Financial Group

Toronto Police Service

Canada Border Services Agency

York Region District School Board

TD Canada Trust

Hallmark Canada

Heart and Stroke Foundation

City of Toronto

Scotiabank

CIBC

Danone

Council of Ontario Universities

Department of Finance

City of Brampton

Canadian Food Inspection Agency

Ernst & Young LLP

St. Joseph Media

Canon Canada Inc.

CMA Ontario

Canadian Institute for Health Information

Canada's Wonderland

Club Monaco

Aramark Canada Ltd.

UNICEF Canada

Canadian Blood Services

Hydro One Inc.

AlliedTek Displays

State Farm

Cadillac Fairview Corporation

AMD

Black & Decker Canada Inc.

Royal Ontario Museum

Canadian Tire Corporation

Cisco Systems

Chubb Insurance Company of Canada

Grant Thornton LLP

Bayer Inc.

PricewaterhouseCoopers

Bruce-Grey Catholic District School Board

Royal Canadian Golf Association

ING Insurance

Kraft Canada Inc

City of Barrie

Loblaw Companies Ltd.

Ontario Public Service

York University

Oakville Galleries

Abercrombie & Fitch

Canada Revenue Agency

Action emploi SK

ideaCity

Canadian Olympic Committee

Zurich Financial Services Group

Bloorview Kids Rehab

York Weston Community Services Centre

ACCO Brands Canada Inc.

West Hill Community Services

Blinds To Go

National Ballet School

YMCA of Greater Toronto

Bank of Canada

Varley Art Gallery of Markham

Art Gallery of Ontario

Arrow Professional Services

University Settlement Recreation Centre

CBC Radio-Canada

Ministry of Government Services

Ontario Place Corporation

Toronto Hydro

Centennial College

Royal Canadian Mounted Police

Toronto and Region Conservation Authority

Ontario Power Generation

Ceridian Canada

Toronto International Film Festival Group

Chinese Canadian National Council Toronto Chapter

Toronto District School Board

Freedom 55 Financial

Spence Diamonds

Region of Peel

Oxford Learning Centre

Deloitte & Touche LLP

Ontario Teacher's Pension Plan

Sun Life Financial

Harbourfront Centre

Ministry of the Environment

Discount Car & Truck Rental

Halton Children's Aid Society

Century 21 Atria Reality Inc.

Ontario Science Centre

Heritage Skills Development Centre

Canadian Recording Industry Association (CRIA)

Ticketmaster Canada

Regional Municipality of York

Sunnybrook Health Sciences Centre

Ministry of Education and Training

Mercer Canada Limited

Canadian Scholars' Press

Manulife Financial

Lululemon Athletica Inc.

BMW Group Canada

Free The Children

March of Dimes

Canadian Television Fund

Maple Leaf Sports and Entertainment

Library of Parliament

Edward Jones

Kaplan Test Prep and Admissions

I Love Rewards

Heinz Canada

GoodLife Fitness Clubs

Frontier College

Elections Ontario

Easter Seals Ontario

Danier Leather Inc.

Crestwood Valley Day Camp

CHIN Radio/TV International