Career Conversation Webinar: Natalie Angell-Besseling, Cofounder & Executive Director, The Shanti Uganda Society
During this online interview, recorded on June 26, 2012, Natalie Angell-Besseling shared her personal story of how her career path took her from graduation to starting up a non-profit organization that seeks to improve infant and maternal health and support the well-being of birthing mothers and women living with HIV/AIDS in Uganda. She answered questions about her job, shared tips for living and working internationally and provided insight into the types of opportunities available within her field.
About Natalie Angell-Besseling
Founder & Executive Director, The Shanti Uganda Society, Vancouver


Alumna: BA International Development Studies, York University, 2006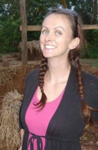 As the Executive Director of Shanti Uganda, I have been sharing my time between Uganda and Vancouver since 2007. I believe so strongly in the power of grassroots women's initiatives. In addition to sitting on the advisory board for the Women Like Us Foundation, I enjoy speaking around North America on issues surrounding Infant & Maternal Health and HIV/AIDS. After years of supporting birthing women in Uganda, in 2010 I returned to Vancouver to give birth to my own daughter at home in water. I now live in Vancouver with my husband and daughter and we lead retreats to the Shanti Uganda Birth House.
Webinar Recording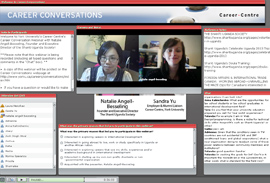 View webinar recording
(flash player is required)
Times below indicate the point at which questions were asked. Skip through the recording using the player controls at the bottom of the screen if you would like to jump to a particular question.
1:38: Can you briefly tell us your career story of how you went from studying International Development Studies at York to starting up the Shanti Uganda Society?
3:40: Can you tell us more about your role, your key responsibilities, and what the primary mandate/vision of the Shanti Uganda Society is?
5:18: Can you tell us about what you find most challenging about your work?
6:22: What do you find most rewarding?
7:34: Can you walk us through the sequence of events that took place in getting the Shanti Uganda Society off the ground and started as a registered charity?
9:19: You mentioned that a lot of the work you do is "quite alternative". Can you elaborate on that?
10:47: Are there opportunities for students or recent graduates to either work with your organization in Canada or abroad?
12:35: What are the skill sets that you look for when filling these opportunities?
13:22: What specific advice would you give to students and recent graduates about what they can do today to prepare for a career in International Development with your organization or another, in Canada or abroad?
14:54: Can you describe a typical day on the job for you?
16:20: How safe do you feel working abroad? And are family and friends close to you concerned about your safety when you go abroad?
17:42: For individuals who are interested in doing International Development work abroad but who are concerned about safety and related issues, what recommendations or resources would you suggest that they look into to allay some of the fears they may have about a particular country?
19:02: How important is it to have a 2nd or 3rd language if an individual wants to work in International Development?
20:05: Can you tell us more about the opportunities--paid or volunteer--that exist for individuals to get involved with the work that Shanti Uganda does?
21:39: While you were studying International Development Studies at York, did you take part in any exchanges or internships?
22:18: How was your first experience going abroad? And what would you say you did to help make the adjustment from being at home in Canada to being abroad in Uganda?
23:43: What supports does Shanti Uganda or any other International Development organization provide to individuals who may be struggling with adjusting to being in a new country?
24:38: One of our webinar participants is interested in doing an internship for one or two weeks at the end of this summer. Do you have any suggestions for International Development organizations that this individual could connect with?
27:10: Do you know of any opportunities for law school students/graduates in International Development?
28:18: Do you feel your York University education in International Development Studies prepared you well for your real world, on-the-field experience?
30:09: Are there any opportunities for individuals with technical skills such as web design to get involved with International Development organizations such as Shanti Uganda?
31:23: For individuals who can't be in Vancouver or in Uganda, are there "virtual" or "non-local" ways for individuals to get involved with Shanti Uganda?
32:58: Given that the conditions seen in TW countries are not accidental (WB & IMF conditioned loans and global corporations), what is your organization doing to readjust some of those power relations between community members and institutions?
34:25: When you or other International Development organizations are looking for candidates to fill volunteer or internship positions, is there a preference for either the 90-credit BA or the 120-credit BA?
35:22: Looking back on your experience, is there anything you wished you had known that might have helped you in getting to where you are more quickly or easily?
37:01: What would you say is the best way of learning the logistics of actually starting a charity?
38:05: Earlier, you talked about networking and how it was pivotal in helping you to get started. Can you suggest ways that individuals can build their network and start connecting with others in the field of International Development?
39:36: How has social media changed the way that people in International Development connect?
40:34: What do you consider to be the most important skill set for individuals who want to go abroad and work in International Development?
41:53: Was there anything in particular in your studies at York University that you found particularly useful in informing or influencing the work you do now?
43:32: If you could provide students with one nugget of advice about a career in the field or about living abroad, what would it be?
44:51: What advice do you have for individuals who have to balance the passion they may have for a particular country or issue with day-to-day obligations such as paying off student loans?
46:35: Is further education (either a Master's degree or specialized training) important for working in the International Development field?
48:41: What are some of the common attributes that you would say help individuals in this field to stay motivated, interested and inspired to keep doing the work that they are doing?
50:35: Natalie, do you have any final comments you would like to share with our webinar participants?
52:11: Natalie, how did you make the necessary connections with Uganda when you were first starting the Shanti Uganda Society?
53:05: You mentioned that your academic focus at York University was on Africa, but why did you choose to focus on Uganda as opposed to any other African nation?
54:55: How do you as the Founder of a Canadian charity make money?