Aboriginal Students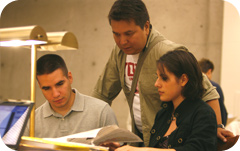 York's Career Centre offers a range of services and events which are open to all York students and new graduates as well as online resources to assist you with job searching, career exploration and finding volunteer opportunities.
The Career Centre strives to provide inclusive career exploration and job search supports to York's diverse student population. In an effort to continue to make our services culturally sensitive, the Career Centre's Resource Library contains books and resources for Aboriginal students. Students who are interested in acquiring additional information regarding aboriginal services and supports are encouraged to visit York's Centre for Aboriginal Student Services.
Career Resources for Aboriginal Students
Career & Job Search Support
Job Posting Sites
Funding Opportunities for Aboriginal Entrepreneurs
Training & Mentorship Programs
General Resources for Aboriginal Students
Awards & Bursaries for Aboriginal Students
Government Resources
Community Services in the Greater Toronto Area
News & Media
Additional Resources
Please Note: Descriptions of many of these resources are taken from language used on external websites. Claims and opinions expressed are not necessarily those of the Career Centre or York University.

Recruitment Policies and Disclaimer
Books in the Career Centre Resource Library

Aboriginal Small Business and Entrepreneurship in Canada by Katherine Beaty Chiste
Economic Development Among the Aboriginal Peoples in Canada: The Hope for the Future by Robert Brent Anderson

First Nations, Race, Class, and Gender Relations by Terry Wotherspoon, Vic Satzewich

The Duty to Consult: New Relationships with Aboriginal Peoples by Dwight G. Newman
Aboriginal Policy Research: Moving Forward, Making a Difference Volume IV by Jerry P. White, Susan Wingert, Dan Beavon, and Paul Maxim

Dances with Dependency: Out of Poverty Through Self-Reliance by Calvin Helin
Indigenous Peoples and the Modern State by Duane Champagne, Karen Jo Torjesen, Susan Steiner
You are welcome to drop by the Career Centre's Resource Library to view our range of non-circulating materials including the books mentioned above.