Exploring My Options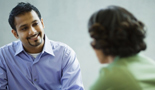 Connect with people in the field
While online and print research can be invaluable, there's no substitute for getting information straight from the source! If there's a particular occupation, field or company you're interested in, find someone who is working in that area and ask if you can speak with them honestly about the job, company, or field they're involved in.
---
Resources to help you connect with people in your field of interest
Job Search Strategies that Work workshop: If you aren't sure of the appropriate way to schedule or conduct an information interview, attend this Career Centre workshop where you'll find out how to build relationships that support you in uncovering "hidden" opportunities.
Information Meetings: This excellent instruction sheet from the University of Saskatchewan explains the information interview process and provides tips for setting up and conducting an information interview, complete with sample phone scripts.
Informational Interview: a list of sample questions you could ask in an information interview from the North Island Employment Foundations Society.
TASTE (Take a Student to Eat): This bite-sized mentoring program is designed to give York students and alumni the opportunity to make meaningful connections in an informal setting — over lunch!
Career Conversations Panel Series: Listen to inspiring career stories and learn about career options from professionals working in a variety of fields.
Industry Insights Panel Series: Get inside information and tips on securing a job within specific industries.