External Events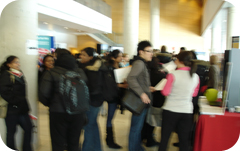 Every year employers and other professionals, including York alumni, come to campus to promote their opportunities to York students by taking part in the Career Centre's recruitment sessions, career fairs, Industry Insights panels and Career Conversations panels as well as other recruitment and career information activities.
Occasionally career-related events are organized through other York University departments or units. Sometimes, external organizations host larger-scale career events to which they invite a broad student audience.
If you're interested in connecting with employers and other professionals, check out the activities below:
2014 Law Enforcement, Security and Intelligence Diversity Symposium
Saturday, June 7, 2014
9:00 – 4:00pm
Scarborough Civic Centre
150 Borough Drive
Scarborough, ON M1P 4N7
OPP, CSIS, Corrections and Canadian Forces will be offering information about their recruitment process to participants interested in exploring a career with either service. Apply in advance by emailing shernett.williams@ontario.ca.
---
Please Note: Above are profiles submitted by organizations qualifying their own activities in their own words. Claims and opinions expressed are not necessarily those of the Career Centre or York University.