Looking for a Job
Before you embark on your job search you should know some key pieces of information:
What type of work are you looking for?
What makes you a good fit for the position in question?
You should already know the answers to these questions from working through the other sections of the My Career Plan Checklist. This is particularly important if you're looking for a "career job" but it's also important when looking for a "just for now" job.
Job Searching Steps
---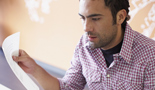 4

Write a resumé that highlights your accomplishments

In order to stand out as a strong candidate, it's your responsibility to ensure the employer understands how and why you would be a great fit for the position. more...
5

Write an engaging cover letter

Your cover letter should never read like a form letter! It's your first introduction to an employer so make sure it's targeted. more...
---
---
10

Consider a job on campus

An on-campus job can be a convenient way to gain valuable work experience and make some money here at York while completing your degree. more...
11

Use an online job posting site

Responding to online postings shouldn't be your only job search strategy but it should definitely be a part of your strategy. more...