Looking for a Job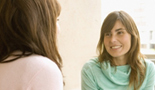 Develop and practice your interview skills
It's natural to feel nervous at an interview. The best way to alleviate your anxiety and come across as confident and knowledgeable is to prepare ahead of time and practice, practice, practice!
---
Some basic questions to ask yourself before preparing for an interview
What are the most commonly asked interview questions?
Do I know the difference between behavioural interview questions and situational interview questions and can I effectively answer either type of question?
How much information is too much and how much is too little?
Is it okay to use examples from unpaid experiences if I've never had a paid job before?
What should I wear?
---
What kind of impression do you give in an interview?
If you want to see what you look like while you're answering interview questions (you'd be surprised at how often you say "um" or fidget with your hair or hands!) practice in front of the mirror or with somebody who will give you honest and constructive feedback: a friend, roommate, family member, or a Job Search Advisor at the Career Centre who can conduct a videotaped Interview Practice Session with you and provide feedback to strengthen your interview skills.
---
Resources to help you strengthen your interview skills
Polishing Your Interview Skills workshop: This Career Centre workshop will help you approach your next interview with increased confidence by putting your interview skills to the test in a fun, fact-paced environment alongside your peers.
Making a Great First Impression in Your Interview and Beyond workshop: This Career Centre workshop will help you make a positive impression and increase your confidence when interacting with others to get the job you want.
Basic Interview Skills: This great video by The Suny Rockland Community College gives an overview of the interview process, including tips on what you should do…and not do!
Sample Interview Questions: Northeastern British Columbia's Jobsonline provides over 100 sample interview questions in behavioural, traditional and case formats. There's also a section with sample questions to ask an interviewer…and a list of questions not to ask!
Interview Do's and Don'ts: a brief video from Vault addressing such issues as what to wear to an interview, how to shake hands, and how to handle key questions such as "Tell me about yourself".
Getting Feedback When You Didn't Get the Job: the Monster Career Coach explains how to find out what the employer thought of you so you can use that feedback to improve your next interview.