MAKING CONNECTIONS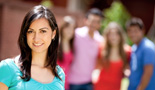 Become a Leader
Leadership skills are highly valued by employers—and they're fun to develop!
---
Resources to help you hone your leadership skills
Why Study Leadership?: This article explains why every position one holds during their lives, at one time or another, will require that person to be able to exhibit good leadership skills.
Skills Employers Look for in Employees: In this single-page article, Glen Magas explains why leadership skills are among the top three skills employers look for when hiring.