"Augmenting Borders, Bridging the Tactile and the Virtual in Augmented Reality"
A Peer Address by Helen Papagiannis

Saturday, March 15, 2008 at 1:40, RCC 204

Atop a handmade paper object, miniature virtual images are conjured via a set of curious square bordered patterns. These patterns, called feducials, trigger an augmented image in the form of a short video clip to appear layered atop a physical reality. To the naked eye, a motionless black and white pattern appears; to the augmented eye, animate virtualities are revealed.

In this artist talk, Helen Papagiannis will present and discuss her work developed with the emerging technology of Augmented Reality (AR). Helen's work in AR seeks to unite the tactile and virtual, producing projects where the analog and digital coalesce. Her works include a series of miniature memory objects where AR is used to recollect places from travels past, a lenticular AR instrument to move forward and backward in time, a hand-crafted pop-up paper dollhouse with AR feducials for the viewer to uncover, and a series of experiments in which virtual imagery materializes in ordinary, non-feducial objects. Helen will speak to her creative and technical processes in generating the work, including the role of constraint, embracing technological accidents, and attempts to push the borders of the medium in experimenting with alternative image generating methods and materials.


Biography:
Helen Papagiannis is a new media artist and researcher (www.aliceglass.com). She is presently working on her PhD in Communication and Culture at York University, researching creative and artistic applications of Augmented Reality. Helen's previous projects include 'Massive Change: The Future of Global Design' while working at Bruce Mau Design.
---
May 68: A Retrospective Engagement
Sunday, March 16, 2008 at 2:30, RCC 204

2008 marks the 40th anniversary of the social, political and cultural protests and strikes which took place in Paris, France, in 1968. May '68 has since occupied a central point of reference in social, political and cultural theory. The students, artists and political movements that formed the core of the 1968 protests have influenced the scope, sphere and trajectory of academic discourses, particularly those which centre on issues of resistance, revolution and struggle. If "May of 68" became a symbol of the resistance in that generation, what are the resonances of that moment in time today? Given our conference theme, liminality, questions of resistance and control, transgression and hegemony, and theory and praxis are central. Panelists will explore ways in which the events of May '68 resonate today.



Panel Chair: Dr. Scott Forsyth

Presentations:

May '68: Memory and Amnesia
Dr. Colin Mooers

Colin Mooers teaches in the Department of Politics and Public Administration at Ryerson and the York-Ryerson Graduate Program in Communication and Culture. His publications include, The Making of Bourgeois Europe: Absolutism, Revolution and the Rise of Capitalism in England, France and Germany, (ed.) Restructuring and Resistance: Canadian Public Policy in an Age of Global Capitalism, and (ed.) The New Imperialists: Ideologies of Empire. He is currently working on a book on citizenship, capitalism and empire.

1968 and the Creation of Contemporary Social Movement Theory
Dr. Lesley Wood

This paper argues that the cycle of protest that is represented by 1968 transformed the ways that analysts understand social movements. Instead of seeing protest activity as either tied to suffering, or psychosis, activist scholars of the period were able to emphasize the importance of cycles of protest, informal networks that linked protesters and the importance of symbolic challenges, amongst other things. All three mechanisms are useful in understanding the current moment. This paper will use these concepts to discuss the current moment in global politics, and reflect on how the paradigm developed out of 1968 has both strengthened and limited our analysis.

Lesley Wood is Assistant Professor of Sociology at York University. She's currently researching the diffusion of militarized protest policing, and internationalist networks. She has been active in movements around poverty, immigration, native sovereignty, the environment and neoliberalism.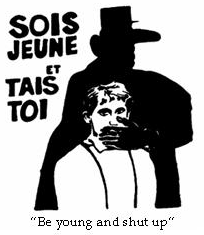 The Decisive Moment: 1968 and the Indexicality of Slogans
AK Thompson

In his 1929 essay on surrealism, Walter Benjamin asked: "What form do you suppose a life would take that was determined at a decisive moment precisely by the street song last on everyone's lips?" By suggesting that expressive activity could be read as a metonymic index of historical-political processes, Benjamin proposed more than a novel mode of social analysis; he highlighted the political importance of those moments when the energy congealed in archaic forms is explosively released.

Following this insight, I will investigate the events of May '68 by considering "the street song last on everyone's lips." Specifically, I will recount how a recursive history of the political slogan allows us to situate the Parisian uprising within the constellation of a broader social process that has not yet ceased to delimit the scope of radical political possibilities.

AK Thompson's political career began in 1992 when he was expelled for "conduct injurious to the moral tone of the school" after circulating an edition of the radical high school newspaper on which he worked. Since then, he has continued making friends and enemies as an organizer and writer. He currently serves on the editorial board of Upping the Anti: A Journal of Theory and Action.

In addition to his forthcoming monograph Black Bloc, White Riot, Thompson's publications include "Bringing the War Home: Globalization and the Search for "ėThe Local'" (Berkeley Journal of Sociology No. 51, 2007), "You Can't Do Gender in a Riot: Violence and Post-Representational Politics" (Berkeley Journal of Sociology No. 52, 2008), and "The Resonance of Romanticism: Activist Art and the Bourgeois Horizon" (Theorizing Cultural Activism: Practices, Dilemmas, and Potentialities. New York: Thamyris, 2008). Along with Gary Kinsman, Caelie Frampton, and Kate Tilleczek, he is contributing editor to Sociology for Changing the World: Social Movements/Social Research (Fernwood, 2006).


---

All accepted presenter abstracts can be downloaded here: Accepted Abstracts

Check back periodically for updates.