If you have a campus sustainability event or news that you would like posted on our site, tell us about it. Email Kimberley Glaze at glazek@yorku.ca. You can also post your sustainability event to the York University Events page and to the Faculty of Environmental Studies (FES) listserv.

News
The United Way in action: fall community garden cleanup
York University staff and students recently had an opportunity to see the United Way in action. They were participants in the United Way's annual Day of Caring event which took place on Tuesday, Nov. 21, at the community gardens at Chalkfarm near Jane and Wilson.
The event brought together a team of motivated people from York Facilities Services, Security Services, the University's Community Relations Office and students from the Atkinson's Student & Alumni Relations Unit TEAM program as well as student volunteers from York's Faculty of Environmental Studies. They worked in partnership with the Doorsteps Neighbourhood Service, a United Way agency, to revitalize the gardens.
"To see the York community working alongside a community agency and local residents was exciting and moving. We had a great day and got a lot accomplished," said Sue Levesque, community relations officer and organizer of the Day of Caring Event. "I know the staff at Doorsteps were very excited by the work we managed to get done and the staff and students from York enjoyed the day outside and the opportunity to support the community. Full Story
Making the green grade
NOW Magazine "We've pulled out our red pen to score the eco records of T.O.'s institutions of higher learning. Do they actually practise what their environmental programs preach?" York Rates a B Read full article
York's green roof beats urban heat
The "urban heat island effect" is the name for the phenomenon of densely populated urban areas having significantly higher temperatures than surrounding areas, reported DiscoveryChannel.ca Aug. 28. Concrete, which holds heat, is seen as a large contributor. Cities can combat the problem with green spaces – and increasingly green roofs. In Canada's biggest city, officials have proposed the Green Roof Pilot Program, which will showcase a variety of green roof types to encourage this type of construction in Toronto. York University, one of the largest institutions in Toronto, added a green roof to its computer science building in 2003.
Computer Science roof noticed in Sun's food section
This year, Toronto rooftop gardens are more popular than ever, wrote the food columnist for The Toronto Sun July 5. As noted recently by VanityFair.com (May 2006), green roofs are listed as one of the safeguards for a sustainable environment. Among other projects in the city:York University. In 2001, the University installed a 1,875 sq.-metre green roof during the construction of its Computer Science & EngineeringBuilding.
Proposal to house Ontario archives at York gets boost from subway talk
A proposal to house the province's $400-million archives collection at York University is being given a boost by planned subway development, reported the Toronto Star March 14. According to the paper, sources say one of the selling points for the York University site is that it would increase the ridership on the planned $1.5-billion extension of the Spadina subway line. Thousands of people visit the archives every year and officials hope the new building will become a destination of choice for researchers and others interested in Ontario's heritage. The 90,000-square-foot facility, expected to be completed early in 2009, will boast public reading rooms, conservation labs, archival processing areas and administrative offices. Full Story
Toronto company creates furniture from York's waste trees
A Toronto-based company has found a way to take wood waste and transform it into contemporary furniture, reported the National Post June 1. Urban Tree Salvage, founded by woodworker and environmentalist Sean Gorham, takes wood waste from municipal waste sites and cleans it up for use in simple wood furniture and for lumber used by woodworkers. Sources of the wood include York University, Upper Canada College, Sunnybrook Hospital and the Queen Street Mental Health Centre.
Prof part of winning design team in sustainable-house competition
James McKellar, a real property professor at York's Schulich School of Business, and his architect wife Clelia Iori were on the winning design team that captured top prize in the Archetype Sustainable House Competition June 21. Full Story
How York plans to reduce Congress' ecological footprint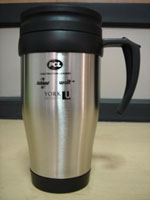 For York's Facilities Services, the prospect of 8,000 delegates descending upon York for the eight-day 2006 Congress of the Humanities and Social Sciences next month posed a challenge. For one thing, the event coincides with the date set to achieve 50- per-cent waste reduction on campus and so many visitors could generate an awful lot of waste.
But Facilities Services will take measures to minimize the waste and continue working towards the University's recycling and sustainability goals. During the event, May 27 to June 3, it is giving delegates reusable mugs, putting out more recycle bins and providing electric golf carts, among other things, to reduce the ecological footprint that such a huge gathering could make. Full Story
FES students and alumni at the heart of renewable energy push
As the Ontario government is praised for the renewable energy policy it announced on March 21, York's Faculty of Environmental Studies (FES) is celebrating the key role its students and alumni played in pushing the province towards the policy, which supports community-based models of renewable energy production. Full Story
Subway environmental assessment report now available
The subway to York University has moved one step closer to reality with the release of the Spadina Subway Extension Environmental Assessment (EA) report to the Ontario Ministry of the Environment for review and approval. Full Story
Finally – a subway to York University
The news conference scheduled yesterday morning to announce long-awaited funding for transit improvements in the Greater Toronto Area (GTA) got started later than originally planned. It seems that Prime Minister Stephen Harper was stuck in traffic.
When the prime minister did arrive at the conference site in Downsview Park in North York, he was quick to announce funding of up to $962 million for public transit infrastructure projects in the GTA. The biggest of those projects is the long-awaited expansion of the Spadina subway line through York's Keele campus to the Vaughan Corporate Centre. The federal pledge was the final contribution needed to get the $2 billion subway project underway. Provincial and municipal funding had already been agreed. Full Story

'A tremendous boost' – York applauds Ontario's subway plan

York University yesterday applauded the Ontario government's investments in public transit, post-secondary education and research and innovation, announced in the latest provincial budget.
The government's $670-million commitment to public transit through its Move Ontario initiative will enhance accessibility for York's 65,000 students, faculty and staff, via extension of the Spadina subway to Highway 7 in Vaughan. Full Story
Getting ready for the subway
The York University Development Corporation (YUDC) is always planning for the future but it's not often that it needs to rethink the entire layout of Canada's most populous university campus. In fact, the campus master plan has only been altered once since it was drawn up in 1965 and that was in 1988. Now, with the final route of the proposed Spadina subway extension determined – albeit still subject to final environmental approval from the provincial government – the University, through YUDC, has that opportunity to look into the future with a clear idea of what it will look like. Full Story

Events
CAMPUS CLIMATE CHALLENGE Action & Awareness at York JANUARY 31st, 2007 HNES 140 6:00 – 9:00 pm Join us for: - Video screening of 'An Inconvenient Truth' - Discussion on Climate Change Science and the impacts of climate change on Canada - Light refreshments will be served The Canadian Youth Climate Change Coalition (www.ourclimate.ca) was established September 12, 2006. This coalition of youth environmental groups from all over Canada and the United States have collaborated to actively promote government policy changes to prevent climate change. The week of January 29 to February 2, 2007 over 500 campuses across Canada and the U.S are holding events to raise awareness of climate change on campuses organized by the Campus Climate Challenge (www.climatechallenge.org/woa). If you are interested in finding out how your can make a difference please join our evening of festivities and Contact: Sundeep Virdi (virdisun@yorku.ca)
Campus Sustainability Day III
As declared by the Society for College & University Planning (SCUP), Oct. 26 is the third annual Campus Sustainability Day. York's Facilities Services is sponsoring a Webcast that will highlight the latest initiatives and successes regarding sustainability in higher education from five important North American conferences. Joe Palca, National Public Radio science correspondent, will moderate the Webcast that presents five fast-paced conference synopses in a two-hour presentation. (For the complete story, see the Oct. 19 issue of YFile .) In Burton Auditorium, the doors open at 12pm, Webcast 12:30-2:30pm. Full Story.
Environmental Week - February 22 - 25
SUS. Campus Coalition is collaborating with the Environmental Outreach Team to lead campus tours to get students to see and critically think about sustainability issues (Ethical Purchase, Energy, Transportation, Food...) on campus. We will also do Community Artwork to engage students to express their notions of an ideal campus! Contact butliu@yorku.ca for more information.
Images from Environmental Week
Image 1 | Image 2 | Image 3 | Image 4