Health and Animal-Human Bonding
ElderDog Canada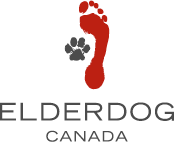 "Pure and simple,
 dogs are the
 embodiment of
 all that is good."
 - Ardra Cole
ElderDog Canada, as both a concept and creation, is inspired by keen observation and knowledge of the elderly and their needs for, and experiences with, companion animals. It also draws on the extensive research work of Dr. Ardra Cole and her research partner, Dr. Maura McIntyre, who travelled across Canada talking with family members caring for their loved ones with Alzheimer's disease. Paramount in their findings was the significant role of the family dog (and other pets) in the caregiving experience. Their research projects – including: Living and Dying with Dignity; Putting Care on the Map: Portraits of Care and Caregiving across Canada; and, The Care Café: Understanding Caregiving and Alzheimer Disease across Canada – formed, in part, a foundation for Ardra's thinking about the crucial importance of honouring the animal-human bond in the lives of aging people.
ElderDog Vision
To honour and preserve the animal-human bond through care, companionship, commemoration, and education.
ElderDog Mission
ElderDog Canada Inc. is a national, community-based, non-profit organization with a mission to:
assist and support older adults in the care and well-being of their canine companions
provide care and companionship for older dogs whose lives have been disrupted due to illness or death of a human companion

educate health and animal care professionals and the general public of all ages about the human-animal bond in general and the significant role of companion animals in the health and well-being of seniors in particular

honour life and loss of canine companions through consolation and commemoration



ELDER DOG VALUES
Dignity. We believe that people and animals, regardless of circumstance, health, and age, are worthy of respect and deserve to be treated in a way that honours them as valued individuals.
Respect. We are committed to  providing care to animals and support for animal-human companionship based on a person/dog-centred ethic of care
Health and Well-being. We believe that health and well-being is enhanced by ongoing attention to appropriate nutrition, exercise, love, and companionship. At ElderDog we strive to provide a healthy, balanced life for dogs in our care and to support healthy aging of older adults through the preservation of their relationships with their canine companions.
Comfort. We are committed to a standard of care for dogs in later life that is responsive to individual physical and emotional needs. Our efforts to keep seniors and their canine companions together is based on our knowledge of the many ways that dogs bring comfort to seniors' lives.
Quality of Life. Mindful of the many physical, emotional, and social benefits of companion animals for older adults, we strive to make it possible for older adults and their canine companions to live together as long as is reasonable in healthy, mutually beneficial relationships.
Tribute. We acknowledge the invaluable role that dogs play in humans' lives and how deeply they are missed when they pass on. We endeavour to appropriately commemorate elder dogs in our care and honour the animal-human bond in general.
Integrity. We are committed to operating with honesty, respect, care, and compassion and a deep regard for a principled process in all aspects of the ElderDog organization.
Sustainability. Environmental sustainability in all aspects of the ElderDog organization is paramount and is both an individual and organizational leadership responsibility. We are dedicated to developing sustainable programs and activities in the service of our vision. This includes transportation, use of products and resources, waste disposal, building facilities.

Relationship to The Animal-Human Bond
Elder Dog's commitment is to provide education and educational opportunities related to the human-animal bond is significant. To this end we:
- Distribute information via Internet and print media about the human-animal bond
- Are partnered with a Canadian book publisher and offer a book publishing program on the human-animal bond for both young and adult readers
- Provide information sessions and seminars to community care organizations about the role of companion animals in seniors' lives
- Present research opportunities for college and university students and others interested in exploring elements of the human-animal bond
- Fund scholarship programs for students in any field interested in exploring any aspect of the ElderDog organization and its work
- Provide year-round community volunteering, service learning, and cooperative learning opportunities for youth, youth organizations, secondary school and university students
- Offer a range of volunteer activities and projects for adults of all ages
- Arrange internship/externship programs for community health and veterinary education students and practitioners
- Provide artist residency opportunities
- Link with other human-animal bond organizations
Newsletter
WORKING TO HONOUR AND PRESERVE THE ANIMAL-HUMAN BOND THROUGH CARE, COMPANIONSHIP, COMMEMORATION, AND EDUCATION
- February 2012
For more information, contact this remarkable social movement directly, or contact myself via email.