Three by Three
Documentaion of an ongoing project by Don Sinclair, Yves Candau and Nur Intan Murtadza.
Video Documentation
Due to a technical issue, there is no video documentation of the performance in March 2006
Structure
Throughout the work Don captures and manipulates Intan's gamelan playing.
Part 1: Yves creates video projection that is both displayed and recorded
Part 2: Yves performs throat singing which Don manipulates
Part 3: Yves dances in front of the projection created in part 1 which is played back in reverse
Creative Approach
When three artists join together to create a work there is a necessary discussion of how the collaboration will treat the various perspectives that each artist brings. As with many interdisciplinary efforts, those working on the project are themselves interdisciplinary. In our case we bring together a dancer, a gamelan musician and a new media artist. Each of us engages in performance practices that blur traditional distinctions between scholarship and art making. New media artist Don Sinclair explores relationships between movement and sound in interactive contexts. Gamelan musician Nur Intan Murtadza's ethnographic research is radically empirical and privileges localized non-Western epistemologies. Dancer, Yves Candau, has a background in martial arts, studied mathematics and has a Masters in Cognitive Sciences.
The approach to this work stems from exploring processing live video of movement. Instead of using the video to elaborate on the movements of a dancer we decided to focus on techniques that allowed us to see that which is normally invisible or unnoticed. For example we might choose to see only stillness while motion is blurred. With both the dancer and the processed video projected on stage, we are able to integrate two very different views on a choreography in such a way that what emerges is greater than the sum of the two. Our approach to the gamelan starts with this same idea of emphasizing what is normally unheard or unnoticed, again when live and processed are combined, the combination of sound layers is unique.
Within the three performers, there are several roles being played. Both musician and dancer perform live, generating visual and auditory streams to the audience. In tandem with each live stream are processed streams consisting of video projection and amplified sound. The new media artist manipulates the two streams. As with any well-functioning trio, there is constant listening/seeing and response to each other's actions. The following image describes these relationships.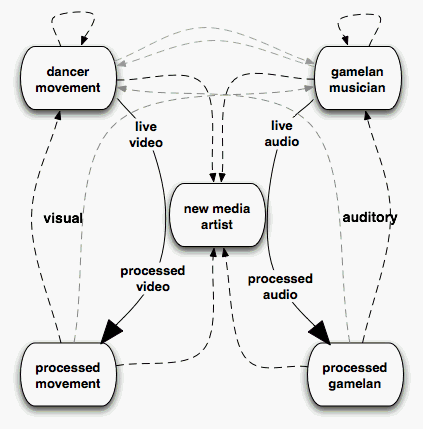 The interactive performance software was created by Don Sinclair using Max/MSP/Jitter and Auvi.

Three by Three was performed at Windows on Fine Arts Cultural Studies (part of Accolade opening events March 2006).