My early research work was on the late nineteenth century history of Calcutta. Since the 1980s I have worked on the social aspects of solid waste management and waste recycling in developing countries, with an emphasis on Asian cities.
My recent concerns include the reuse of urban organic wastes, community participation in solid waste management, waste-to-energy projects, and urban agriculture.
I have carried out consultancies for the United Nations Environment Programme, the United Nations Centre for Human Settlements, the World Health Organization, the World Bank, and the International Development Research Centre and have contributed to international research projects on solid waste management.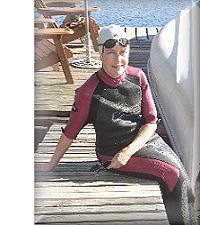 I am also interested in issues of higher education. I was director of the Teaching Skills Programme at York University in the 1970s, and received an award for contributing to instructional development from the Ontario Confederation of University Faculty Associations (1977). Papers in this area relate to critical thinking and the improvement of lecturing. I am a member of the Society for Academic Freedom and Scholarship (www.safs.ca), which promotes academic freedom and the merit principle in academic decisions, and served as the editor of its newsletter from 1995-2000. See also: http://www.safs.ca:80/Oct2005/tribute.html.
In voluntary work, I am on the board and secretary of the Toronto-Calcutta Foundation, a charity supporting basic health services and HIV/AIDS awareness in Kolkata, India.
Chris in late summer garb
waiting to see what happens next