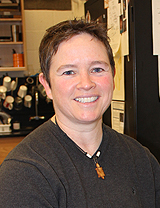 Lauren E Sergio
Associate Professor
Coordinator, Neuroscience Graduate Diploma Program
Locations / Contact Info:
1012, Computer Science & Engineering - CSE
Keele Campus
Phone: 416 736 2100 Ext. 33641
129, Farquharson Life Sciences - FARQ
Keele Campus
Phone: 416 736 2100 Ext. 33405
Email address(es):
Web site(s):
Faculty & School/Dept.
Faculty of Health - School of Kinesiology & Health Science
Degrees
Ph.D. - 1994
McGill University
Montreal
M.Sc - 1990
McGill University
BSc - 1988
McGill University
Biography
Dr. Sergio has studied the neural control of movement since 1988. After
completing a bachelor's degree at McGill University in physiology, she did her Ph.D. there in psychology. Her research projects examine the effects of age, sex, neurological disease, head injury, and experience (elite versus non-elite athletes) on the brain's control of complex movement. Dr. Sergio works with a wide range of adult populations, including NHL draft prospects and Alzheimer's disease patients, using behavioural and brain imaging techniques. Her funding has come primarily from NSERC and CIHR. She is also a member of the Centre for Vision Research, a research scientist at Southlake Regional Health Centre, a member of the York Lions Sport Medicine Team, and is currently the Neuroscience Graduate Diploma program coordinator.
Selected Publications





Sergio LE, Gorbet DJ, Tippett WJ, Yan X, Neagu B (2009) When what you see isn't where you get: cortical mechanisms of vision for complex action. In: Cortical Mechanisms of Vision. London: Cambridge University Press. March 2009
Kalaska JF, Sergio LE, Cisek P (1998) Cortical control of whole-arm motor tasks. In: Sensory Guidance of Movement, Vol. 218, Novartis Foundation Symposium. New York: John Wiley & Sons, pp. 176-200.
Vesia M, Prime S, Yan X, Sergio LE, Crawford JD (2010) Specificity of human parietal saccade and reach regions during transcranial magnetic stimulation. J. Neurosc. Oct. 30: 13053-13065.
Granek J, Gorbet DJ, Sergio LE (2010) Extensive video game experience alters the cortical networks for complex visually-guided reaching. Cortex Oct. 46(9): 1165-1177.
Pisella L, Sergio LE, Blangero A, Torchin H, Vighetto A, Rossetti Y (2009) Optic Ataxia and the functions of the dorsal stream: When does the dorsal stream contribute to perception and action. Neuropsychologia, Dec; 47(14): 3033-44.
Gorbet DJ, Sergio LE (2009) The behavioral consequences of dissociating the spatial directions of eye and arm movements I: The effects of anti-pointing. Brain Research, Aug 11;1284:77-88.
Ting JA, D'Souza A, Yamamoto K, Yoshioka T, Hoffman D, Kakei S, Sergio LE, Kalaska JF, Kawato M, Strick P, Schaal S. (2008) Using variational Bayesian least squares for EMG data prediction from M1 and premotor cortex neural firing. Neural Networks Oct;21(8):1112-31
Vesia M, Yan X, Henriques DY, Sergio LE, Crawford JD (2008) Transcranial magnetic stimulation over posterior parietal cortex disrupts the integration of initial hand position information into the reach plan. J. Neurophysiol. Oct; 100:2005-2014.
Gorbet DJ, Sergio LE (2007) Sex-related differences in cortical activity during visually-guided movements. Eur. J. Neurosci. Feb;25:1228-1239.
Tippett WJ, Krajewski A, Sergio LE (2007) Visuomotor integration is compromised in Alzheimer's disease patients reaching to remembered targets Eur. Neurology. May; 58(1):1-11.
Vesia M, Monteon J, Sergio LE, Crawford JD (2006). Hemispheric Asymmetry in Memory-guided Pointing during Single-pulse Transcranial Magnetic Stimulation of Human Parietal Cortex. J. Neurophysio. Dec;96(6):3016-27.
Tippett WJ, Sergio LE (2006) Impaired visuomotor integration in early stage Alzheimer's disease. Brain res. August,1102(1):92-102.
Ren L, Khan A, Blohm G, Sergio L, Henriques D, Crawford D (2006) Proprioceptive guidance of saccades in eye-hand coordination. J. Neurophysiol. August, 96:1464-1477.
Hamel-Paquet C, Sergio LE, Kalaska JF (2006). Parietal area 5 activity does not reflect the differential time course of motor output kinetics during arm-reaching and isometric-force tasks. J. Neurophysiol. 95: 3353-3370.
Sergio LE, Hamel-Paquet C, Kalaska JF. (2005) Motor cortex neural correlates of output kinematics and kinetics during isometric-force and arm-reaching tasks. J Neurophysiol. 94: 2353-2378.
Vesia M, Vander H, Yan X, and Sergio, LE. (2005) The time course for kinetic versus kinematic planning of goal-directed human motor behavior. Exp Brain Res. Jan;160(3):290-301.
Gorbet DJ, Staines WR, Sergio LE (2004) An fMRI study of cortical activity during progressively arbitrary visuomotor transformations. Neuroimage: Nov;23(3):1100-11.
Petitto LA, Holowka S, Sergio LE, Levy B, Ostry D (2004) Baby hands that move to the rhythm of language: hearing babies acquiring sign languages babble silently on the hands. Cognition Aug;93:43-73.
Waechter R, Sergio LE (2004) Manipulation of the Electromagnetic spectrum via Fields Projected from Human Hands. Subtle Energies and Energy Medicine, 13:233-250.
Sergio LE, Kalaska JF (2003) Systematic changes in motor cortex cell activity with arm posture during directional isometric force generation. J. Neurophysiol. 89:212-228.
Petitto LA, Holowka S, Sergio LE, Ostry D (2001) Language rhythms in baby hand movements. Nature 413:35-36.
Sergio LE, Kalaska JF (1998) Changes in the temporal pattern of primary motor cortex activity in a directional isometric force versus limb movement task. J. Neurophysiol. 80:1577-1583.
Sergio LE, Scott SH (1998) Hand and joint paths during reaching movements with and without vision. Exp. Br. Res. 122:157-164.
Scott SH, Sergio LE, Kalaska JF (1997) Reaching movements with similar hand paths but different arm orientations. II. Activity of individual cells in dorsal premotor and parietal area 5 cortex. J. Neurophysiol. 78(5):2413‑2426.
Sergio LE, Kalaska JF (1997) Systematic changes in directional tuning of motor cortex cell activity with hand location in the workspace during generation of static isometric forces in constant spatial directions. J. Neurophysiol. 78: 1170-1174.
Sergio LE, Ostry DJ (1995) Coordination of multiple muscles in two degree of freedom elbow movements. Exp. Br. Res. 105: 123-137.
Sergio LE, Ostry DJ (1994) Coordination of mono- and bi-articular muscles in multi-degree of freedom elbow movements. Exp. Br. Res. 97: 551-555.
Sergio LE, Ostry DJ (1993) Three-dimensional kinematic analysis of frog hindlimb movement in reflex wiping. Exp. Br. Res. 94: 53-64.
Ostry DJ, Flanagan JR, Sergio LE (1992) Coordinate transformation in orofacial movements. Beh. Br. Sci. 15: 348-349.
Service/Community Activities
Careers in Science Day, Middlefield Collegiate
Science Fair Judge
Supervision
Currently available to supervise graduate students: Yes
Currently taking on work-study students, Graduate Assistants or Volunteers: Yes
Available to supervise undergraduate thesis projects: Yes
Current Research
Behavioural and neurophysiological studies of eye-limb coordination. Brain mechanisms underlying visually-guided reaching. Cognitive-motor integration; Motor control neurophysiology/neuroimaging. Control of voluntary movement in healthy adults, elite athletes, and neurological patient populations. Sex-related differences in brain function for movement control. Applications: Neuropathology detection/diagnosis/rehabilitation, especially for dementia populations; evaluation of eye-hand coordination in elite athletes; Long-term effects of concussion on skilled performance.
Faculty members:
Sign in to edit your existing profile or contact your departmental administrator for help.