ISSN 1205-3597





Road to East Asia
A journal on contemporary East Asian literature in English
Written by students of FC1750.06
at Founders College, York University
Vol.1, no. 2, March-April, 1996
---
Women on the run
by Sekou Russell, et al.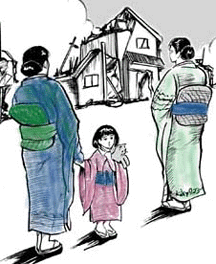 In recent East Asian fiction, some women characters demonstrate a tendency to run from their past, or a war-devastated homeland, or reality itself. They may marry a foreigner and settle in the West, or escape to the Never-Never land in search of selfhood. Unfortunately, few of them find happiness amid human misery.

Etsuko in Kazuo Ishiguro's novel A Pale View of Hills, for one, moves to England for personal advancement and that of her family. Her friend, Sachiko, runs after an American drunkard for the slim possibility of moving to the U.S. where her daughter, Mariko, could "study painting at college" or "become a business girl" (p. 170). Sukhui also plans to leave Korea for a foreign country where she can fulfil her destiny as a woman hopeless in love with her stepfather's son.

In the beginning of A Pale View of Hills, one notes that Etsuko is naming her second daughter Niki "out of some selfish desire not to be reminded of the past" (p. 9). It seems Etsuko is threading herself into the British environment, but ironically she misses "the old Japanese way," which is "not a bad thing at all" (p. 181), she says. It is a culture that her English husband has never truly understood "despite all the impressive articles he wrote about Japan," she adds. Twice widowed, Etsuko spends her final years in a foreign country, without friends or family.

Sachiko's quest for happiness, by comparison, is even more pitiful. Her ticket to America is an alcoholic who "may change his hotel, but . . . won't have changed his habits" (p. 68). Staking her daughter's future on a man like Frank is a tragedy bordering upon a criminal offense. Mariko is a troubled girl who needs serious help and stability which could hardly be expected of an irresponsible womanizer.

Neither will the narrator in "The Young Zelkova" find happiness anywhere. In reality, she stages an intellectual retreat from her immediate surroundings to a mythical Never-Never- Land inhabited by Apollo (her stepbrother). The narrator is not in love with a human being, but indulges in amorous feelings for an icon of manhood. Unless Sukhui sorts out her feelings, she will be compounding one hardship (adoption) with another (dislocation) in a new country.

Bibliography

Ishiguro, Kazuo. A Pale View of Hills. London: Faber and Faber, 1982.

Kang, Sinjae. "The Young Zelkova." In Flowers of Fire: Twentieth-Century Korean Stories.


Ed. and trans. Peter Lee. Honolulu: University of Hawaii Press, 1986. 348-371.

(Illustration: courtesy of Billy Lo, Eastern Image Canada )

---




Editors and Writers: Maria Nadeau, Han Ki-Dongt, Sarah Tan, Kevin Perkins,
Michael Kociuba, Jennifer Henry, Sekou Russell, May Yuen, and Daniel Jacobs
Instructor and Founding Editor: Isabella Wai




---

Copyright © 1996 by the authors. Information from this article should be attributed to the authors.

We would greatly appreciate your comments. Please click here.