ISSN 1205-3597





Road to East Asia
A journal on contemporary East Asian literature in English
Written by students of FC1750.06
at Founders College, York University
Vol.1, no. 1 January, 1996
---
Tribute to humanism: 1957 revisited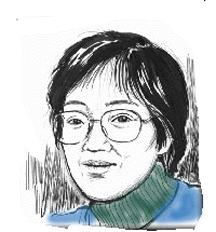 The year 1957 was eventful. In the U.S. the Milwaukee Braves won the World Series. It was a time to celebrate and rejoice. But for the people of China, it ushered in a dark period of tension. One of the controversies that happened in a Shanghai university was the Little Xie incident. he was denied permission to visit his other who lives in North America. When Xie argued, he was branded as a rightist and sent off to reform by Xi Liu, then party secretary. Different versions of the story have been told, but one question remains. What really happened?

I put the question to several key players in this historical drama. Sun Yue, currently department party secretary of Shanghai University, recalls the aftermath of the controversy which caused Xie's mother to go insane. "It was wrong, and Xi Liu shouldn't have got away with it," she says. For the record, Sun was the one who went to see Xie off when he was finally allowed to leave for North America. She regrets withdrawing her support for a petition made by He Jingfu, a fellow student, who opposed Xi Liu's decision.

As for He Jingfu, he can still recall the events as if they happened yesterday. he remembers during the spring of 1957, he made a big character poster entitled "Let us hope that Comrade Xi Liu will behave more humanely." He Jingful criticized Xi Liu for his attempt to sever the bond between a son and his parent. "He demanded Xie make a clean break with his 'capitalist mother'," says He Jingfu during an interview with Literary Trail. Because of the poster, He was labelled as a rightist and expelled.

In his own defence, Xi Liu said he was only protecting the party's interest. He saw no fault in his actions, and was outraged by those who thought otherwise. Now in his eighties, Xi was the hardest to reach for an interview. When asked to explain why disallowed Xie to visit his mother, Xi Liu got up and left the room.

Xu Hengzhong, Xi Liu's henchman during the anti-rightist movement, claims that his criticism of Jingfu's poster was an attempt to preserve the party's policies. Although he feels some remorse for what he did, Xu shifts the blame to his superior. "Xi Liu had instructed me to write that poster," Xu says.

The most candid critic of Xi Liu is his own son. Xi Wang says his father has partly disowned him because of his outburst. The young Xi thinks the treatment of Little Xie was inhumane. "What lies behind [Xi Liu's policies] is people suffering," Xi Wang says.

By and large, Little Xie was an icon of fortitude in the anti-rightist movement which forced the faculty and the students to take sides. Now he is no longer a victim, but a legend. He symbolizes the human side of the movement -- a perpetual challenge to a dehumanizing political system.
Editors' note: This report is based on interviews with the characters in Dai Houying's novel Stones of the Wall, translated by Frances Wood , published by Michael Joseph (London, 1985).
---
Editors and Writers: Maria Nadeau, Han Ki-Dongt, Sarah Tan, Kevin Perkins,
Michael Kociuba, Jennifer Henry, Sekou Russell, Lee Sengsiry, May Yuen, and Daniel Jacobs
Instructor and Founding Editor: Isabella Wai
---
Copyright © 1995 by the author. Information from this article should be attributed to the author.
We would greatly appreciate your comments. Please click here.