ISSN 1205-3597





Road to East Asia
A journal on contemporary East Asian literature in English
Written by students of FC1750.06
at Founders College, York University
Vol.1, no. 2, March/April, 1996
---
Ticket to a Promised Land
group discussion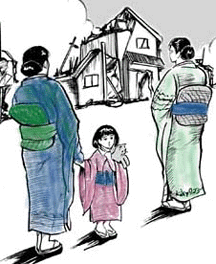 In the aftermath of the Second World War, marrying an American could be a ticket to a promised land, away from the ruins and painful memories. Kazuo Ishiguro in A Pale View of Hills portrays a Japanese widow in Nagasaki who pins her hope on an American womanizing drunkard. Why does she think that he is a catch? Will she find happiness in the U.S.?

Maria Nadeau: Sachiko claims it's for her daughter, Mariko, that she plans to wed an American named Frank. Yet Mariko is an unhappy little girl, and the last man she wants to be her father is the "pig" she loathes. Sachiko has the option to live comfortably with her uncle, but she prefers a new start in America. I wonder if the prospect of Sachiko's departure saddens Etsuko although she assures Etsuko assures Sachiko otherwise.

May Yuen:Both Kapitan Lee's daughter and Sachiko should have relied on themselves instead of dreaming about the happiness an American can bring them. Sachiko has made many attempts to leave Japan, but each ends in failure. Frank lets her down and has spent all her hard-earned money on alcohol. The reliable drunkard has made a bade impression on Mariko. "Frank-San pisses like a pig," she says. "He's a pig in a sewer."

Han Ki-Dongt:Frank may not be able to hold on to a job. Even if he is employed, it seems unlikely that he will support Sachiko and Mariko. Sachiko hopes her limited English will bail her out in such a situation, but in reality, she will be probably banished from mainstream society in the U.S. because of her Japanese origin.

Jennifer Henry: Sachiko believes Frank is her ticket to a better life in the U.S. even after he has abandoned her many times. Not only is she a disturbed person, she is also a bad mother, who pays little attention to her daughter. Sachiko portrays herself as a cruel, selfish woman when she drowns the kittens -- commits murder -- in front of a vulnerable child.

Sarah Tan: Although Sachiko's plan to marry Frank is not welcome by Mariko, it does not necessarily mean her decision is unwise. people in a desperate situation -- Sachiko, for example -- will try to find a better life at all costs. What seems to be a foolish choice may be the best course of action for the people involved.

---




Editors and Writers: Maria Nadeau, Han Ki-Dongt, Sarah Tan, Kevin Perkins,
Michael Kociuba, Jennifer Henry, Sekou Russell, May Yuen, and Daniel Jacobs
Instructor and Founding Editor: Isabella Wai




---

Copyright © 1996 by the authors. Information from this article should be attributed to the authors.

We would greatly appreciate your comments. Please click here.