ISSN 1205-3597





Road to East Asia
A journal on contemporary East Asian literature in English
Written by students of FC1750.06
at Founders College, York University
Vol.1, no. 2, March-April, 1996
---
A taste of forbidden love
by May Yuen, et al.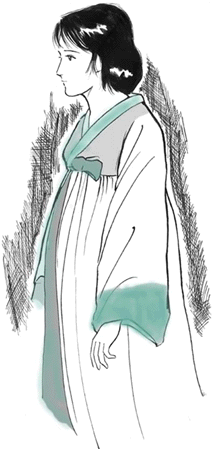 The publication of The Sorrows of Young Werther in 1774 won Goethe acclaim in Europe and spread his fame to East Asia. Werther, in a blue coat and yellow breeches, was painted in porcelain in China. In Italy, the book was banned possibly because the protagonist ignores the sixth of the Ten Commandments: "You shall not covet your neighbor's wife." The young German student is hopelessly in love with a married woman living next door, and when he fails to win her, he commits suicide.

Forbidden love, a recurring theme in Western literature, enraptures the narrator in "The Young Zelkova," who thinks "there is acute beauty" in Werther's tragedy, and relishes in similar sentimentality. Werther is modeled on Goethe himself, who pined for women already betrothed or married. Sukhui's beau is not engaged to anyone, but he happens to be her stepfather's son. Although she does not covet someone's spouse, she "gropes" for "joy and happiness" disallowed by society in their kinship. Just as Werther thinks he is inseparable from his neighbor's wife, Sukhui does not "want to release Hyongyu to anyone else."

What inspires Sukhui is the triumph of the individual over society's constrains -- a theme that permeates romantic European literature. She makes believe that her stepbrother is Apollo with a curly crown, and unleashes her affection for him with abandon. When he reciprocates, they plan to escape from entrapment (Korea) to a foreign country where they can be together.

The abandonment of one's heritage for a Western culture is becoming widespread in Japan and Korea. Sukhui emulates what the West represents -- she listens to Western music, plays tennis, drinks Coke, and calls her stepfather Monsieur Lee although he is not even French. The description of her passion reads like a page from a maudlin English romance novel, cluttered with such words as teardrops, sorrows, torment, tangled emotions, and giggles.

Sukhui is fooling herself in finding love in a make-believe world. She is not in love with a Korean youth, but a Western icon of divine manhood. "There was something pathetic about my daily illusions of myself as a lone figure in the ethereal purple air," she admits. She may follow in the steps of her role model and meet a tragic fate.

Bibliography

Gray, Ronald. Goethe: A Critical Introduction. London: Cambridge University Press, 1967.

Kang, Sinjae. "The Young Zelkova." In Flowers of Fire: Twentieth-Century Korean Stories.


Ed. and trans. Peter Lee. Honolulu: University of Hawaii Press, 1974. 319-347.

(Illustration: courtesy of Billy Lo, Eastern Image Canada )

---




Editors and Writers: Maria Nadeau, Han Ki-Dongt, Sarah Tan, Kevin Perkins,
Michael Kociuba, Jennifer Henry, Sekou Russell, May Yuen, and Daniel Jacobs
Instructor and Founding Editor: Isabella Wai




---

Copyright © 1996 by the authors. Information from this article should be attributed to the authors.

We would greatly appreciate your comments. Please click here.