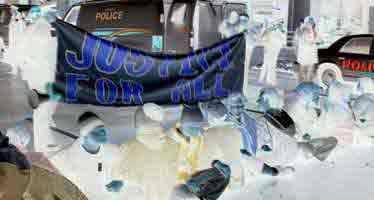 -----Original Message-----
From: Peter Fitting <p.fitting@UTORONTO.CA>
To: UTOPIA-L@LISTSERV.ACSU.BUFFALO.EDU <UTOPIA-L@LISTSERV.ACSU.BUFFALO.EDU>
Date: April 3, 2001 11:59 AM
Subject: Fw: (Fwd) FWD: CALLING all activists, actionists, insurrectionists
<![if !supportEmptyParas]> <![endif]>
<![if !supportEmptyParas]> <![endif]>
>  >
>> PLEASE FORWARD!****SORRY FOR CROSS POSTS***PLEASE FORWARD!***
>>
>>
>> CALLING all activists, actionists, insurrectionists, revolutionaries,
>> artists, writers, photographers, musicians, storytellers, independent
>> mediatistas, radical optimists, utopians..... and anyone who feels that
>> they are part of the global surge of anti- authoritarian, anti-capitalist
>> movements.
>>
>> A radical publishing project. 'We are Everywhere: the irresistible rise
of
>> global anti-capitalism' - involving a book , CD-ROM and web site is being
>> put together by a collective of activists, artists and writers and we are
>> looking for material.
>>
>> "We Are Everywhere" is information for inspiration, it is NOT an academic
>> or objective historical analysis. The project will be pure provocative
>> propaganda. Contagious propaganda woven together from the many voices
>> emanating from the many worlds who make up this rich and diverse
movement.
>>
>> "We are Everywhere" will celebrate, document, explore and critique the
>> recent rise of the global movement(s) against capitalism and for life,
>> autonomy, land, dignity and justice. The project is aimed at an audience
>of
>> people intrigued by what they have seen in mainstream media and those who
>> stand on the edges of the movement and have not made the jump into
>> participation. It is also for those who mistakenly think this is a
>movement
>> of white Western kids, that it began in Seattle and that it just wants to
>> reform transnational corporations and global institutions. We aspire to
>> seduce these people into joining in the joyful revolution of the
everyday,
>> while simultaneously challenging ourselves and each other to move
forward.
>>
>> One of the great strengths of these movements have been their capacity to
>> re-ignite the idea of a truly global political project, a project defined
>> by notions of autonomy, ecology, direct democracy, self-organisation and
>> direct action. While events in Seattle, Prague and Davos hit the
>headlines,
>> the mass mobilisations and radical movements of which have provided the
>> inspiration to northern convergences and actions, have remained unseen
and
>> unacknowledged. This project hopes to redress this balance and tell many
>of
>> the inspiring stories that still remain to be told.
>>
>> Our time frame will begin, as most things began, in the global South,
with
>> the emergence of the Zapatistas in January 1994 and will end in March
2001
>> with the fulfilment of the promise the Zapatistas made 7 years ago, that
>> they would take their struggle to Mexico City.
>>
>> The project will be anti-copyright. There will be two print runs, a free
>> version distributed by mail order and hand and a version for sale
>> distributed in mainstream book shops. No one is being paid for this
>project
>> and all profits will go into production of the free edition. "We are
>> Everywhere" will be launched in November 2001 to coincide with the
global,
>> decentralised actions against the WTO ministerial meeting in Qatar.
>>
>> What we want from You and what we are looking for:
>>
>> Writings, stories, interviews, leaflets, rants, images, posters, scary
>> statistics, provocative quotes, driving digitally formatted recordings of
>> music or sounds from the streets, stunning photographs, anything that you
>> feel will help tell the story and inspire others.
>>
>> If you would prefer not to write we want to hear stories, so maybe we
>could
>> interview you ? We would like voices to be a key part of the book and the
>> CD-ROM.
>>
>> The kind of things we do want - Street accounts of days of direct action-
>> whether the Geneva riots against the WTO in 1998 or your local community
>> participation in a global day of action; moments of inspiration that got
>> you involved whether it was joining the raging grannies in Seattle or the
>> activists in Bolivia that convinced you to join the struggle against the
>> World Bank; or simply how you are resisting capitalism in your own
>locality
>> in the everyday, and how you see that connecting to the wider movement.
>>
>> Please try not to write more than 2000 words, unless you want to give the
>> editor
>> ase send material to: Submissions@WeAreEverywhere.org
>> OR: Everywhere / c/o 55 Rectory Road / Oxford / OX4 1BW / UK
>> OR: Everywhere / 1122 E. Pike Street #463 / Seattle, WA 98122 / USA
>>
>> If you have any queries about this project contact us at the above
>addresses.
>>
>> DEADLINE for receiving material - May 1st 2001 (easy to remember)
>>
>> We are still looking for a team of programmers, media artists etc. to
work
>> on the CD-ROM and web site - if you are interested contact us.
>>
>> A bit about us:
>>
>> Our collective ( which still has no name ) has emerged to work on this
>> project and will soon disappear, like a surgical thread melting into a
>> wound, back into the work of assisting the decay of capitalism. It is
made
>> up of activists, writers and artists - all of whom have who have deep
>> connections to this movement. Some of them are involved in Reclaim the
>> Streets in the UK, others have worked in movements of the Global South or
>> were involved in the shut down of the WTO in Seattle, some are deeply
>> rooted in their local struggles others are nomadic organisers, some spend
>> time teaching others writing, some have jobs, some have kids and most
>> manage miraculously to do all of these things. If you look through police
>> video surveillance you will notice that all of them can be seen on the
>> streets of Prague last year, in various guises, enjoying another carnival
>> against capital. Now they are living in different cities, on different
>> continents but still remain connected by their irresistible optimism and
>> insatiable desire to turn the world upside- down.
>>
>> For more info: http://www.WeAreEverywhere.org [still under construction!]
>>
>> * Seattle * Bangalore * Prague * Dakar * London * Chiapas * We Are
>> Everywhere * Montreal * Tel Aviv * Port Harcourt * Nice * Bangkok *
>> Melbourne * We Are Everywhere * Cancun * Wellington * Seoul * Geneva *
>> Porte Alegre * Narmada Valley * Barcelona * Manila * New York * [add your
>> place] * We Are Everywhere * We Are Everywhere * We Are Everywhere * We
>Are
>> Everywhere *
>>
<![if !supportEmptyParas]> <![endif]>