<![if !vml]>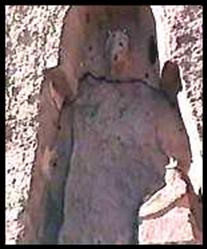 <![endif]>Anth 3130 - Archaeology and Society
9 Mar 2006
---
Major Assignment - returning proposals. Proposal/Essay/Poster If you weren't in class and are just checking these notes... your marked proposals are in a folder outside my office, Vari 2029. Feel free to pick yours up.
Focus for today: Rowan & Baram Ch 9, 11, 14, 16, 17... think about why and by whom some landmarks are restored, destroyed, replicated, and sold.
AND... video - Frozen in Heaven - with discussion.
For Next Week, Mar 16: No class. Work on your papers, catch up on your reading.
(n.b. I will be out of the office a fair bit over the next two weeks but will try to answer email)
The following week, March 23: Poster party and hand in papers. NOTE! I will try to book another room. PLEASE check this course website for an announcement about that: http://www.yorku.ca/kdenning/3130.htm
Added note, March 13 -- we will have the poster party in our usual room after all. No bigger rooms are available. We'll just have to rearrange a little...
---
Last week: heritage tourism, and concealed histories in Ontario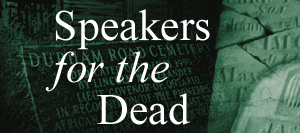 National Film Board of Canada ; directed by Jennifer Holness, David Sutherland ; producer, Peter Starr. Publication info: [Montréal] : NFB, 2000. YORK Video #5913.
Other cases: The African Burial Ground in New York
http://www.archaeology.org/online/features/cityhall/index.html
http://www.archaeology.org/online/interviews/blakey/
CASE: Africville, Nova Scotia
http://www.cbc.ca/news/features/africville.html
http://www.cbc.ca/stories/2002/07/05/Africville020705
Video clips: http://archives.cbc.ca/IDD-1-69-96/life_society/africville/
---
We're working through themes of power: how is heritage used in the exercise of power?
Destruction, Suppression, Manipulation, Glorification...
But people also speak back to power... they resist. They rebuild things that have been destroyed (Buddhas, Mostar Bridge). They reclaim and disseminate previously suppressed historical knowledge (Zimbabwe)... and in so doing, they exercise power of their own.
There are many examples: indigenous peoples in post-colonial Canada, labour movements, communities in post-apartheid South Africa, descendants of enslaved peoples in the USA, and black communities in Canada and Ontario. Other examples include gendered archaeology (remembering women and children into the past).
Although archaeology has certainly contributed to some historical wrongs, it can also be used in a positive way, to help illuminate past conflicts, ensure representation of multiple views, and even to contribute to some social healing.
---
Destruction
Key Points:
Iconoclasm has been common throughout history, and still is - because heritage is so important in modern political identities
Destruction of heritage is powerful
There are legal conventions against it, but not always obeyed
Destruction and looting often go hand in hand
DESTRUCTION OF HERITAGE
Akhenaten The Heretic and his Wife Nefertiti
<![if !vml]>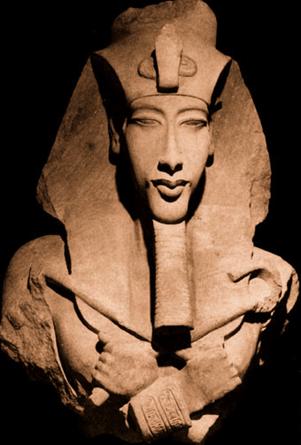 <![endif]>
<![if !vml]>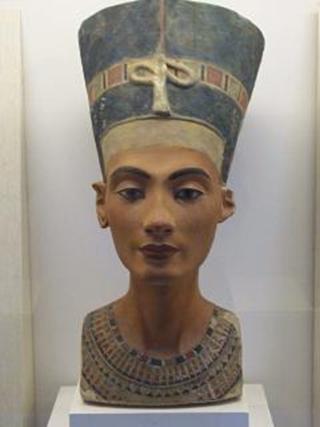 <![endif]>
---
Bamiyan Buddhas, Afghanistan: 400 AD – March 2001
<![if !vml]>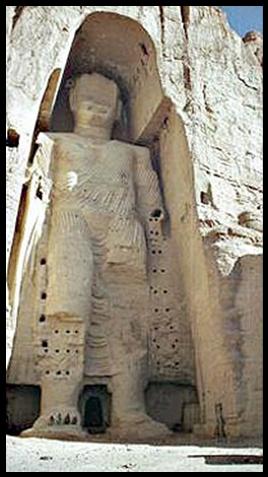 <![endif]>
<![if !vml]>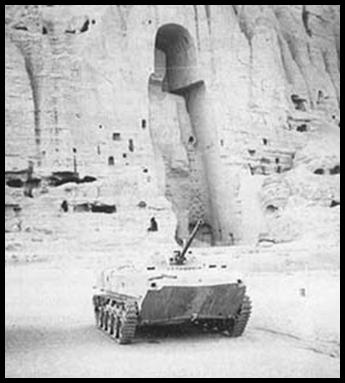 <![endif]>
<![if !vml]>
<![endif]>
<![if !vml]>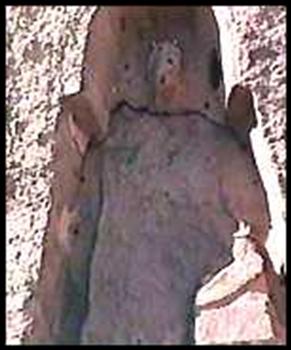 <![endif]>
---
Ayodhya/Babri Masjid
<![if !vml]>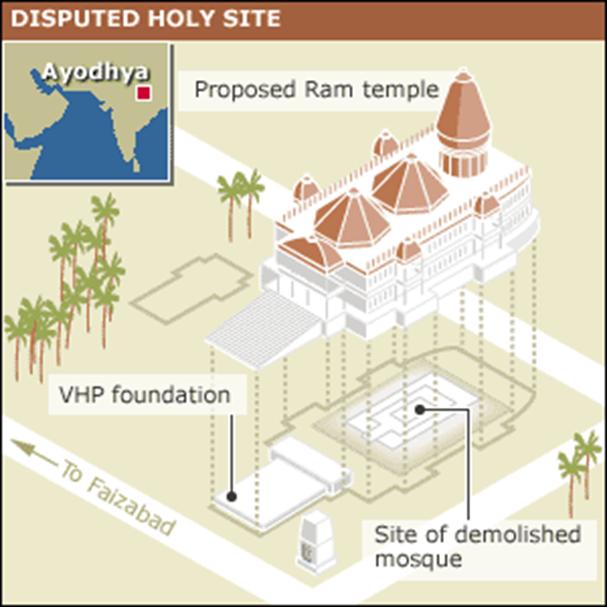 <![endif]>
Hindu nationalists demolish the Babri Masjid mosque in Ayodhya on December 6, 1992
<![if !vml]>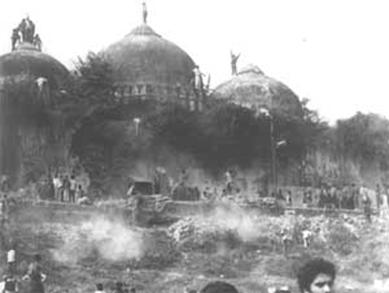 <![endif]>
<![if !vml]>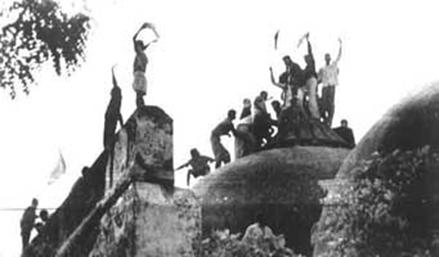 <![endif]>
<![if !vml]>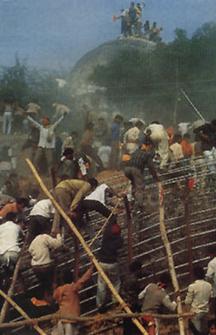 <![endif]>
<![if !vml]>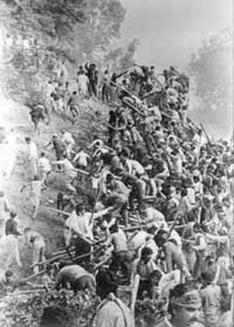 <![endif]>
<![if !vml]>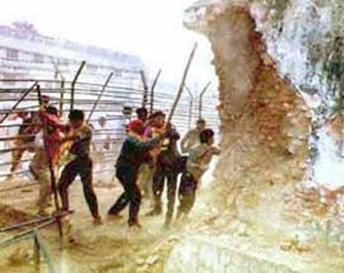 <![endif]>
<![if !vml]>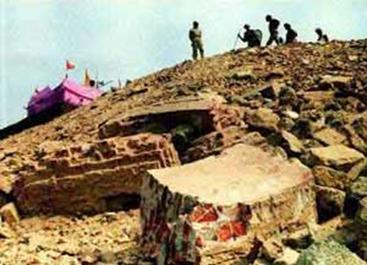 <![endif]>
Ayodhya Chronology
"1528: Mosque built on the Ayodhya site. However some Hindus believe the site is the birthplace of one of their religion's most revered figures, Lord Rama.
1853: First recorded religious violence in Ayodhya. Six years later, British officials fenced off the inner court of the mosque for use by Muslims, allowing Hindus access to the outer court.
1949: Continuing wrangling prompts Indian Government to close the site and proclaim it a disputed area.
1984: Hindus form a committee to "liberate" what they say is the birthplace of Lord Rama, spearheaded by the Vishwa Hindu Parishad party (VHP).
1986: The VHP places a symbolic pillar on the site for a proposed new temple.
1986 - 89: Tensions rise over the future of the site. Muslims set up the Babri Mosque Action Committee. High level negotiations fail to resolve the issue.
1992: Mosque torn down by supporters of the VHP, the Shiv Sena party and the BJP party, which came to power in Uttar Pradesh state a year earlier. More than 2,000 people killed in nationwide religious rioting.
1994: Land comprising site is taken over by the Indian Government."
2001: Tensions rise on the anniversary of the demolition of the mosque. VHP pledges again to build Hindu temple at the site.
Feb 2002: VHP confirms deadline of 15 March to begin construction. Hundreds of volunteers converge on site. Muslims torch a train, killing 55 Hindu activists returning from Ayodhya. In retaliation, Hindus rampage through Ahmedabad, killing Muslims and destroying homes and businesses. Over 2 000 are dead, and the military has to be sent in to quell the violence.
April 2002: UK report suggests riots were partly organized as ethnic cleansing by the state.
Then… spring 2003…. archaeologists involved once more….
Quoted and summarized from:
news.bbc.co.uk/.../south_asia/newsid_1870000/1870684.stm and other BBC stories.
For those doing Ayodhya/Babri Masjid for their paper: Archaeology at the Heart of a Political Confrontation. Current Anthropology, volume 45 (2004), page 239
---
<![if !vml]>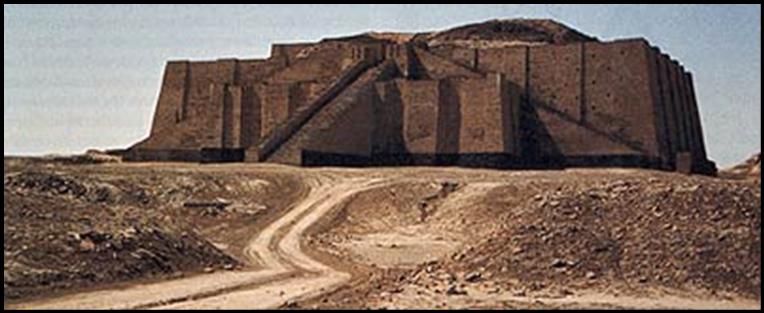 <![endif]>
The Ziggurat of Ur (Sumerian, ca. 4000 BCE)
"One of the greatest wonders of civilisation, and probably the world's most ancient structure - the Sumerian city of Ur in southern Iraq - has been vandalised by American soldiers and airmen, according to aid workers in the area.
They claim that US forces have spray-painted the remains with graffiti and stolen kiln-baked bricks made millennia ago. As a result, the US military has put the archaeological treasure… off-limits to its own troops.
… The Pentagon has elected to build its massive and potentially permanent base right alongside the site, so that the view from the peak of the ziggurat - more or less unchanged for 6,000 years - will be radically altered.
… There are reports that walls have been damaged by spray-painted graffiti, mostly patriotic or other slogans, and regimental mottos. One graffiti reads: 'SEMPER FE' [sic] – Always Faithful - the motto of the Marines, who stormed through this region on their way to Baghdad, and form a contingent at the base."
Ed Vulliamy, Troops 'vandalise' ancient city of Ur, Sunday May 18, 2003 The Observer
http://observer.co.uk/international/story/0,6903,958429,00.html
New Story obtained from, and Image Borrowed from:
http://www.underreported.com/modules.php?op=modload&name=News&file=article&sid=1010
---
Tangent: The White Horse... Again
<![if !vml]>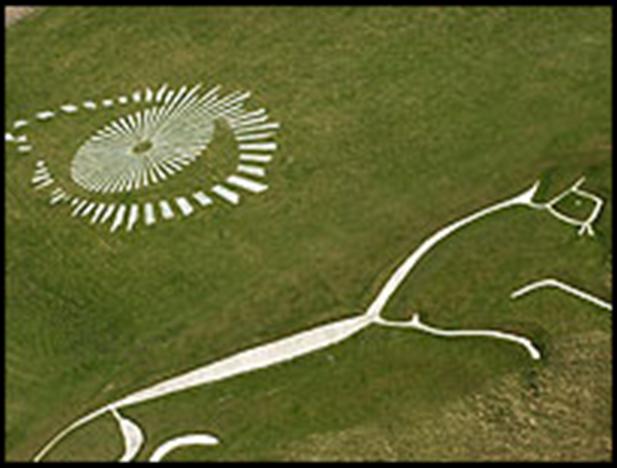 <![endif]>
Britain's Channel 4 promotes its "Big Brother" reality television show by painting a 300-ft logo next to the ancient White Horse of Uffington… which was carved into an Oxfordshire hillside perhaps as long ago as the Bronze Age. The National Trust, protector of the site, received £2,000 for participating in the ad campaign.
News Story obtained from, and Image Borrowed from:
http://news.bbc.co.uk/2/hi/entertainment/3000243.stm
May 20, 2003
---
Using and Abusing The Past in the Present
Great Zimbabwe: http://www.archaeology.org/9807/abstracts/africa.html
Bettina Arnold, the Past as Propaganda: http://web.isp.cz/jcrane/Identity/Past_as_Propaganda.html
BBC: When archaeology gets bent: http://news.bbc.co.uk/1/hi/sci/tech/3372117.stm
Spoils of War: The Antiquities Trade and the Looting of Iraq by Gregory Elich
http://globalresearch.ca/articles/ELI401A.html
If you want more on... The Social Life of Artifacts: Buried, Bought, Sold, Stolen, Traded, Faked, Reclaimed, Returned...
The Red List of Heritage in Danger: http://icom.museum/redlist/index.html

Looting and selling
Stealing History: www.mcdonald.cam.ac.uk/IARC/Display/Interactive.htm
Karen Olsen Bruhns: www.saa.org/publications/SAAbulletin/18-2/saa11.html
Ebay, Antiquities section: http://antiques.listings.ebay.com/Antiquities_W0QQfromZR4QQsacategoryZ37903QQsocmdZListingItemList NB I am,
as you surely realize, NOT endorsing the sale of artifacts online; I merely want to draw your attention to it as a problem.
Case: The Axum Obelisk Feb 2004: http://news.bbc.co.uk/2/hi/africa/3463667.stm. June 2001: http://news.bbc.co.uk/2/hi/africa/1402354.stm. May 1998: www.archaeology.org/magazine.php?page=online/news/axum

Case: Fake Snake Goddesses www.archaeology.org/magazine.php?page=online/interviews/lapatin

Case: Repatriation from the Smithsonian Institution www.nmnh.si.edu/anthro/repatriation/page1.htm