Glendon Political Science welcomes Maissaa Almustafa and Kathryn Barber as postdoctoral fellows on the Whole-COMM project, a consortium of researchers at thirteen institutions examining migrant integration in small communities in ten countries. The Canadian team is headed by Willem Maas and will also feature work by Research Associates.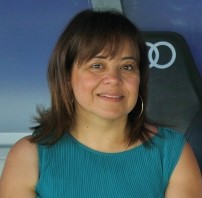 Maissaa Almustafa earned her Ph.D. in Global Governance and Master's in International Public Policy at the Balsillie School of International Affairs, Wilfrid Laurier University. She completed her B.Sc. in Economics at Damascus University in Syria and worked in the fields of diplomacy and international business development at the British Embassy in Damascus. Her research focuses on displacement and statelessness, refugee protection, and refugees' lived experiences in the Middle East, Europe, and Canada. She is actively involved in refugees' resettlement and integration through her role as the Vice Chair of the Board of Directors at Reception House in Waterloo Region. She also serves as Adjunct Professor in Political Science at Wilfrid Laurier University, Research Fellow at the Dahdaleh Institute for Global Health Research at York University, and is a Fellow at Balsillie School of International Affairs and an Affiliated Researcher with the International Migration Research Center (IMRC). Dr. Almustafa is the author of "Reframing the refugee crisis: A 'European crisis of migration' or a 'crisis of protection'" (2021), "Relived vulnerability of Palestinian refugees: Governing through exclusion" (2018), and other works, and is completing her book manuscript (under contract with Wilfrid Laurier University Press) Contemporary Narratives of Exile: Rethinking Refugee Protection Worldwide.
Kathryn Barber is a Ph.D. candidate (ABD) in Sociology at York University and Managing Editor of Refuge: Canada's Journal on Refugees/Revue canadienne sur les réfugiés. She has held academic positions as Assistant Professor (Teaching Stream) in Sociology at the University of Toronto (Scarborough) and as a Lecturer in Sociological Theory at Brandon University in Brandon, Manitoba. She holds a B.Sc. (Hons.) in Psychology and an M.A. in Études de conflits. She is a skilled qualitative and quantitative researcher who has worked in the fields of migration, humanitarian and development aid as well as science and technology studies for the past ten years, and has authored and co-authored academic studies, government reports, and independent research organization evaluations of various UN bodies. Her most recent work in the field of migration includes contributions to a mixed methods study of private sponsors of Syrian refugees, a Toronto-based survey on the intersection of precarious immigration status and precarious work and a cross-comparative review of international higher education (IHE) policies in four prominent receiving countries (Canada, US, UK and Australia). Her doctoral thesis examines how interpretations of simple statistical techniques used to understand and define national populations were generated amongst expert statistical communities in 19th and early 20th century Europe. She is functionally trilingual (English, French, Italian).