Philipp Sebastian Angermeyer
Associate Professor

Department of Languages, Literatures and Linguistics

York University

4700 Keele Street

Toronto, Ontario

Canada M3J 1P3

Office: Ross South 571

Email: pangerme@yorku.ca

Tel: (416) 736-2100 ext. 33793

Fax: (416) 736-5483

<![if !vml]><![endif]>
Director, Graduate Program in Linguistics and Applied Linguistics
Education: Ph.D. in Linguistics at NYU (2006); M.A. in Linguistics, Eastern-European History, and Comparative Literature (1998) from Universität zu Köln (Cologne, Germany)
Courses:
Information for students regarding supervision, letters of reference, and academic resources.
My student survey on languages at York University.
Research interests: Bilingualism/language contact, code-switching, interactional sociolinguistics, linguistic anthropology, language and law/social justice, interpreting/translation studies, discourse analysis, variation, sociolinguistics of writing, linguistic landscape, Pidgin and Creole languages, Slavic languages.
Selected Publications
Speak English or what? Codeswitching and interpreter use in New York City courts. Oxford Studies in Language and Law. Oxford University Press, 2015. ISBN: 9780199337569.
Controlling Roma refugees with 'Google-Hungarian': Indexing deviance, contempt, and belonging in Toronto's linguistic landscape. Language in Society. [2017]
Monolingual ideologies and multilingual practices in small claims court: The case of Spanish-speaking arbitrators International Journal of Multilingualism [2014]
Multilingual speakers and language choice in the legal sphere Applied Linguistics Review 4 (1), 105-126. [2013]
Interpreter-mediated interaction as bilingual speech: Bridging macro-and microsociolinguistics in codeswitching research. International Journal of Bilingualism 14 (4), 466-489. [2010]
Translation style and participant roles in court interpreting. Journal of Sociolinguistics 13 (1), 3-28. [2009]
Creating monolingualism in the multilingual courtroom. Sociolinguistic Studies 2(3), 385-404. [2008; special issue on monolingualism]
Spelling Bilingualism: Script Choice in Russian American Classified Ads and Signage. Language in Society 34 (4), 493-531. [2005]
Who is 'you'? Polite forms of address and ambiguous participant roles in court interpreting. Target: International Journal of Translation Studies 17 (2), 203-226. [2005]
The Case for Politeness: Pronoun Variation in Co-ordinate NPs in Object Position in English. With John Victor Singler. Language Variation and Change 15 (2003), 171-209.
Lexical Cohesion as a Motivation for Code-switching: Evidence from Spanish-English Bilingual Speech in Court Testimonies. In Selected Proceedings from the First Workshop on Spanish Sociolinguistics, ed. Lotfi Sayahi, (2003) 112-122. Somerville, MA: Cascadilla Proceedings Project.
Copying Contiguous Gestures: An Articulatory Account of Bella Coola Reduplication. In Proceedings of the 26th Annual Penn Linguistics Colloquium. University of Pennsylvania Working Papers in Linguistics, Volume 9.1 (2003).
Lexical Cohesion in Multilingual Conversation. International Journal of Bilingualism (2002) 6 (4), 361-393.
Multilingual Discourse in the Family: An analysis of conversations in a German-French-English-speaking family in Canada. Arbeitspapier Nr.33 (Neue Folge) Institut für Sprachwissenschaft Universität zu Köln, 1999.
Reviews and review articles:
The Handbooks of Sociolinguistics: Defining and dividing the field. In: Journal of Sociolinguistics 19 (1): 91-104.
Indexicality and subjective perceptions of the linguistic landscape [Review of Elana Shohamy, Eliezer Ben-Rafael and Monica Barni (eds.), Linguistic landscape in the city.] International Journal of the Sociology of Language 232, 185-190 [2015].
Review of Richard Cameron, Robert Bayley, and Ceil Lucas (eds.). The Oxford Handbook of Sociolinguistics. In: Journal of Sociolinguistics 18 (1), 125-131 [2014].
Review of Berk-Seligson, Susan (2009) Coerced confessions: The Discourse of Bilingual Police Interrogations. In: International Journal of Speech, Language and the Law 17 (1), 171-176.
Review of Hale, Sandra (2004) The Discourse of Court Interpreting LINGUIST List 16.1381
Projects/research topics:
<![if !supportLists]>· <![endif]>International Colloquium on Multilingualism and Interpreting in Settings of Globalisation (MIAM 2015), February 19-20, 2015 at Ghent University, Belgium. Co-organized with Katrijn Maryns and Mieke Van Herreweghe.
<![if !supportLists]>· <![endif]> "The Integration of Text, Sound and Image into the Corpus-Based Analysis of Interpreter-Mediated Interaction" – joint project with Bernd Meyer (U Mainz/Germersheim) and Thomas Schmidt (Institut für Deutsche Sprache, Mannheim), funded by the SSHRC Image, Text, Sound and Technology Program
<![if !supportLists]>· <![endif]>Indexicality of "punitive multilingualism": Hungarian Roma addressees in Toronto's linguistic landscape and the use of machine translation by institutional agents
<![if !supportLists]>· <![endif]>Bridging translation and language contact: Translationese vs. contact-induced change [guest lecture at University of Hamburg (handout in German) and paper presentations at International Symposium on Bilingualism 7 and NWAV38 (see handout)]
<![if !supportLists]>· <![endif]>Language ideology in the legal system [paper presentation at IAFL 9th Biennial Conference on Forensic Linguistics/Language and Law]
<![if !vml]>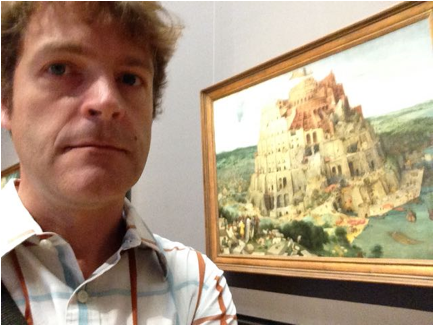 <![endif]>
Membership in the Centre for Research on Language Contact
Series editor, with Katrijn Maryns, of the series Translation, Interpreting and Social Justice in a Globalised World, published by Mutlilingual Matters
---
Other pages:
My York University faculty page
York University Undergraduate Linguistics Program
York University Graduate Program in Linguistics and Applied Linguistics
My old NYU page
Linguistlist profile
Philipp Sebastian Angermeyer
Last modified: 1/30/2017.