Day 1 – Off to Iowa
2004 05 08
ON to IA
To my surprise and their credit, Mark and Sarah arrived at around . Beth came along too to capture the departure on video. Getting out of bed at this hour is quite the feat for Beth, and a sure sign of true love. We repacked all the gear, and were off.
We worried a bit about how we would be received on the US side of the border, but the guard was more interested in asking question about storm chasing than potential terrorist activities. We were through in no time! Then the driving began…
We saw our first storm of the trip at a rest stop on I-94 near Portage. Some elevated storms were approaching from the north accompanied by a few CG lightning strikes. It provided some good practice with getting three tripods and camera bags in and out of the truck. And we got our first questions from passersby. Again, good practice.
<![if !vml]>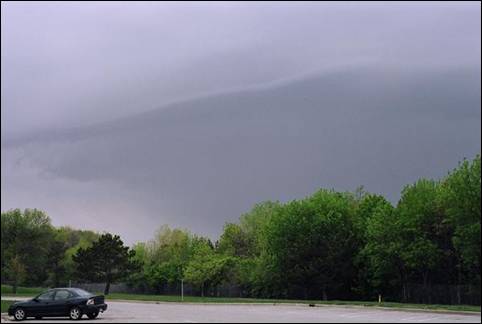 <![endif]>
Photograph of storms approaching rest stop near Portage, facing roughly northwest.
<![if !vml]><![endif]> Mark adjusting the truck-top antenna farm.

<![if !vml]><![endif]>

Getting practice setting up the video equipment.
After following I-94, then I-80 for some time, we finally arrived in Iowa and decided we needed some data. We found a library in Iowa City (an adventure in and of itself) and decided we needed to head west as storms were starting to pop up in our target area. We headed west then north to Marshalltown and got a few pictures of old and new Cbs at about . These were severe warned storms but we were really out of position.
<![if !vml]>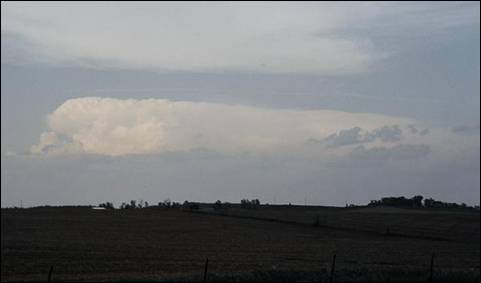 <![endif]>
Photograph of distant Cb over Iowa, looking roughly northeast.
<![if !vml]>
<![endif]>
Mark using the old "dirt in the wind" trick.
After calling up Dave Patrick, our nowcaster back in Ontario, we headed southwest to intercept a severe storm approaching Des Moines. This storm was very impressive-looking, with lots of lightning and a nice line of tCu feeding into the updraft region. The only problem was that it was quickly getting dark. We anticipated that the storm would likely move east along the boundary and headed south for the line of tCu.
<![if !vml]>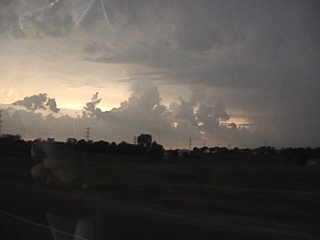 <![endif]>
Line of tCu feeding into Des Moines storm.
Once we arrived at the boundary, we moved west along the boundary toward the updraft region of the storm. It was starting to get hilly as well as dark, so we found a spot with a good view and sat tight while taking video. The storm was still generating quite a bit of lightning and we thought we could make out a lowering where the storm's gust front was intersecting the boundary we had followed. The video shows we were correct.
<![if !vml]><![endif]>

Lightning from the hilltop site.

<![if !vml]><![endif]> A lowering lit by lightning.
Soon, it was too dark to see any structure at all, and we decided to head into Des Moines for the night as the storm raged on. Mark called up his chaser friends Chris Kridler (from Florida) and Dave Lewison (from New York) and we agreed to meet at the American Inn. Chris and Dave had just spent the previous week doing not a lot of chasing (this is where Dave's Biggest Ball of Twine shirt comes in) and must have been glad to see some convective activity.
After meeting Chris and Dave, we ordered a pizza and watched the CGs hammering Des Moines. Power flickered at the hotel and we got to see Mark's lightning dance after a really close CG. Chris clued me in to the fact that the hotel had WI-FI, and my laptop had a built-in WI-FI receiver. Yee-ha! Unfortunately, the WI-FI wasn't working.
A little later, our friend George Kourounis arrived with Charles Edwards' Cloud 9 tour group. He had already been driving with the group for a week and was planning on driving with them for three more. They, too, had little luck chasing the previous week.
By the end of the day, my sore throat had worsened and I was beginning to lose my voice. What a time to get a cold! I hit the sack around 11:30 pm with the storms still raging outside.
All text and images by Dave Sills Copyright 2004.
Unauthorized use prohibited. All rights reserved.
---
<Pre-chase> <Main Page> <Day 2>