Big Bust #2
2004 05 19
IA
I was up at around checking data. SPC has downgraded the risk over our location from moderate to slight, but kept the probabilities of tornadoes, hail and wind the same. By lunchtime, everyone was finally up and we had moved to the truck stop plaza to eat. The eating area had tables with internet jacks so we ate and checked data while watching the many chasers gather outside. We must be in the right place! The local channel 7 television station swooped in like flies to get a story. Mark, our "media slut", was happy to oblige.
There was some thick cloud cover cutting off insolation over the area and, to me, this day was looking like it could be a bust. There was no point in chasing towering cumulus clouds all over the place. We decided to stay and keep monitoring the situation and ended up meeting a number of chasers in the process. Eric Bucsela from the Washinton, DC area joined us at the internet tables. A group of veteran chasers arrived to have a look at some data, got excited about the prospects to our east, and left in big hurry. A group of SPC forecasters that had driven up all the way from Norman dropped in, had a quick look at some data, and seemed nonplussed by the situation.
We waited until about (this was really killing Mark) then decided to head out with Rich and Eric even though things didn't look all that promising. The only good storms were east of Sioux City, well to our north, and these were elevated.
We stopped for data at a rest area on 191 at . Some cells were developing along the warm front to our northeast near Denison, so we decided to head to 80 then go east to get near warm front and future storms. Soon the convective activity was in sight, though it didn't look all that exciting – there was obviously a missing ingredient despite some impressive numbers. At 5:30 pm, the SPC got nervous and issued a severe thunderstorm watch. However, at our next data stop in Adair at 6:10 pm, it clearly looked like this was going to be a complete bust! Eric decided to move on and Sarah was asleep again. Time for some more creative photography!
<![if !vml]>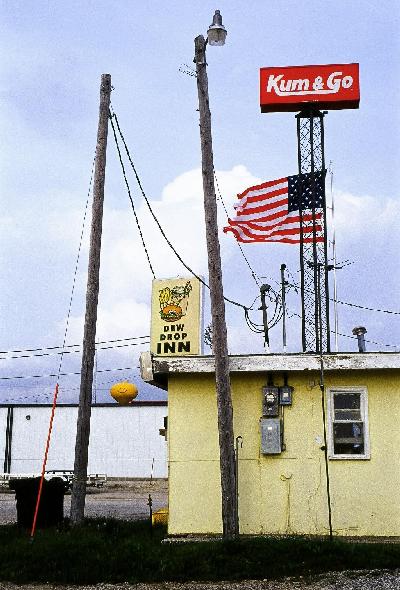 <![endif]>
A taste of Americana in Adair…
<![if !vml]>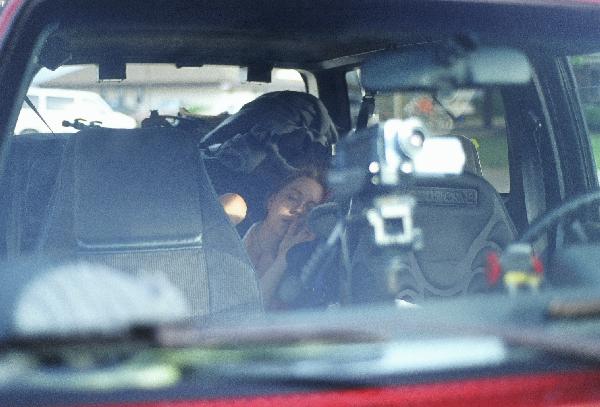 <![endif]>
"The Pile" about to attack a sleeping Sarah in the truck.
We made reservations at the American Inn in Des Moines and hung around in Adair for a while to make sure nothing was going to happen. We gave up at around 7:20 pm and headed east. It was at this point that Mark got a call from George saying that the Cloud 9 crew had followed the Sioux City storms and their vans were being pounded by baseball hail. This was the last straw – George and crew had pulled a rabbit out of the hat again! Mark called George again shortly after and George confirmed that multiple windows were out on the vans but no one was hurt, etc. We couldn't believe it.
And I guess we shouldn't have. We arrived at the hotel in Des Moines to find George and crew with vans intact waiting for us – it was an elaborate prank, complete with hail audio from one of Charles Edwards' highlight DVDs!! Yeah, they got us good, but we were actually a bit relieved that we didn't miss a big event.
We had dinner with the Cloud 9 crew at the Bonanza across the street. Later that night, Mark and I tried to get a bit of revenge by plastic wrapping the Cloud 9 van. All we could find was two boxes of the stuff, and we thought that would be plenty. Nope – that was one big van. Our prank turned into a bit of a joke itself. The things you do to keep busy on bust days!
<![if !vml]>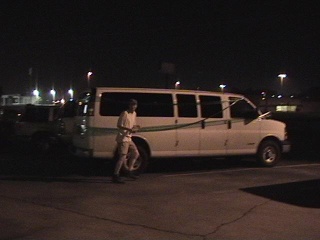 <![endif]> <![if !vml]>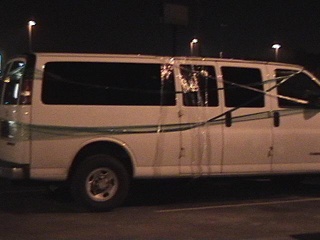 <![endif]>
Our pathetic attempt at a midnight plastic-wrapping of the Cloud 9 van.
All text and images by Dave Sills Copyright 2004.
Unauthorized use prohibited. All rights reserved.
---