Joliet sounds like a nice place…
2004 05 20
IA to IN
I was up around , way before anyone else again. There was a moment of concern when the local sheriff pulled into the parking lot to get a closer look at the van. He chuckled and left – phew! It took until 9:30 am for George and Charles to discover the half-assed wrapping job. The poor quality of the prank didn't stop them from attacking Mark's defenseless truck. This all came to a head with a powdered donut fight in the parking lot. The Cloud 9 tourists were certainly good sports!
<![if !vml]>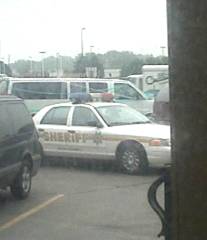 <![endif]> <![if !vml]>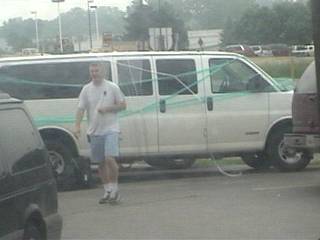 <![endif]> <![if !vml]>
<![endif]>
The sheriff having a closer look, and Charles out for revenge.
<![if !vml]>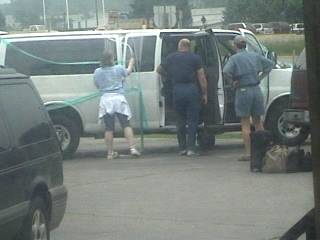 <![endif]><![if !vml]>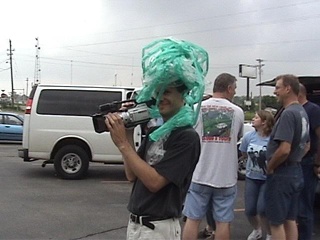 <![endif]>
The plastic wrap comes off and George ends up wearing it – nice look!
After the cleanup, Rich Cenci decided to leave for Minnesota. George and crew considered it to be a marginal day and decided to just stick around area. We decided to head for an area southwest of Chicago – our target for the next day. We anticipated storm development along the Lake Michigan lake breeze front extending into central Michigan and chasing that line would take us right home.
<![if !vml]>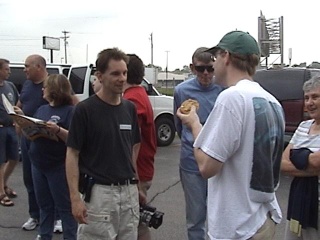 <![endif]> <![if !vml]>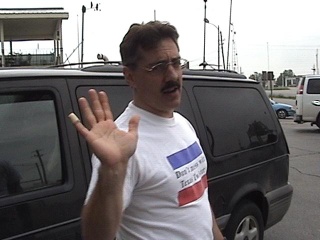 <![endif]>
Mark and George face off and Rich says "that's enough for me – I'm outta here".
We also promised Sarah some shopping time so we headed off to find a mall in Des Moines and gave up after getting completely lost. We finally found an outlet mall along I-80, so we had lunch and downloaded some data while Sarah shopped. Mark and I got in a little souvenir shopping as well.
Storms started going up to our southwest, so with nothing much else to do, we decided to head south to intercept and called Dave Lewison for nowcasting. The SPC issued a severe thunderstorm watch for the area and a tornado watch was issued to our southwest. We decided to stick around the area and found a few cells but the chasing was poor. We managed to intercept a few cores but there was no hail to be found. A warning was issued for the area but things were clearly only marginally severe. We gave up and got back on I-80 at , deciding to stay at Joliet, just southwest of Chicago.
<![if !vml]>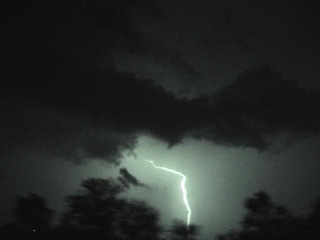 <![endif]>
Lightning with storms after sunset.
We got into Joliet around and found a hotel after some searching, but something didn't seem quite right. The area looked a tad on the seedy side. We were getting a room when Mark asked the clerk if the truck would be safe here. The clerk said he wouldn't leave that truck in this parking lot, saying, "Hey, this is Chicago man, second only to New York City". Yikes. Clearly, Joliet is not as welcoming as it sounds.
Dead tired, we decided we needed to head further east and aimed for Benton Harbor, thinking Michigan was safe. We got as far as Michigan City, Indiana. We checked into a Days Inn around , regretting our chase diversion earlier in the day.
All text and images by Dave Sills Copyright 2004.
Unauthorized use prohibited. All rights reserved.
---