The Big Bust
2004 05 11
NE to KS
The day started late. We had data at the hotel in Ogallala so we analyzed a long while before deciding to head east a bit farther at around . We ended up at the parking lot of a hotel with WI-FI in North Platte, along with a pack of other chasers, including Jim Leonard and his tour group. SPC had a moderate risk over us, plus a severe thunderstorm watch from North Platte to the north and a tornado watch from North Platte to the south. If things were so good, why weren't we seeing anything going up??
Radar revealed a supercell that popped up to our northwest but we were out of position for that. More cells popped up around it and it turned into a big rainy mess, though George and crew managed to get into quarter-sized hail with it. We decided to hold out for bigger things to pop along the dry line just to our west.
<![if !vml]>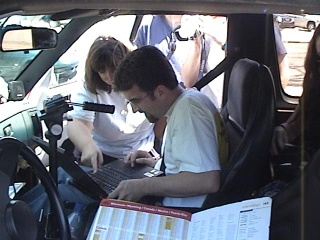 <![endif]> <![if !vml]>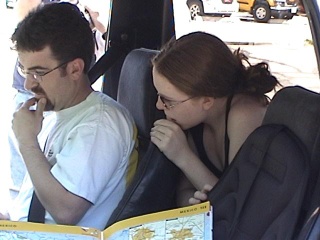 <![endif]>
Laptop data analysis and discussion in North Platte.
We had a really bad lunch at the Country Kitchen then waited patiently for convective initiation. One cell did fire, but it quickly mushed out and drifted right over us, giving a bit of sloppy rain. It was not looking good.
While we waited, we set a target of south central Kansas for Day 2. At , we decided to head south to Kansas along the dryline and within the tornado watch box. SPC had issued another MD for the area – they were still holding out hope even though we had pretty much given up.
At around , we stopped in McCook, Nebraska with Jim Leonard's group and decided to have dinner: the Country Kitchen again – and it was just as bad as the lunch we had! After dinner, Jim let us know that he was going to stay in McCook overnight, but we decided we wanted to make a bit more progress toward our target and left for Colby, Kansas.
Halfway there, Chris and Dave radioed that there was a fair bit of lightning in the distance off to our northwest. We pulled off the nearly deserted highway and stood in the middle of a field of whispering grasses, with the gaping sky revealing a field of stars above and strobing lightning on the horizon. Twas a bit of a zen moment.
We arrived in Colby at around and got a hotel. We did a lot of driving for not a lot of storms. But there was always tomorrow!
All text and images by Dave Sills Copyright 2004.
Unauthorized use prohibited. All rights reserved.
---