The Big Event
2004 05 12
KS to OK
We got up late again and left Colby around , heading south for the Kansas / Oklahoma border going on just a bit of data and very little analysis. We stopped in Garden City, Kansas at around for some lunch and data. We looked for a library but settled on WI-FI at a convenience store. Looking at the data, everything seemed to point to Liberal, Kansas. Ron Gravelle and Jack Kertzie had made their way down south from Ontario and called saying they were heading to Woodward, Oklahoma.
<![if !vml]>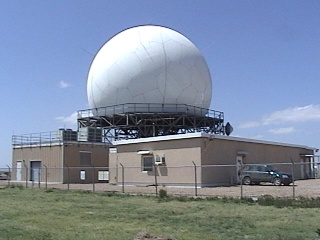 <![endif]>
The Dodge City NEXRAD Doppler radar. I guess
you don't need a tall tower in these parts…
We continued south along 83 to Sublette and took a break there to assess the situation. There should have been a boundary to our east. We decided based on the clouds we could see that we needed to move farther south and east and left at around . Shortly after leaving, we crossed the boundary. The air became noticeably more humid and the wind backed to ESE. Things were looking good!
At , we stopped again to assess the situation, this time in Meade. A few other chasers were there as well. We really didn't want to get too far east of the boundary. We were at a little gas station so I couldn't believe it when we detected a WI-FI signal. A short walk over to the station and BINGO! A quick analysis of the data showed that we were pretty much in the right spot. We just had to wait and watch for convection to begin. The excitement was beginning to build.
We decided to head a bit farther east and soon after, we began to see healthy looking cells to our east, with a few more to our north. In a short time, the cells to our east developed explosively and we knew where we had to be. After a short photo stop on 160, we sped east to intercept what appeared to be some gorgeous supercell storms.
<![if !vml]>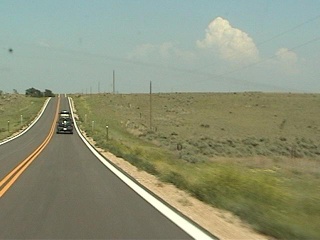 <![endif]>
Chris and Dave, Scott and Peter, and the first cell,
heading east on 160
<![if !vml]>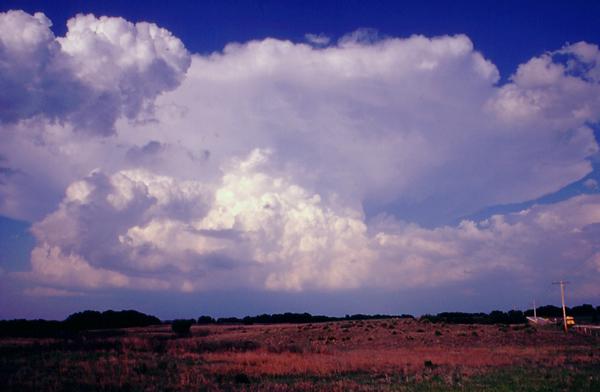 <![endif]>
Photograph of explosive convection, just north of 160 facing east.
Soon it was apparent that things were going to be a bit more complicated than the classic lone supercell. We could see a number of strong cells and it appeared that storm splitting might be occurring. That certainly would have fit with the data we had.
<![if !vml]>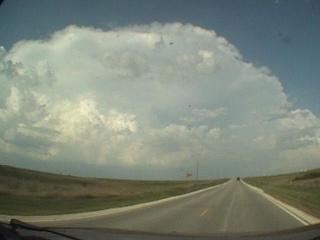 <![endif]> <![if !vml]>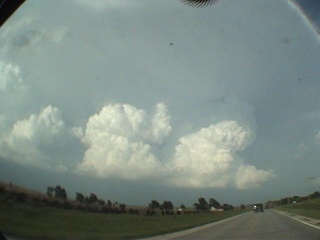 <![endif]>
The first supercell begins to split, from 160 heading east.
<![if !vml]>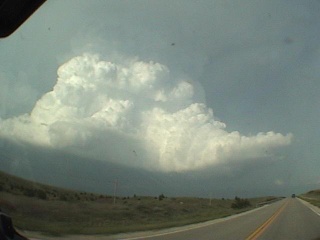 <![endif]> <![if !vml]>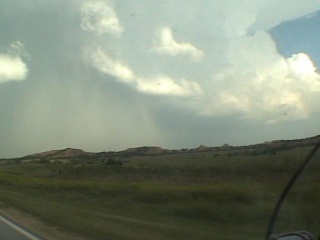 <![endif]>
Now two supercells, one north of 160 and one south (with hail).
Suddenly, there were chasers everywhere. Even in the middle of the road! We had a near miss as a tour group decided to pull part-way off the shoulder just the other side of a big hill, AND one of the tourists was too interested in the storms to notice our truck speeding toward her.
<![if !vml]>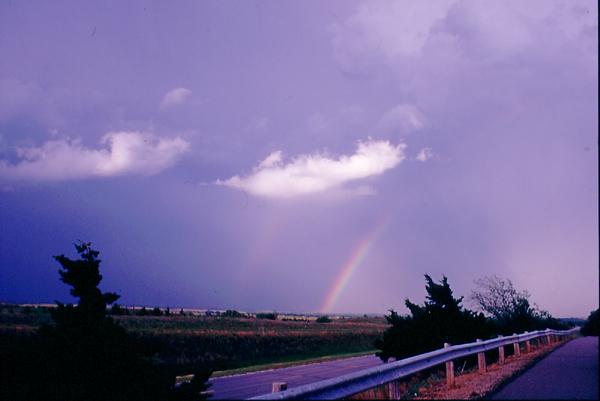 <![endif]>
Photograph of double rainbow and hail core, from scenic turnout just south of 160 facing northeast.
We thought we saw George and crew pulled off at a scenic turnout. There was certainly a healthy looking rain-free base to our north. We radioed the others that we might like to stop here and have a look, then headed a bit farther down 160 and found another scenic lookout. There was now a rotating wall cloud to our northwest, and a solid rain-free base to our southeast. Chris and Dave and Scott and Peter apparently pulled off to wait for us a couple of miles up the road, but we lost radio contact with them. This would prove to shape our destiny for the remainder of the day.
<![if !vml]>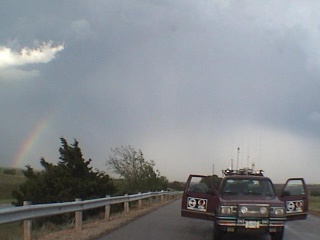 <![endif]> <![if !vml]>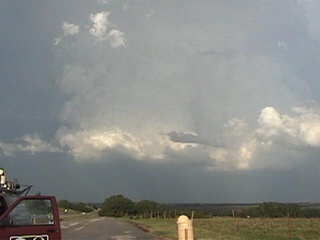 <![endif]>
Views of the west side of the Sharon supercell looking east from the scenic turnout.
<![if !vml]>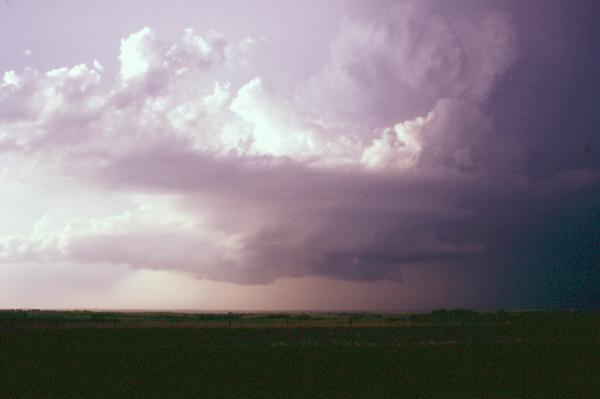 <![endif]>
Photograph of supercell with rotating wall cloud to our northwest.
<![if !vml]>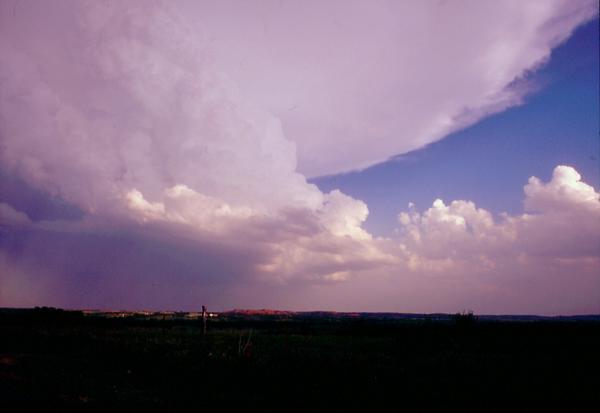 <![endif]>
Photograph of supercell with rotating wall cloud to our southeast.
We decided to stay at the scenic turnout for some video and pictures. The wall cloud to our northwest was rapidly rotating and we expected a tornado any minute. At around , while we were focusing on that cell, another chaser yelled that a tornado had formed on the cell to our southeast. Indeed, a pretty little elephant trunk was now present underneath an amazingly solid updraft core. Unfortunately, our position relative to the tornado meant that the contrast was quite low. In addition, there were other updrafts going up all around us with wall clouds in different degrees of development. We weren't sure what to focus on!
<![if !vml]>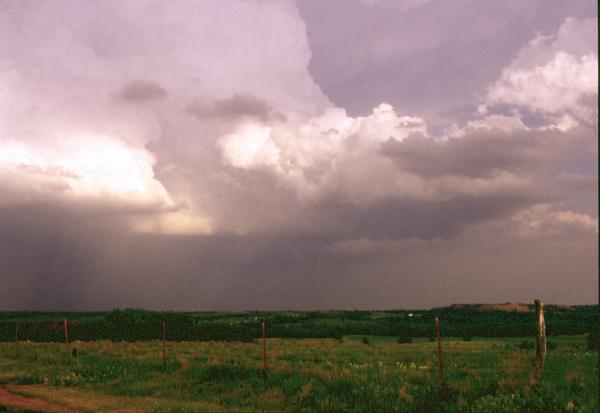 <![endif]>
Photograph of supercell to our southeast spawning a low-contrast "elephant trunk" tornado
near Sharon (look hard – it's there!).
<![if !vml]>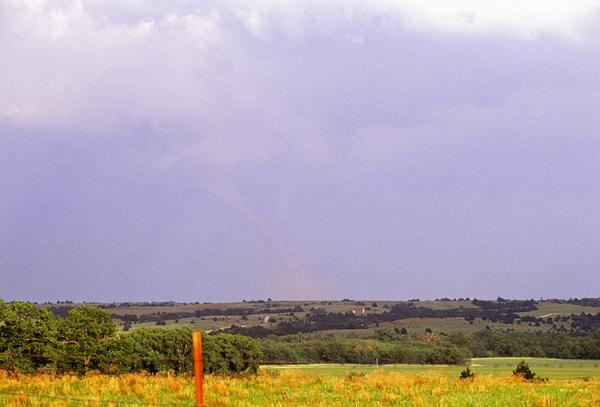 <![endif]>
Photograph of the Sharon tornado using the zoom lens, facing southeast.
<![if !vml]>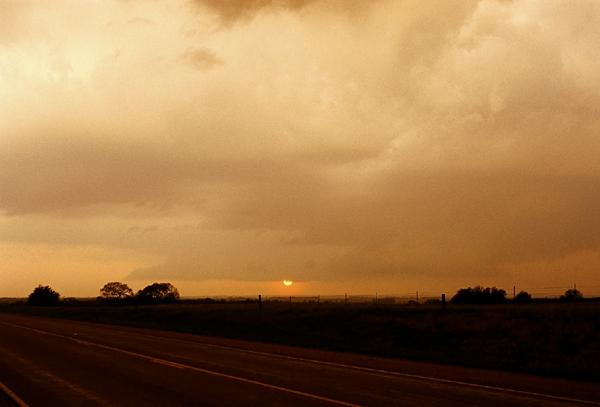 <![endif]>
Photograph of the sun setting under yet another updraft base, facing west-northwest.
After the tornado dissipated, we headed east on 160 at about . At around Medicine Lodge, the situation was getting quite complicated. There were wall clouds everywhere! At about , we stopped the truck to assess the situation, only to find rapid rotation and a developing funnel cloud right overhead!
| | |
| --- | --- |
| <![if !vml]><![endif]> Assessing the situation, facing east along 160. | <![if !vml]><![endif]> Area of rotation with faint funnel cloud on left. |
We sped west to get out of the area, and found another wall cloud to our northwest. We were deciding whether to stay on this storm or head back east when we saw a Doppler On Wheels (DOW) truck and a bunch of other chasers speeding east. Time to head east again!
At about , we spotted a dusty tornado to our east-southeast. It looked awfully big and close, but it turns out it was 5-10 miles away. We got video but Mark was eager to move forward so we inched along the highway and never stopped for pictures. Little did we know that Chris, Dave, Scott and Peter were having the chase of their lives within a quarter mile of this beast!
| | |
| --- | --- |
| <![if !vml]><![endif]> The F2 Attica tornado, facing east along 160. | <![if !vml]><![endif]> Reactions from Sarah and Mark. |
Soon after, the tornado dissipated and we headed a bit further east. We stopped to take a closer look at another wall cloud to our north. It was then that we noticed small bits of paper drifting down out of the sky. This was obviously tornado debris, and well upwind of the Attica tornado. At the same time, a Cb to our east was beginning to look very ominous. We could make out a lowering, and thought we saw a brief tornado though we couldn't be sure.
<![if !vml]>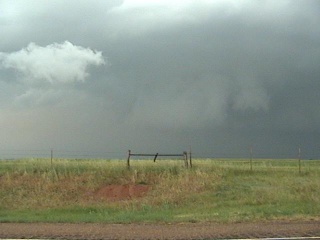 <![endif]> <![if !vml]>
<![endif]>
Another wall cloud to our north, with lightning on right.
<![if !vml]>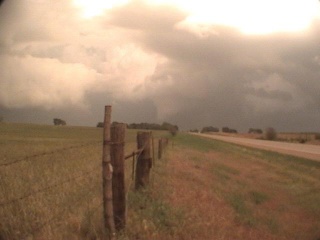 <![endif]> <![if !vml]>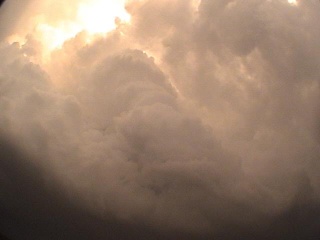 <![endif]>
The intense supercell to our east near Harper produced a lot of very interesting features.
| | |
| --- | --- |
| <![if !vml]><![endif]> A pensive Mark and another supercell. | <![if !vml]><![endif]> Wall cloud approaching from the south. |
A new cell began moving toward us from the south with yet another wall cloud developing - we had to move. We headed east toward Attica at about . It was beginning to get dark at this point, and there was a really dark storm core ahead of us on 160, so we headed south from Attica to keep out of the core. Jim Leonard's group was there and said that they had just seen a tornado to the east. We waited a bit there as darkness fell and managed to spot the tornado under an impressive wall cloud, backlit by lightning. Unfortunately, we didn't have the cameras rolling since it was dark and raining. We found out after the trip that this was the Harper F4 tornado.
| | |
| --- | --- |
| <![if !vml]><![endif]> Heading east with the Harper storm lit by lightning. | <![if !vml]><![endif]> Jim's group south of Attica lit by intense lightning. |
We waited there for a while watching the continuous lightning to our north. After it was clear the show would be over, we talked a bit with a fireman sitting in his truck to our south. He said there were no injuries that he knew of, but Attica and Harper had damage. We found a road heading east just south of Attica and started along it, only to find it blocked by fallen trees. There was a big path carved through the woodlot to the south – the Attica tornado had been right through here!
<![if !vml]>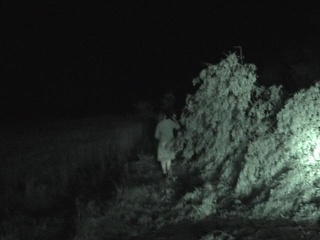 <![endif]>
Sarah checking out Attica tree damage blocking the road
Mark thought he could drive the truck over the debris blocking the road and gave it a try. Success – though quite a ride! We continued east to Harper to see if we could find any damage there, but the police had the road blocked where the damage was worst, so we headed south and finally were able to contact the rest of our group. It was then that we learned how close they had come to not only the Attica tornado, but several others as well. In fact, they caught a house roof going straight up into the tornado on video (while dodging baseball-sized hail)! Check out Scott McPartland's footage here.
The action the next day would be in Oklahoma, so we decided to head to Enid even though it was already quite late and we all had just been through quite a day. As we got into Enid, we noticed a lot of chaser vehicles around. It seems that everyone had the same idea. We checked into a Best Western, then headed to an IHOP for some food. There had to have been about 50 chasers there at , all talking about the big day and showing off their footage. We finally got to bed at around , though Scott would be up most of the night sending his tornado footage to the Weather Channel.
All text and images by Dave Sills Copyright 2004.
Unauthorized use prohibited. All rights reserved.
---