Rocky's Big BBQ
2004 05 15
OK to KS
We stuck around Norman in the morning and looked at some data. Nebraska was looking good for Sunday. We decided to head for Mark "Rocky" Rascovich's Chaser BBQ first, then go from there into Nebraska to set up for Sunday. Just one problem…the truck was basically out of oil. It's a good thing Mark discovered this BEFORE we got on the road again!
<![if !vml]>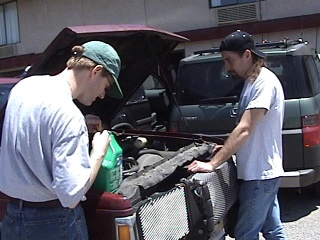 <![endif]>
Mark and Scott taking care of the oil situation
We left at around 1:30 pm for Rocky's, but not before doing a quick tour of the US Storm Prediction Center grounds so that Sarah could get a few photos. We got to Rocky's, which was just northwest of Oklahoma City, at around 3 pm. I think there were about 50 people there watching videos, eating and chatting. Apparently, the turnout was on the low side since some chasers decided to head straight to Nebraska. Their loss! Near the end of our stay at Rocky's, a photographer started taking pictures and asking questions about Mark's truck. We found out later that he was doing a story on storm chasing for USA Today and that he expected the story to be run the next day.
<![if !vml]>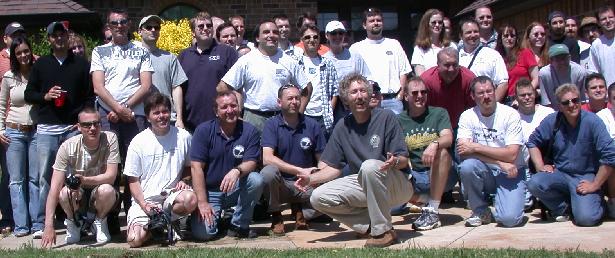 <![endif]>
Photograph by Dave Lewison of some of the gang gathered for the BBQ.
Rocky is the guy out front and some of us are in the top right corner.
After the BBQ, the chase trip was pretty much over for Chris and Dave and Scott and Peter. We said our goodbyes, took a few group shots, and parted ways. The Southern Ontario Chasers team was on its own again and we left Rocky's at 5 pm on our way to Nebraska via Kansas. We stopped at a truck stop near Ponca City to get some data a while later. Things still looked good for central Nebraska, so we decided to head further north and stopped for the night in Concordia, Kansas at around 10:30 pm. We had a quick bite at a Subway then found a Super 8 for the night.
All text and images by Dave Sills Copyright 2004
except photograph by Dave Lewison Copyright 2004.
Unauthorized use prohibited. All rights reserved.
---