The Hunter Becomes the Hunted in Mason City
2004 05 16
KS to NE
We left Concordia at around after some data analysis. It looked like there would be two areas where severe storms would be possible: one in northern Nebraska and one in western Nebraska. We targeted Moorefield in western Nebraska, on familiar terrain between McCook and North Platte, and headed due north into Nebraska thinking that we could reconsider after some data analysis later in the day. A copy of USA Today was found, and sure enough, there was Mark and his truck on Page 3, along with Dave Lewison and Jason Politte (note the spelling error in the caption). I, however, was neatly cut out of the picture – though you can see my fingers on the left side of the photo (really!). Geez, I get no respect (with apologies to the late great Rodney Dangerfield).
<![if !vml]>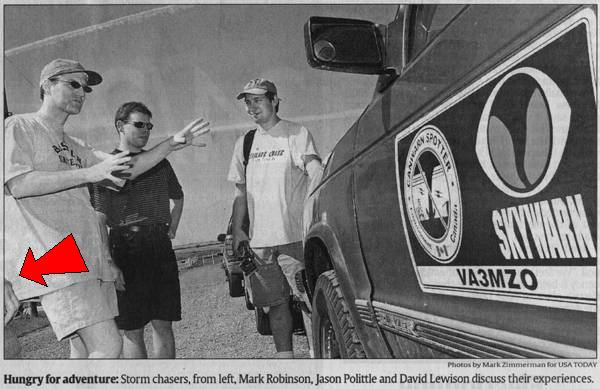 <![endif]>
USA Today photo at the BBQ by Mark Zimmerman. The arrow points to my hand.
We got to York at around , where we found a whole gaggle of other chasers at a travelers centre. The two DOW trucks were there, flanked by the armored Tornado Intercept Vehicle (TIV). They apparently had an IMAX crew on board. Sarah got to meet Josh Wurman and also talked with the TIV chasers. After some further data analysis, we decided that our original target still looked good. Some of the other chasers, including George and Charles, decided on the other option to the north. Jim Leonard and his tour group planned to head farther west to Grand Island and make their decision there.
<![if !vml]>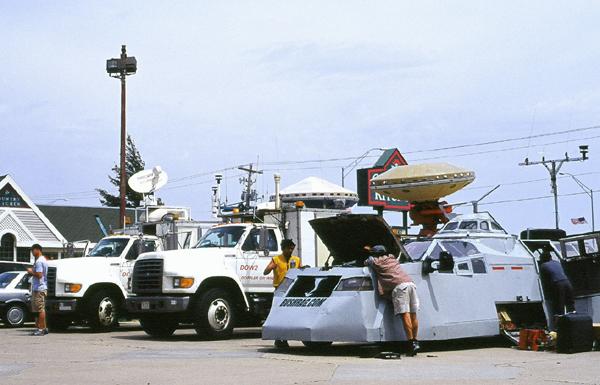 <![endif]>
Photograph of the Doppler On Wheels trucks and the Tornado Intercept Vehicle in York.
We decided to pull off of I-80 at Kearney for data, and met Jim Leonard's group as we located a WI-FI hotspot. It was here that poor Mark fell victim to Jim's shocking pen prank. It seems Mark is a favourite target for Plains pranksters like Jim and Charles – more on that later.
We had a look at some radar and found that storms were starting to pop southwest of Kearney, so we left the others and headed south. We found several storms developing with a motion toward the northeast. The precip cores had a nice hard back edge, so things were looking promising. At , the first tornado warning was issued on the storm we were watching most closely. We were in good viewing position and got stills and video.
<![if !vml]>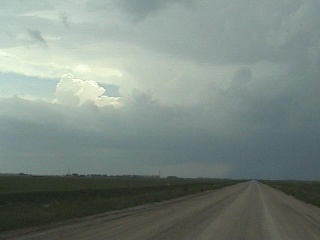 <![endif]> <![if !vml]>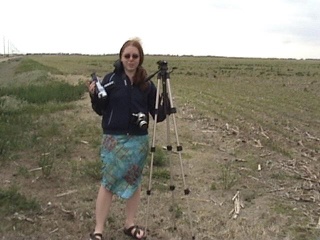 <![endif]>
The Kearney storm from the dashcam facing west and Sarah on the hunt.
<![if !vml]>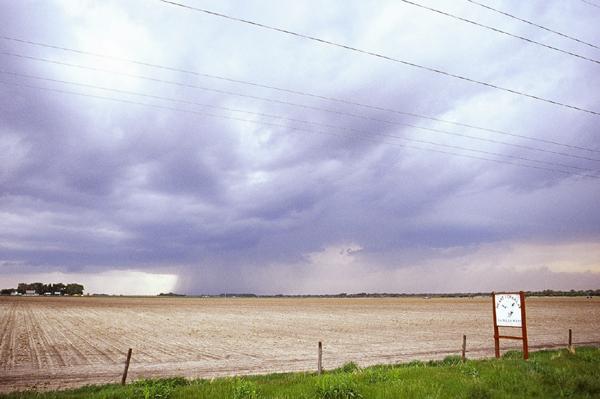 <![endif]>
Photograph of the beginnings of the Kearney storms, facing roughly west.
<![if !vml]>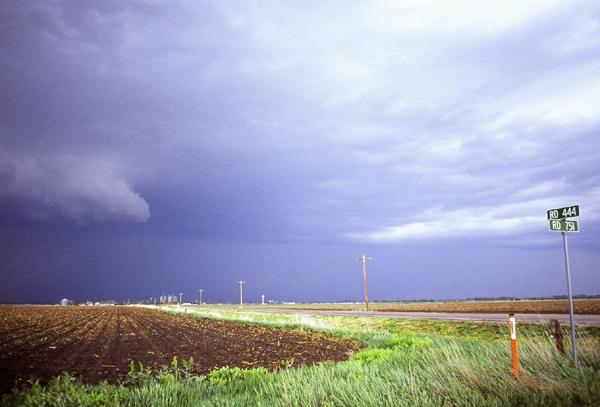 <![endif]>
Photograph of things getting more ominous south of Kearney, looking roughly west.
We headed farther west at , then north to Overton at . We had a great vantage point here near the top of a hill and set up the tripods again. Only a few other chasers could be seen in the area. Additional storms were winding up and soon a well-defined rotating wall cloud was visible to our west, with a sharp-edged hail and rain core to the northwest. As the storm moved northeast, the wall cloud edged closer to our position. Ragged bits of cumulus were now rotating below the wall cloud, but a funnel cloud was nowhere to be seen.
<![if !vml]>
<![endif]>
Photograph of a rotating wall cloud and hail shafts near Overton, facing northwest.
<![if !vml]>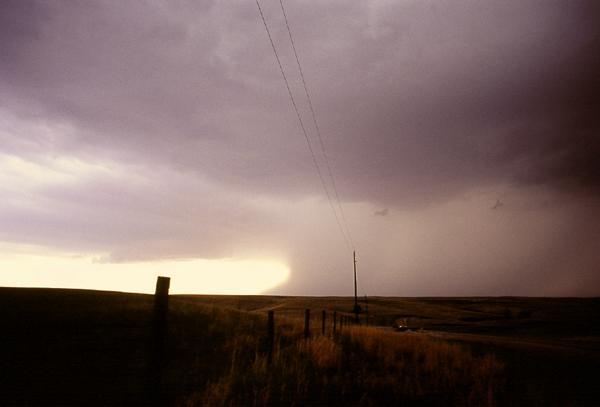 <![endif]>
Photograph of well-defined rain and hail core west of Overton, facing roughly west.
<![if !vml]>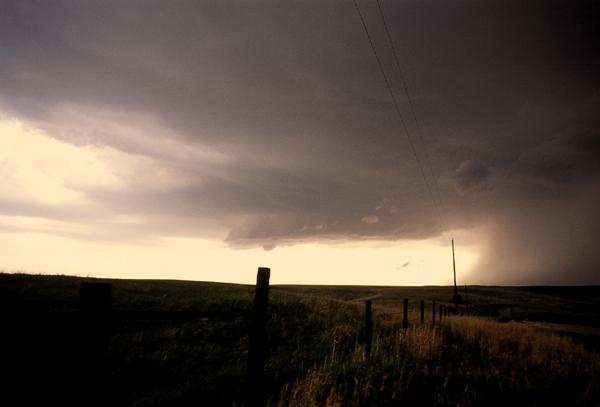 <![endif]>
Photograph of second rotating wall cloud and well-defined rain/hail core near Overton, looking southwest.
<![if !vml]>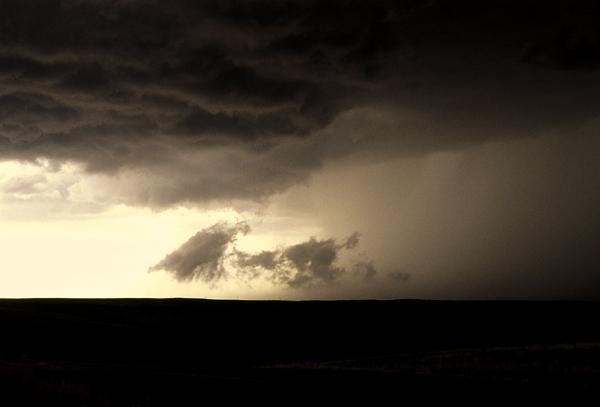 <![endif]>
Photograph of dancing scud beneath a rotating wall cloud near Overton, looking roughly northwest.
<![if !vml]>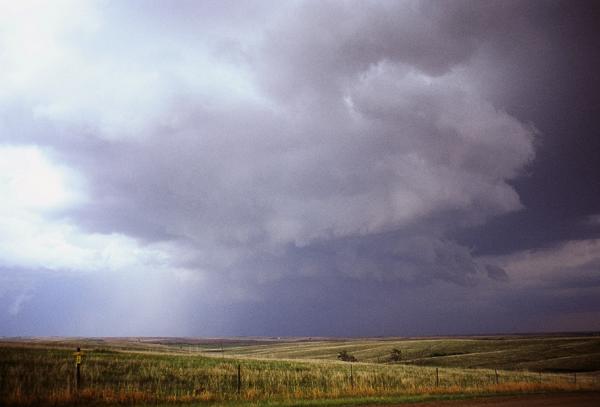 <![endif]>
Photograph of complex cloud structure as the low-level mesocyclone
passed close by, near Overton facing north.
As the wall cloud passed just north of us, the pressure at our location dropped enough for my ears to pop. If there had been a tornado, we weren't able to see it. We saw tornado footage from the area on the Weather Channel the next day that showed debris swirling at the surface with no funnel cloud so, who knows, maybe we did see a tornado. And of course Jim Leonard and crew saw a tornado at a location just to our east and George and crew, having chosen to head north this day, happened upon a tornado too. Sigh.
We left the hill near and got onto some very rough and muddy roads to the north. The roads were in such terrible condition that the truck felt like it was going to shake apart. Nearly an hour later, we saw a cell developing to the west and decide to intercept. Dave Patrick called and agreed that this was the best way to go. We stopped to get some pictures of a dramatic shelf cloud as this storm approached, but then the truck suddenly developed severe steering problems. We were forced to break off the chase and head to the nearest town - Mason City.
<![if !vml]>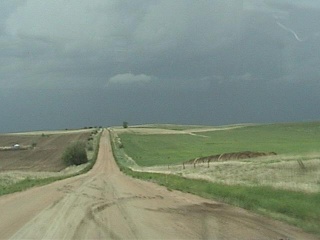 <![endif]> <![if !vml]>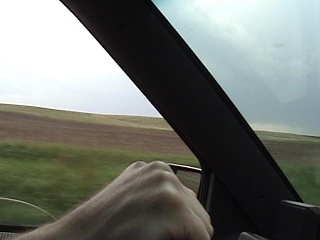 <![endif]>
When the roads weren't full of ruts, they were like "pudding". Mark had some white knuckle driving to do.
<![if !vml]>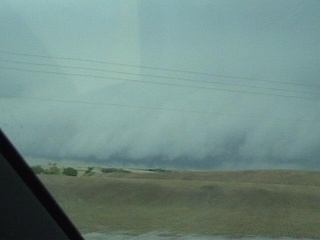 <![endif]> <![if !vml]>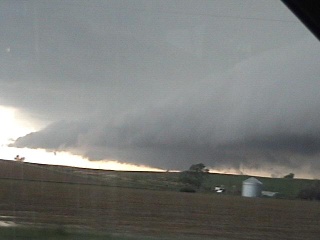 <![endif]>
Green skies ahead of the shelf cloud, then another view of the shelf cloud facing south.
<![if !vml]>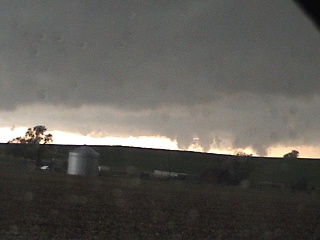 <![endif]> <![if !vml]>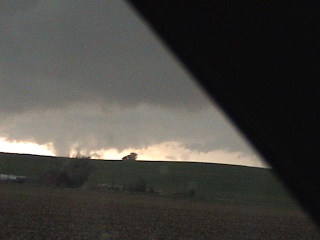 <![endif]>
Funnel cloud look-alikes – scud fingers along the leading edge of the storm outflow.
<![if !vml]>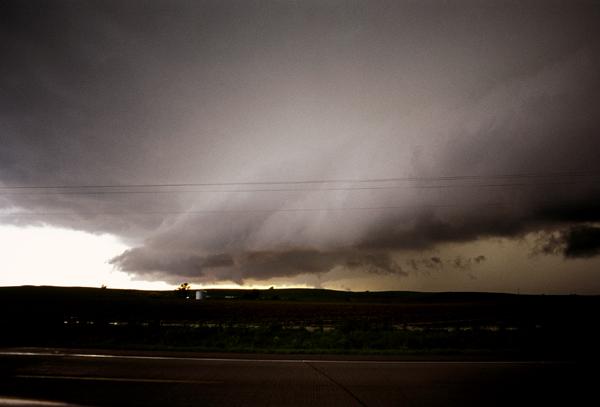 <![endif]>
Photograph of shelf cloud bearing down on Mason City area, facing roughly south.
Mason City is a pretty little town, and we found a main street with a handful of businesses. We pulled up in front of a saloon and Mark checked out the truck in the rain. The right CV boot was torn - the rough ride we had north of Overton had cost us. A man emerged from the bar, saying he was a mechanic, and asked if he could have a look. His name was Pat and he told us that he would be able to fix the truck first thing Monday morning if we could take it to his shop in nearby Ansley. He said there were places to stay there as well.
As we sat in the truck and pondered our options (and bad luck), a new tornado warning came up on the weather radio. It was for our area. In fact, it said that the tornado would hit Mason City at . We all looked at the clock - !
With the rain, there would be no way for us to see where the tornado was coming from. And if we needed to move quickly, we couldn't count on the truck. Plus, the saloon didn't look all that tornado-resistant. We decided to limp off to the north as far and as quickly as possible. We yelled to some people out front of the saloon that a tornado was coming then headed off.
To the north of Mason City, we got into a bit of hail but managed to stay out of trouble. Still, Mark was having a hard time keeping the truck on the road and was cursing up a storm of his own. We waited around a bit while the storm passed, then limped south back into Mason City at around 7:45 pm, not knowing what we'd find there.
When we arrived back at the saloon, the place where we had been parked was under two feet of water. Some of the locals said they saw a funnel cloud south of town, but Mason City itself was spared a tornado. Mark talked again with Pat and I decided to take this opportunity to get a few photos of this place. Might as well make the best of a bad situation!
<![if !vml]>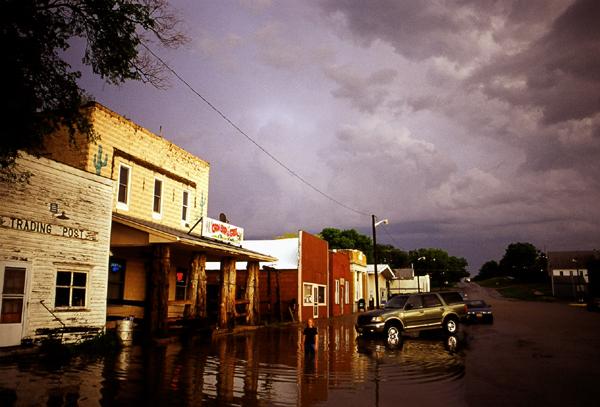 <![endif]>
Main Street Mason City in the wake of the tornado-warned storm, facing south.
<![if !vml]>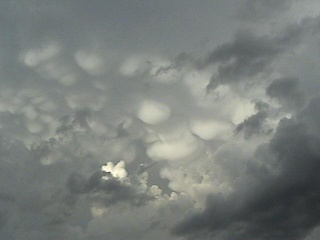 <![endif]>
Dramatic mammatus clouds to the rear of the storm.
<![if !vml]>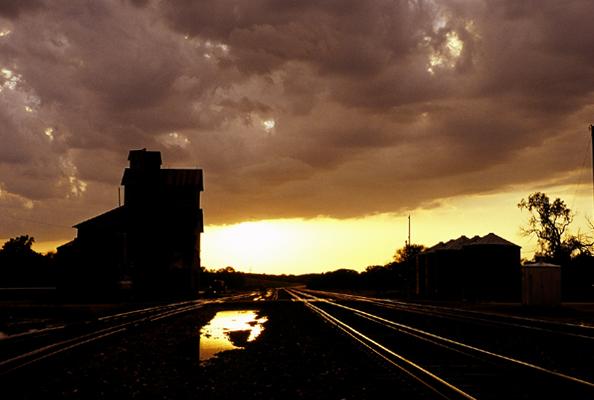 <![endif]>
Looking down the tracks from Mason City, facing roughly west.
Mark finally emerged from his discussions with Pat, not looking all that happy. Who knows how much this might cost? It could be a trip ender. At the saloon, we all met Pat and his wife, Janis, and they offer to feed us and take us in for the night. Now that's Nebraska hospitality! We headed off to their place just after .
When we arrived at Pat and Janis' house, their youngest son, Cole, told us that we could come in only if we were hockey fans. No problem there…we're Canadians! We met their other two boys, Luke and Nick, and had a quick tour of the place. Pat and Janis made a wonderful pasta dinner and we ate at around Afterwards, we showed them a bit of video from the trip. Then we were off to bed. I don't think any of us had trouble sleeping that night.
<![if !vml]>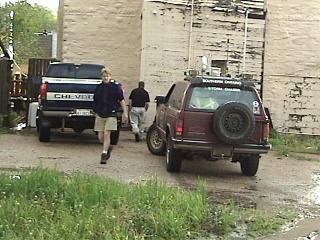 <![endif]> <![if !vml]>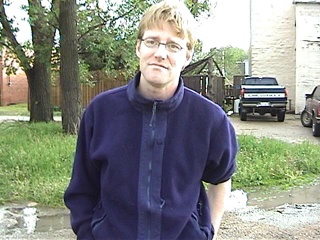 <![endif]>
Mark and Pat wrap up negotiations behind the saloon, and Mark looking like a man with a sick truck.
All text and images by Dave Sills Copyright 2004
except the USA Today photo by Mark Zimmerman.
Unauthorized use prohibited. All rights reserved.
---