Reflections on one helluva road trip
For those who like road trips, storm chasing on the US plains is a real treat. Moving from town to town and state to state with purpose, not knowing where you'll sleep or where you'll head the next day, the camaraderie with chase partners, seeing new places and meeting new people – it's all there. And the Great Plains is the perfect place to do it. Wide open spaces with incredible vistas, and warm, friendly townsfolk that give a true glimpse of American life.
I was surprised at how much more there was to a storm chasing trip than just chasing storms. There's an entire mobile community on the Plains in May with a fascinating cast of characters. Each person has his/her own reasons for being there – and as long as they're chasing safely, I think it's great.
<![if !vml]>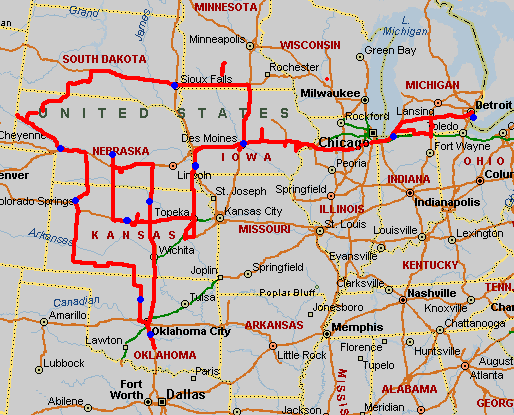 <![endif]>
The total route for the chase trip in red, places we stayed are in blue (map by MapBlast).
<![if !vml]>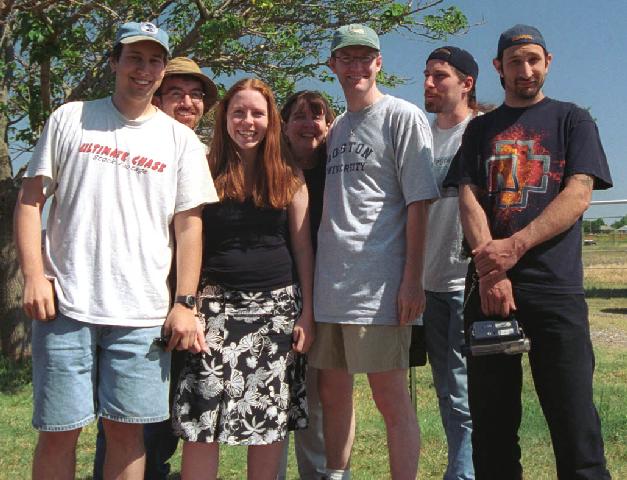 <![endif]>
Photograph by Dave Lewison of Dave, me, Sarah, Chris, Mark, Scott and Peter.
Why is Scott blowing in Mark's ear??
A lot is made of the fact that so many people are chasing now. It certainly can't be much like it was 10 or 20 years ago. But as much as people hate it, things do change. In fact, I kept finding myself thinking how different chasing will be in another 10-20 years. Perhaps wireless internet access will have spread across the entire continent making data access cheap and effortless. Maybe instead of chase tour vans there will be chase tour buses, and commercial chasing licenses will be required.
Many people believe that by that time, computer models will have convective storm location, timing and intensity pegged days in advance. I am certainly not one of those people. And that's one of the main reasons I do chase storms. They are yet untamed, still mysterious – magnificent forces of nature. And I think they'll stay that way for a long time.
Hope to see you on the road some time in future.
Dave Sills
August 2004
All text by Dave Sills Copyright 2004.
Photograph by Dave Lewison Copyright 2004.
Unauthorized use prohibited. All rights reserved.
---