Storm Damage Survey - 9 May 2000

Investigator
David Sills, MSC King Radar
All photographs Copyright 2000 Environment Canada

Quick Facts
Severe Weather Type
Tornadoes (2 confirmed, 1 possible)
Location
Southern Essex Co.
Time
Between 2030 and 2100 EDT
Duration
Less than 15 minutes in each case
Magnitude
F1 at Malden Centre, F0 elsewhere
Path Length
Various
Direction of Motion
Approx. 270º for tornadoes
Path Width
Various
Significant Damage
Minor to moderate damage to buildings, numerous trees down including large trees
Damage Estimate (Source)
$ 60 000
(DS)
Overview
On 9 May 2000, an intense 'bow echo' thunderstorm complex tracked across southern Michigan and into Essex County around 2000 UTC. Hail, wind damage and a few tornadoes were reported in SE Lower Michigan (see below).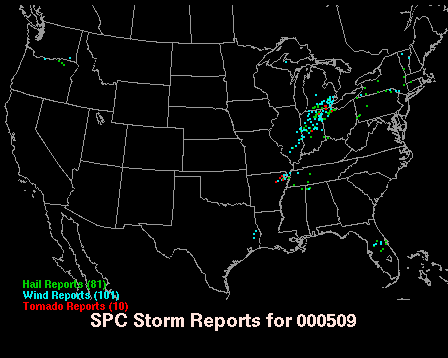 Storm reports provided by the US Storm Prediction Center
Wind gusts to 60 knots were reported in Essex County (see Appendix A). Only minor damage was reported at the time though reports of more significant damage at four separate areas in the county were obtained through the Windsor Star and the River Town Times (see Appendix B). The map below shows the damage area locations.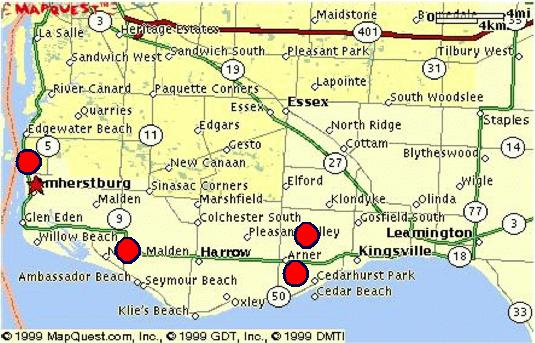 Map of southern Essex County showing the four locations
of damage as reported in local newspapers (north towards top).
A damage survey was conducted on Monday, 15 May 2000. Near Amherstburg, the damage was mainly snapped and uprooted trees, some of which damaged houses. At Malden Centre, a self-serve car wash roof had been shifted, portions of wood fencing were removed (some never found again), roofs were removed from large sheds, and a large metal container was overturned. Several trees were also damaged. Near Kingsville, numerous large trees were snapped or uprooted and there was some minor damage to buildings. The wind also knocked a bald eagle nest out of a tree killing three eaglets. It was concluded from the damage and, in one case, witness testimony that at least two tornadoes had occurred with another tornado possible. Most of the damage was of F0 intensity on the Fujita damage intensity scale (Fujita, 1981) though some evidence of F1 damage was found at Malden Centre. The details for each case are given below. The author estimates the total damage to be on the order of $60 000.

Investigation
The investigation began at a location just north of Amherstburg at the DeLuca home. Sometime between 2030 EDT and 2100 EDT, the DeLuca's took cover in the basement as the storm approached but re-emerged upon hearing a great commotion in their front yard. They believe they heard the tornado roar by. There were numerous large trees snapped and uprooted just north of the corner of Front Rd. North and Texas Rd. as shown below.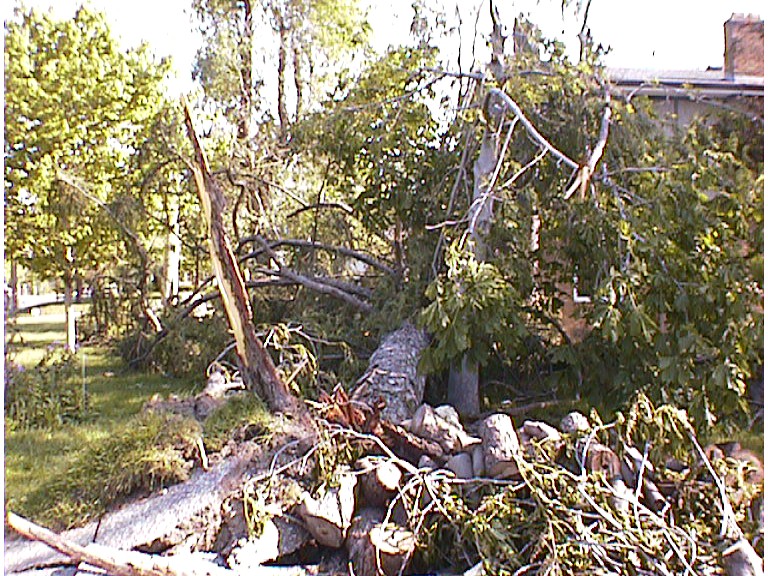 Large pine blown down narrowly missing house, facing N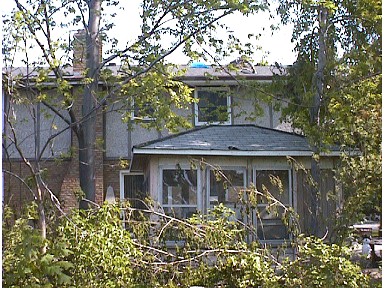 Trees branch punctured roof (blue tarp), small
sun room was lifted off foundation, facing N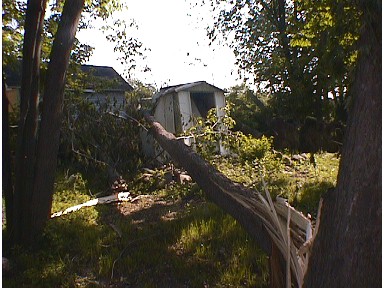 Large portion of broken tree landed on storage
sheds, facing ENE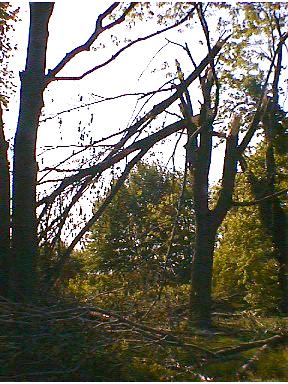 Tree branches snapped, facing SE
Trees were down from the south in the southern part of this damage area but the fall direction veered to west with increasing distance northward. The majority of trees were down from the southwest near the centre of the damage path. The damage path width in this area was nearly 150 m. A narrow damage track could be followed from the river's edge east to the 5th Concession where the last damaged trees could be found. This gives an approximate path of 7 km in length from 270 degrees (see map below). Based on the damage intensity, the narrow damage path and the veering of fall direction with distance north, it appears that an anti-cyclonically rotating tornado caused F0 damage at this location.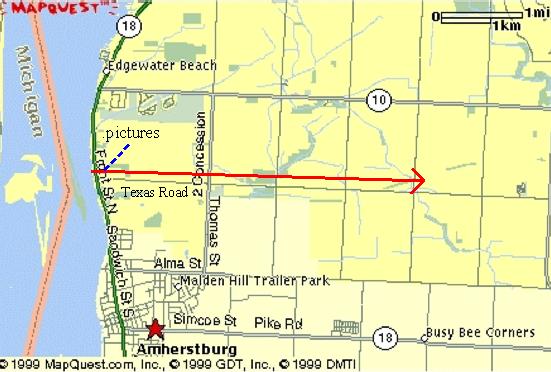 Map of affected region with north towards the top. Red arrow indicates
path and direction of tornado. Blue dashed line points to location for
which above pictures were taken.
The next area to be investigated was Malden Centre. Several newspapers reported that Randy Ure of Ure's Country Kitchen witnessed a tornado that caused damage in the area. Randy was interviewed and asked to describe the event. He said that he had heard a weather warning and was watching a black line of cloud advance from the west near 2000 EDT. It started to rain near 2015 EDT with the rain growing much heavier with time. Near 2030 EDT, he went outside his store to pump gas and noticed a whirling wall of water and debris moving from the car wash toward the east on the south side of his store less than 20 m to his south. His view (at a later time) is shown below.

Facing SW at corner of County Rd. 20 and County Rd. 50
He said it was raining at the time and that air and rain were rushing into the centre of the vortex. He said the tornado was about 50 m wide and he was certain that it was rotating anti-cyclonically.
There appeared to be a path of damage from west to east from a school approximately 600 m to the west of the store on County Rd. 20 to neighbouring properties extending approximately 600 m to the east of the store. At the school, a few trees were either broken or uprooted. At the car wash, the roof on the south side had been pried upward and some of the roofing materials stripped away, as shown below.

Car wash building with roof shifted and roofing materials missing, facing NE
The tornado also picked up six large pieces of wood fencing (shown below). Only four of the pieces were later found by residents.

Facing E
At Ure's Country Kitchen, the tornado overturned a large display cart, wrapped both an aluminum ladder and aluminum boat around obstacles about 100 m away, removed roofs from two large storage sheds, blew over a large steel storage container filled with materials, and deposited gravel in the eavestroughs of the store.





Aluminum boat and ladder crumpled


Roof removed from large storage shed behind
and to the east of the Country Kitchen, facing NNW

Metal storage bin measuring roughly 3 m x 3 m x 15 m
overturned behind and to the east of the Country Kitchen,
facing NNE
It was concluded that an anti-cyclonically rotating tornado caused damage of mainly F0 but occasional F1 intensity. The path is about 1 km in length and from approximately 270 degrees though there is slight curvature implied near the start of the track as shown in the map below. The path width was approximately 50 m.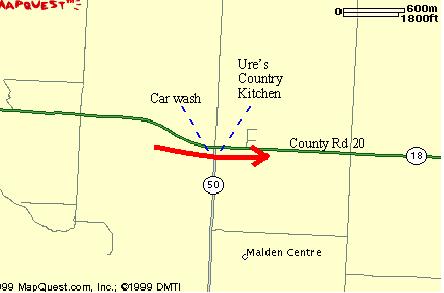 Map showing the tornado path (red arrow), north towards the top
The area of damage south of Arner and west of Kingsville was investigated next. Kevin and Mark Norris had reported that numerous trees were downed by the storm and that a bald eagle nest had been knocked from a tree killing three rare bald eaglets. The damage area was on private property and was difficult to reach by car. Since the owner could not be located, the site was not visited. However, Kevin related that there was a very narrow path of damage approximately 30 m wide along which trees were down in the similar directions. The path crossed a farm field and continued into the next woodlot more than 200 m away. The conclusion here is that a tornado possibly occurred with an estimated damage intensity of F0. However, no confirmation could be made.
The next area of damage visited was near Jack Miner's bird sanctuary northwest of Kingsville. The Heroux home on County Rd. 3 had large trees snapped and uprooted and the windows, door and some of the roofing materials of the garage were removed. Trees were blown down from the SSW. There were numerous large trees in the Jack Miner sanctuary area to the east of the Heroux home uprooted and snapped, also from the SSW. A peacock shelter was overturned, a 5 m aluminum boat was tossed from its trailer and signs were blown down.
There was also damage in an area approximately 2 km to the south of the Jack Miner site at the corner of McCain Sideroad and Country Rd. 2 West. Here, a tree was blown onto a house from the WSW as shown below.

House with roof damage by uprooted tree (removed), facing NE
The Trinity United Church was also damaged just to the southwest of the above house. The frames of four stained glass windows were bent. The cupola was blown off, as shown in the photo below, and their was other damage to the slate roof of the church and the ceiling inside.

Trinity United Church with cupola missing and hole covered with blue tarp,
facing WSW
From the damage at these sites, it is impossible to tell if a tornado did occur. Since trees were felled from a SW direction over a larger area, it is most likely that the damage here was caused by strong straight-line winds.

Conclusions
After analyzing the damage and witness accounts from the various sites, it was concluded that:
1) An anti-cyclonically rotating tornado occurred just north of Amherstburg causing damage consistent with F0 intensity on the Fujita scale. This tornado had a path approximately 150 m wide, 7 km long and from 270 degrees. Damage is estimated to be roughly $10 000.
2) An anti-cyclonically rotating tornado occurred at Malden Centre causing damage with a maximum intensity of F1 on the Fujita scale. The tornado had a path approximately 50 m wide, 1 km long and also from 270 degrees. Damage is estimated to be roughly $30 000.
3) Wind damage of F0 intensity south of Arner was possibly caused by a tornado. There is not enough information to provide a damage estimate.
4) Wind damage near Jack Miner's northwest of Kingsville was likely due to straight-line winds that accompanied the bow-echo storm. Damage is estimated to be roughly $20 000.

Additional Notes
The following are radar images courtesy of WSI showing the storm at 2115 EDT and 2100 EDT. Note the bow structure with the 'head' NW of Detroit and the bowed echo over Essex County. There appear to be several inflow notches along the bow in the second image. Note also that the NEXRAD algorithms have detected a tornado vortex signature (TVS), a mesocyclone (MESO) and hail with the storm over Essex County. The red boxes are tornado watch areas while the blue box is a severe thunderstorm watch area. Essex County was under a tornado warning at this time.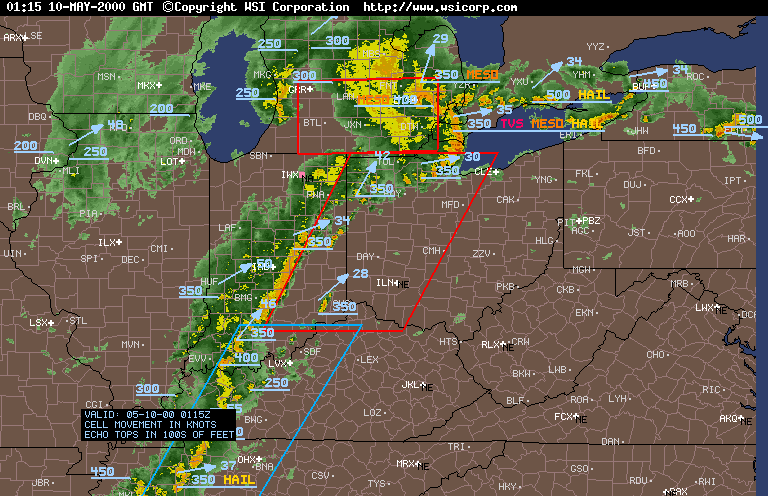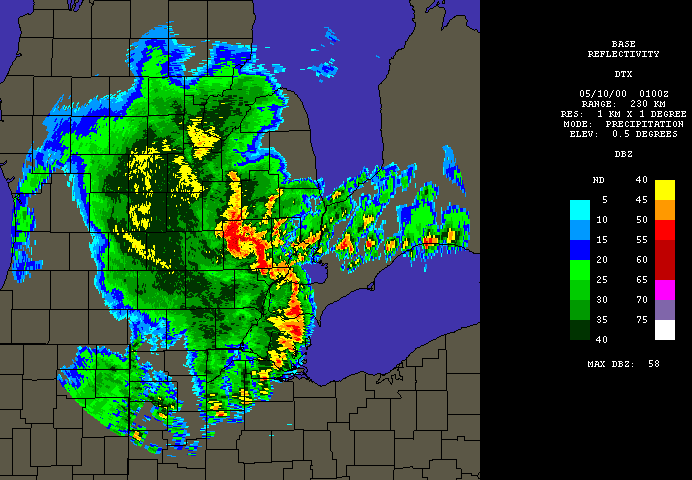 Reference
Fujita, T.T. 1981. Tornadoes and Downbursts in the Context of Generalized
Planetary Scales. J. Atmos. Sci. 38: 1511-1534.

Appendix A
SOURCE/WATCHER ID: DTW OBS
EVENT TIME (UTC): 23-54
EVENT DAY: 9.0
EVENT LOCALE: Windsor-Detroit International Airport
DETAILED DESCRIPTION: 3/4 inch hail.
SOURCE/WATCHER ID: KDTW OBS
EVENT TIME (UTC): 00-46
EVENT DAY: 10.0
EVENT LOCALE: Detroit Metro Airport
DETAILED DESCRIPTION: 24034G48KT with +TSRA BR SQ reported
SOURCE/WATCHER ID: Brenda Barnwell 0441
EVENT TIME (UTC): 01-00
EVENT DAY: 10.0
EVENT LOCALE: Windsor
DETAILED DESCRIPTION: Intense lightning, strong winds, about 60 km/h sustained.Heavy downpours.
SOURCE/WATCHER ID: John Mornan
EVENT TIME (UTC): 01-15
EVENT DAY: 10.0
EVENT LOCALE: Leamington
DETAILED DESCRIPTION: 60 knot wind gust. Torrential downpours.
SOURCE/WATCHER ID: WNB Observation
EVENT TIME (UTC): 01-26
EVENT DAY: 10.0
EVENT LOCALE: Southeast Shoal (near Point Pelee)
DETAILED DESCRIPTION: Wind gust 58 knots. Sustained winds of 35 knots. ie 32035G58KT

Appendix B
The Windsor Star, Thursday May 11, 2000: County picks up after storms - People talk of twister, but none confirmed,
Windsor, Ontario
River Town Times, Saturday May 13, 2000: Twister? Tuesday night's storm wreaks havoc in Malden Centre,
Amherstburg, Amherstburg, Ontario
The Windsor Star, Monday May 15, 2000: 3 Eaglets killed, Windsor, Ontario