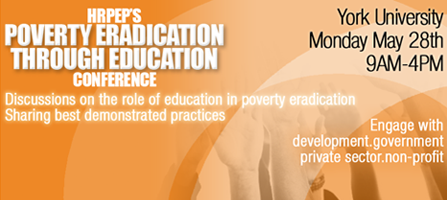 Special thanks to our official sponsors:
Green Shield Canada
Thanks to our many donors: York University Staff Association, Office of the Dean LA&PS, Dr. Jamie Laws, Kliks Beauty Salan, Popeye's York Lanes, Dr. A. Seth and Associates
HRPEP's Poverty Eradication through Education Conference
Click here to get your tickets to the upcoming conference in McLaughlin and Winters College, York University. Registration deadline May 27th,2012.
We are hosting a conference to enhance knowledge sharing across various participant sectors in development and to highlight the important role of education in poverty eradication. We are looking for organizations, government officials, academics and partners in the private sector who can contribute to the conference framework and participate in the dialogue.
Our conference aims to analyse the dynamic role of education in poverty eradication. The rationale for this conference is expanded in our conference theme paper.
Conference Speakers:
Chair and keynote address:
David Langtry
Canadian Human Rights Commissioner
David Langtry was appointed as Deputy Chief Commissioner in 2007 where he was responsible for Case Management, the National Aboriginal Initiative, and leading the Commission's international involvement in the Accreditation Sub-Committee of the ICC of National Human Rights Institutions. Langtry is an accomplished executive and lawyer with over 35 years of experience in the private practice of law and public sector administration. Having served as the Assistant Deputy Minister for Child and Family Services, Langtry is very proficient in this sector. Langtry's experience includes his involvement with folk art, multiculturalism, and law. At the present time, Langtry is serving as the Acting Chief Commissioner of the Canadian Human Rights Commission.
Keynote speaker:
JoAnne Doyle
Senior Vice President, Community Impact at United Way Toronto JoAnne Doyle serves as the Senior Vice President, Community Impact at United Way Toronto, where she provides leadership on United Way Toronto's strategic initiatives, community investment and partnership building, research, and evaluation. Doyle's expertise lies in the social services sector with a particular interest in community health. Her experience includes her position as the Executive Director at the Guelph Community Health Centre and the North Hamilton Community Health Centre as well as her involvement as a member of the Board and Executive Committee for the Welcome Inn Centre.
Closing Address:
The Honourable Roy McMurtry OC, O.Ont, QC
Former Chief Justice and Attourney General for Ontario and Chancellor of York University
In 1975, the Honourable Roy McMurtry was elected to the Ontario Legislature and appointed as the Attorney General for Ontario until 1985. He was involved in the creation of the Canadian Charter of Rights and Freedoms and the Canadian Constitution during the four years he spent as the Solicitor General for Ontario. McMurtry's extensive background includes his positions as Canada's High Commissioner to Great Britain, Associate Chief Justice of the Superior Court and Chief Justice of Ontario. Currently, McMurtry serves as counsel to the advocacy department in Gowlings' Toronto office and was recently appointed Chancellor of York University.
Panelists and Seminar Speakers:
Bruce Moore
Director, Institute for Active Citizenship and Former Senior United Nations Official working on Poverty Eradication Projects
Bruce H. Moore, a member of Transparency International, serves on the boards of the Forum on Democratic Global Governance and the Terra Institute which is a non-profit research group. Mr. Moore was the founding director of the International Land Coalition, an alliance of UN, civil society, and multilateral organizations promoting policies to enable the rural poor to gain resource rights. He currently represents the Asian NGO Coalition and the Social Development Foundation in North America, and serves on the NGO Food Security Policy Group. His NGO career includes his position as the Director of Partners in Rural Development, the NGO advisory committee to the United Nations International Fund for Agricultural Development, the international executive of the Society for International Development, advisor to the European Commission, FAO, African Union, Asian Development Bank, and World Bank.
Winston Miller
Director of International Programs, Christian Blind Mission
Winston Miller is the Director of International Programmes for CBM Canada. He has 26 years of experience in the public sector as an Environmental Health and Disease Control specialist, and has held positions both with the municipal and provincial governments. In the past, Miller served as the president of the Ontario Public Health Association.
Dr. Brenda Spotton Visano
Professor of Public Policy and Economics at York University
Brenda Spotton Visano is a professor in the School of Public Policy and Administration and the Department of Economics at York University and served as a consultant to agencies of the Canadian Federal Government and the non-profit sector. She is proficient in the areas of macroeconomics, monetary theory and policy, banking, and economic sociology. Professor Spotton Visano's research uses interdisciplinary materials from her field to evaluate the history and evolution of instability in financial institutions and markets. Her current research focuses on the ways in which community-based financial institutions in Canada's inner cities promote various sectors of their local economy.
Dr. Karen Mock
Professor at York University and Human Rights Expert
Dr. Mock is responsible for creating and teaching the first Canadian teacher's course on multicultural education and is considered a true pioneer in the field. She is a qualified expert on human rights who has worked with policing, the public sector, and private sector agencies on policies and practices to create equitable and barrier-free workplaces and combat racism in the criminal justice system. Dr. Mock served as Senior Advisor on Equity and Diversity to the Minister of Education in Ontario and is a founding member of several human rights, race relations, and interfaith dialogue groups.
Dr. Jennifer Dalton
Professor at York University and author on Aboriginal law, politics, and self-determination in Canada
Dr. Jennifer Dalton is a faculty member at York University where she teaches in the Department of Political Science. She is a senior analyst in the Office of Institutional Research & Analysis, a member at York University Tribunal, and a visiting scholar at the Centre for Refugee Studies. Dalton has authored several books and articles pertaining to her expansive knowledge on Indigenous self- determination under Canadian and international law, Canadian constitutional law, Aboriginal law and politics, governance and policy-making, Canadian electoral politics, and civic and social engagement.
Moderator:
Dr. Lorne Foster
Professor in Public Policy and Equity Studies at York University
Lorne Foster is a member of York University's School of Public Policy and Administration and the Department of Equity Studies. With a Ph.D in Urban Sociology, Foster is highly skilled in the areas of human rights, race and ethnic relations, labour market and social policy, and public policy formation. Foster has participated in the senior federal level of sectors involving immigration and employment equity for both non-governmental organizations and public sector institutions. Currently, Foster is the Director of the Graduate Program in Public Policy Administration and Law and the Adjunct Scholar for Multicultural History Society at the University of Toronto.
If you are interested in participating through presenting a keynote or presentation in this conference, please contact us with the following:
- A 250 word summary of the issues that will be discussed in your workshop
- Your name, the organization's name, and your primary contact number and email
(Please note we may contact you by phone in case we have any questions during regular business hours)
If you would like additional information on the conference and/or the Human Rights Participatory Growth and Poverty Eradication Program (HRPEP) please contact:
Email: hrpgp@yorku.ca
Phone Number: (416) 736 2100 ext. 33825