March 2014 - Res Race to Zero Competition
For the month of March, York students living in the Keele and Glendon residences are being challenged to reduce their carbon footprint as part of the University's sixth annual Res Race to Zero challenge.
Result will be posted weekly, stay tuned for more information....
---
March 2013 - Keele and Glendon campus undergraduate residences compete to reduce their carbon footprint.
Week 4 - Congrats to Stong Residence, Winner of Res Race Week 4! What a dramatic step up from the previous week!
This year's race has been a nail biter! There were lots of determined participants and fresh ideas on how to conserve energy. Congratulations to all undergrad residents. You have shown tremendous ingenuity!


THE OVERALL WINNER OF THE 2013 RES RACE TO ZERO IS:

BETHUNE RESIDENCE

No one came as close to their savings. Outstanding accomplishment by Bethune Residence, also winners of week 2. You showed a consistent reduction every week of the race. Way to go!

The purpose of Res Race to Zero is to highlight the relatively easy steps you can take to be responsible about energy use. Remember to take these achievements and let them guide your own personal practices, here and wherever you go.

Students did their part to minimize their energy consumption and compete for a sustainability-themed award. Residence Life Staff members at each undergraduate residence helped build awareness, educate, and ultimately change students' electricity consumption behavior. The Res Race to Zero complements York's 5-year Energy Management Plan which includes a $40 million investment to reduce consumption by 25%. Modifying behavior is an essential component of reducing our carbon footprint.


Measurement:
There are 7 Keele and 2 Glendon undergrad residences involved in this year's challenge. Each building has different capabilities when it comes to energy efficiency - mostly due to age. Therefore, in the spirit of fairness, the competition was focused on comparing consumption from a previous 28 day period from this academic year. The graph below shows consumption in each residence during November 2012 which serves as a baseline from which to measure percentage change. The challenge in each Residence, and for each student, was to lower their March 2013 consumptions, beating the levels from November.
The residences that are able to show a reduction in energy per capita from the period in November are winners in this race; the residence with the most improved performance will win sustainability themed award.
The dates of the race were March 3-31, 2013.
2013 WINNERS - Bethune Resdience
2012 WINNERS - Vanier Residence
2011 WINNERS - Wood Residence
2010 WINNERS - Bethune and Winters tied for first
2009 WINNERS - Calumet Residence


Res Race to Zero - March 2013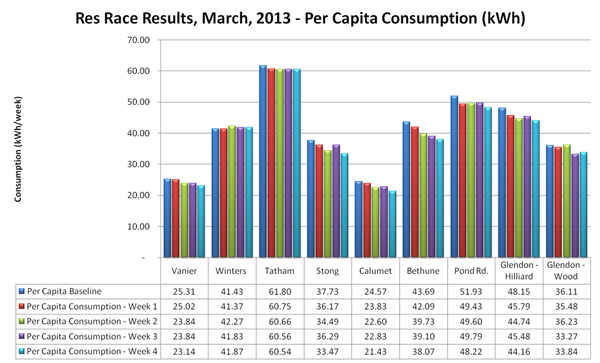 Keep turning off those lights and electronics when not in use, because every little bit makes a big difference!