Raising the Workers' Flag:
The Workers' Unity League of Canada 1930-1936
<![if !vml]>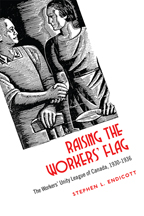 <![endif]>During the Great Depression, the conflicting interests of capital and labour became clearer than ever before. Radical Canadian workers, encouraged by the Red International of Labour Unions, responded by building the Workers' Unity League – an organization that greatly advanced the cause of unions in Canada, and boasted 40,000 members at its height. In Raising the Workers' Flag, the first full-length study of this robust group, Stephen L. Endicott brings its passionate efforts to light in memorable detail.
Raising the Workers' Flag is based on newly available or previously untapped sources, including documents from the Royal Canadian Mounted Police's Security Service and the Communist Party's archives. Using these impressive finds, Endicott gives an intimate sense of the raging debates of the labour movement of the 1930s. A gripping account of the League's dreams and daring, Raising the Workers' Flag enlivens some of the most dramatic struggles of Canadian labour history.
Stephen L. Endicott is a professor emeritus in the Faculty of Liberal Arts and Professional Studies at York University.
How to order: University of Toronto Press Online Catalogue
Table of Contents
Preface & Acknowledgements
Chapter 1 Workers in Canada's Second Industrial Revolution
Chapter 2 The Red International
Chapter 3 Getting Started
Chapter 4 Going to 'Mecca'
Chapter 5 1931: Trial by Fire
Chapter 6 Red Blairmore
Chapter 7 1932: Confronting the Prime Minister
Chapter 8 The First Congress of the Workers' Unity League 1932
Chapter 9 Women of the Workers' Unity League
Chapter 10 Hard Rock Miners: Anyox - Flin Flon – Noranda
Chapter 11 1933: Gaining Momentum
Chapter 12 Sweatshops and Militancy in the Needle Trades
Chapter 13 Woodsmen of the West
Chapter 14 Fishers in the Salish Sea
Chapter 15 Not Hot Cakes or Foremen - On to Ottawa!
Chapter 16 Changing Times: the final convention of the WUL
Chapter 17 Afterword
Appendixes
Bibliography
Photo Credits
Index
Endorsements
'Raising the Workers' Flag fills an important gap in scholarship as the only scholarly book to examine the role of the Workers' Unity League as a whole. Stephen L. Endicott makes the case very effectively that the WUL played a significant role in the intense class conflict that was a feature of many parts of the Canadian political economy in the first half of the Great Depression. I was particularly impressed with how thoroughly Endicott had scoured all the significant archival sources and brought out new material which has not previously seen the light of day.'
Lorne Brown, Professor Emeritus, Department of Political Science, University of Regina
'This is a significant and original contribution to labour history in Canada, as well as to the larger histories of the radical left and the 1930s. The transition from the very modest expectations for trade unionism at the end of the 1920s to the major historical threshold of the late 1930s was the key historical moment of the Workers' Unity league, whose revolutionary idealism was often tempered by the practical challenges of agitation and organization in Canada during the Great Depression. Stephen L. Endicott's impressive research succeeds in his goal of "personalizing the working of large historical forces" and tells a more complex and interesting story than is found of general accounts of Canadian labour.'
David Frank, Department of History, University of New Brunswick
How to order: University of Toronto Press Online Catalogue