World Community Grid
As part of its greater commitment to evolve collaborative, interdisciplinary, and innovative research, York University has become the first Canadian university to join IBM's World Community Grid (WCG).
About World Community Grid
World Community Grid is built on the belief that technological innovation combined with visionary scientific research and global volunteerism can change our world for the better. Its success depends on individuals - like you - collectively contributing their unused computer time - on your personal home or work computer - to this not-for-profit endeavour.
World Community Grid, powered by IBM, (www.worldcommunitygrid.org) uses idle computers to provide researchers with a readily available pool of computer processing power that can be used to resolve macro research problems. Grid technology joins together many individual computers that far exceed the power of a few supercomputers.
World Community Grid will address global humanitarian issues, such as:
New and existing infectious disease research: Researching cures for HIV and AIDS, Severe Acute Respiratory Syndrome (SARS), malaria and others.
Genomic and disease research: The Human Proteome Folding project-World Community Grid's first project-seeks to help identify the functions of the proteins that are coded by human genes.
Natural disasters and hunger: World Community Grid applications can help researchers and scientists with earthquake predictions, improving crop yields and evaluating the supply of critical natural resources like water.
When idle, computers request data from World Community Grid's server. Computers then perform computations using this data, send the results back to the server and prompt it for a new piece of work.
How to Participate in the World Community Grid
To participate or learn more, please visit the World Community Grid site. From there, you will need to register and download the World Community Grid software.
How to Join the York University Research Team
You join the York University Research team when you create your user profile. Click on "Select" next to the "Select a Team field."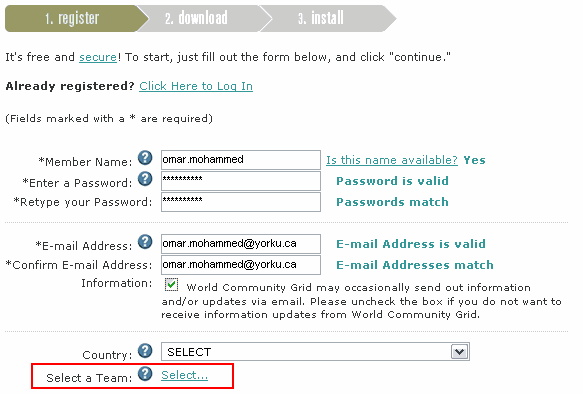 When the York University Research team appears, click on "Select."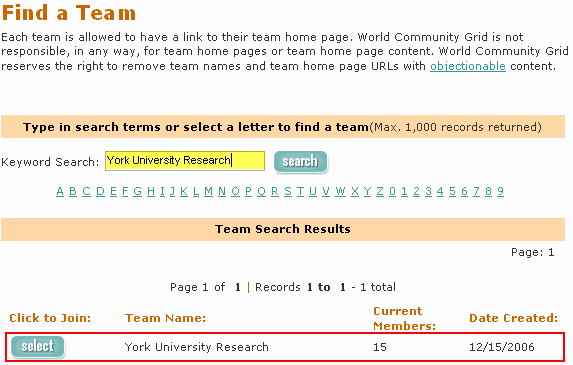 Qualifications on use
York University is subject to privacy legislation including but not limited to the provincial Freedom of Information and Protection of Privacy Act (Ontario) and is committed to protecting personal and confidential information. While most university computers are good candidates for World Community Grid, there are security and privacy issues inherent in placing an agent onto a computer. As a result computers that hold student records, human resources information, health information, financial information, contracts, human subject or other ethically regulated information, critical research data, proprietary information, or law enforcement information should not be used in conjunction with the WCG.
For more details on York University's participation with the World Community Grid, please click here.
If you are unsure about running the World Community Grid software on your computer, please contact your local I.T support department.
Getting help with the World Community Grid
The World Community Grid provides a comprehensive help website that contains information on installing, getting started, and troubleshooting information. For more information, please visit http://www.worldcommunitygrid.org/help/viewHelp.do