Volunteer Fair 2014
Nov 12, 2014, 10-3PM
GET INVOLVED. GET EXPERIENCE. MAKE A DIFFERENCE.
Interested in building career related skills and gaining experience? Want to meet people who share your interest in making a difference? The Volunteer Fair will feature organizations with a variety of volunteer opportunities.
Students are invited to drop by Vari Hall any time between 10am and 3pm to speak to organizations.
See the full list of participating organizations at yorku.ca/careers/volunteerfair/.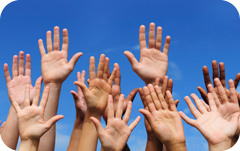 ---