William C. Found
University Professor Emeritus, Senior Scholar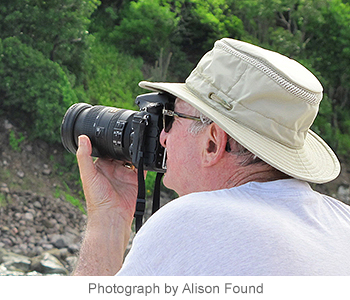 Since joining York University full-time in 1968, Bill Found has based his teaching and research in the Department of Geography and the Faculty of Environmental Studies. His interests include landscape analysis, environmental management, program implementation and evaluation, participatory development, mathematical modelling, and the use of multi-media techniques in teaching and research. His current research, writing and documentary-film production reflect his passionate interest in the evolution of Caribbean landscapes. Much of his work involves collaboration with Caribbean organizations.
A devoted teacher, Bill has supervised the research of 94 graduate students at York, with generous support from several agencies including the Social Sciences and Humanities Research Council of Canada, the International Development Research Centre, and the Canadian International Development Agency. His undergraduate teaching included early innovations in computer-assisted learning and the use of multi-media techniques. Bill held a number of administrative appointments, but continued to teach throughout his career. He was selected by the York Senate to receive the President's University-wide Teaching Award in 2005. His post-retirement undergraduate teaching continued until 2010, and his work with graduate students is on-going.
Much of Bill Found's research and related teaching has been international in scope, with major projects centred in a variety of Caribbean locations, East Africa, and Indonesia. He has been instrumental in providing international opportunities for York students, particularly through exchange agreements with other universities. His own work has included visiting research/teaching appointments at Harvard, Umeå (Sweden), the University of Toronto, and the Academies of Sciences in Cuba and the U.S.S.R..
Bill's publications cover a broad range of topics, pushing the frontiers of study in land utilization, resilience thinking, project implementation, participatory processes, and cultural landscapes. Several of his professional reports are evaluations of programs or projects in universities, and in international-development settings. Much of his recent professional work is conducted in association with Dalvorem International. A sample of Bill's publications includes A Theoretical Approach to Rural Land‑Use Patterns; Working with People: Indonesian Experiences with Community-Based Development (with H. Poerbo, F. Carden and L. Grenier); Economic and Environmental Impacts of Land Drainage in Ontario (with A.R. Hill and E.S. Spence); York University and the Greater Toronto Area: an Economic Impact Analysis; Shifting Cultivation in Jamaica: an Invisible Dilemma; Techniques of Project Planning and Implementation: Ten Steps to Success; Historic Sites, Material Culture and Tourism in the Caribbean Islands; Anguilla at a Crossroads: Heritage, Development and the Anguilla National Trust (one of 16 documentaries filmed in Caribbean Islands); A Research Collection of Historical Maps and Prints of the Caribbean Islands (http://pi.library.yorku.ca/dspace/handle/10315/13674); The Sugar Cane Landscape of the Caribbean Islands: Resilience and the Changing Plantation Social-Ecological System (with M. Berbés-Blázquez); and Geography at York University: Reflections on the First Fifty Years (edited with J. Radford). His latest publications include The St. Kitts Scenic Railway: a Journey into an Island's Heritage; Identification and Implementation of Policies affecting Shifting Cultivation in the Asia-Pacific Region; Teaching and Research in Caribbean Geography for the Diaspora in Toronto and Beyond: Personal Reflections; and Caribbean Tourism and Urban Development: Resilience and Adaptation to Global Change over Five Hundred Years. Bill's current research focuses on a pictorial analysis of landscape change throughout the Caribbean.
Bill Found holds degrees from McMaster University (B.A.) and the University of Florida (M.A. and Ph.D.) (Woodrow Wilson Fellow). He was awarded an Honorary Doctorate from the University of Umeå in 1989. Bill was named University Professor at York in 1987. His many administrative appointments at York have included Vice President (Academic Affairs) (1979-1985) and Acting President (1984).