CRWS
Directory
Know Your Rights
New Economy
About CRWS
Publications
Just Labour
Working Student Centre
---
Working Student Centre
Bad Boss Corner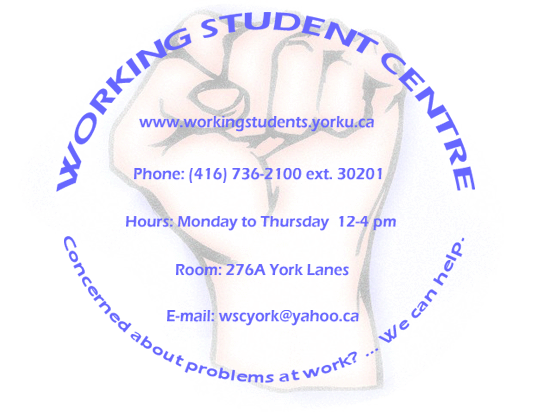 Social Justice Links

Globaliztion games

For more information on the York WSC and to get involved, please call
416-736-2100 x30201
or drop by the WSC office at 276A York Lanes.
The York Working Student Centre (WSC) is a student-run club and service aimed at addressing
the needs of students who are working while they are in school - either during the academic
year or summer months. We provide resources and referrals for students who encounter
problems with their employment or with balancing school and work life. We distribute information
on workplace issues like wages, vacation time, scheduling, unions, health and safety,
discrimination, and harassment. We are also involved in research and we seek to publicize the
mounting problems students are encountering with employment. The WSC holds regular meetings
and events that are open to all students and anyone can become a volunteer. Please drop by or
send us your questions or concerns. We're here to help.