Helen Lucas artwork given to York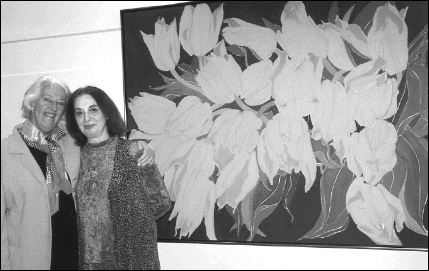 SHELAGH'S GIFT: The painting Shelagh's Gift, which was given to Atkinson humanities professor Shelagh Wilkinson (left) by Canadian artist Helen Lucas (right) can be seen here. It is just one of 27 canvases donated to York University by the artist. A reception was held recently to celebrate the donation. Photo by John Dawson. Story by Sandra Guiry
COLOURFUL PAINTINGS ARE A CELEBRATION OF LIFE
York University is the proud recipient of 27 paintings donated recently by artist and feminist Helen Lucas. A reception and viewing for faculty, staff and students was held on Nov. 16 at the Arthur Haberman Art Gallery in Founders College - where 11 of the 27 paintings will hang - to honour Lucas.
Lucas' brilliantly coloured paintings - giant sunflowers, poppies and floral forests on large canvases of about five by nine feet - proclaim a celebration of life. She was quoted recently as saying that "It's the artist's job to heal the planet. My studio is my chapel. Flowers mean I have found my place to dance in the sunlight, to celebrate life."
An estimated 40 people attended the intimate wine and cheese reception. Lucas requested that the paintings be hung where people can see and enjoy them. "As an artist, it is a joy to have other eyes view my work - to have it displayed after I'm gone," said Lucas.
The majority of the collection will hang in Founders College, at Lucas' request. This is so that the art, which has a feminist perspective, will be easily accessible to students of Women's Studies. Two of Lucas' paintings have been offered for display in the office of the vice-president (academic affairs). Aside from the 11 paintings in the Arthur Haberman Art Gallery, one has been given to Shelagh Wilkinson, a retiring York professor and personal friend of Helen Lucas, one will be displayed in the Atkinson Counselling Centre, and the remaining paintings will be distributed to other areas around York.
Lucas' black and white sketches, which represent her early work, will be stored in the York University Archives. University Archivist Kent Haworth described the sketches as a "wonderful complement to our Adele Wiseman and Margaret Laurence papers. It builds on our strong collection related to women's studies," said Haworth. Lucas has been a close personal friend of the late novelist Margaret Laurence.
Vice-President (Academic Affairs) Michael Stevenson described the donation as absolutely fantastic. "Helen Lucas is a woman of great stature, and she has been a friend to York of incredible importance," said Stevenson. Her art will "lighten up our lives - even the dark recessions and forbidden corners of the vice-president's office!"
Lucas is an acclaimed artist with 40 solo exhibits to her credit. Her intensely political early sketches have attracted much attention. One of her early works is The Gossips (Careful, People Will Talk) which is one of 34 childhood recollections. About this piece Lucas writes, "We were raised as children to fear anyone who might criticize us and talk about us. In a small Greek community, it was one of the biggest fears. It was a way of keeping us from daring to do anything on our own."
The documentary of her life and journey as an artist "Her Journey, Our Journey" won a Golden Globe award in 1996. Her other credits include illustrator of Margaret Laurence's A Christmas Story which she only agreed to do if she could portray Mary pregnant and Joseph holding the baby.
Lucas has a strong connection to York University. She received an honorary doctorate from York in 1991, and has worked alongside Shelagh Wilkinson, professor emerita of women's studies, who was also former director of the Centre for Feminist Research. One of the paintings Lucas donated is named Shelagh's Gift (1997), a painting of a forest of brilliant yellow tulips. The four- by-five foot acrylic-on-canvas will hang in the Centre for Feminist Research. "I wish to celebrate the pioneer work of my friend Shelagh Wilkinson as founding co-editor of Canadian Woman Studies," said Lucas. Wilkinson's longstanding contribution to York was recognized at a reception today (Dec. 2) in honour of her retirement.
In the formal speeches, Founders College Master Patricia Stamp, who organized the event, thanked Lucas for the "amazing contribution of her life's work." Stamp introduced each of the paintings on display.
Other guests also spoke about the artistry of Helen Lucas. Many of those at the reception commented on Lucas' skill with vibrant colours and her portrayals of flowers and nature. Many of the paintings are oil on masonite, with the 27 paintings valued at a total of $250,000, according to Wilkinson.