Q&A with York's Vice-President (University Advancement) Gary J. Smith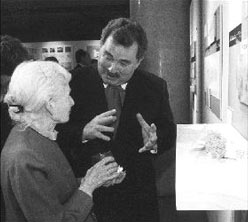 Gary J. Smith speaking with York friend Mrs. Katherine Packer donor of the Packer Family Endowment in Social Justice, at the Toronto Design Centre during the York Exhibition of the Architectural Models and Renderings Competition for the York Honour Court and Information Centre
This is the third in a series of interviews with York University Senior Administrators. Following an interview in the Jan. 5th issue with President Lorna Marsden Gazette will continue to profile the views and initiatives of the University's vice-presidents over the next few months.
Q: It seems university advancement has become a lot more important during the last 15 years. Why is that? Is it being driven by economics or politics?
A: Well, the answer is probably both - economics AND politics. Since 1993 there's been a significant drop in funding from the provincial government. We've gone from roughly 75 per cent funding of our operating budget being government funded to about 55 per cent. That's a major decrease from any point of view, particularly in a knowledge-based economy.
To maintain quality at the University it has been necessary to make up a good part of that gap with tuition increases. We also have found it necessary to expand our efforts on the fundraising side. Our recent National Campaign had a goal of $100 million over five years (1995-1999). We were successful in raising $108 million in four years. Over $25 million of this was for student bursaries which was matched by the provincial government through the Ontario Student Opportunity Fund (OSOTF) for a total of more than $50 million for new bursaries.
In fundraising you have four main groups of donors: the university community (faculty, staff, alumni, parents), private individuals, foundations and businesses. Economics has encouraged us to look at the private sector and our alumni, in particular, for enhanced funding. Of course, we're a lot later in doing this than they have been in the US where fundraising is a well-established practice at both public and private universities. I should note however that most donors, including alumni, have a strong preference to give to "visibles", including naming opportunities (buildings, classrooms, scholarships, bursaries, professorships and Chairs) and are less-inclined to donate simply to ongoing University operating funds.
Q: So alumni are a big asset?
A: One of our greatest assets is our alumni. We obviously began with no alumni in 1959 when York was founded but 40 years later we are 150,000 strong, one of the largest alumni bases in Canada. All universities rely on their alumni for general support. I'm talking here not just about money, but about taking pride in the university and the degrees they have received there, about "talking us up", about lobbying efforts with potential students and future faculty and building relations with government and business. Each York alumnus/na is a potential York ambassador. We started as a small liberal arts college; we are now a multi-faculty university. We graduate some 8,000 students per year. At this rate, it doesn't take much time until you become a major player. York is in that league now.
Age brings with it heritage and tradition and a line of distinguished grads in all disciplines. We recently had our first three-generation set of grads - grandmother, mother and daughter. The average age of our alumni however, is only 38. These graduates are still in a heavy obligation period in their lives - most with families and mortgages. The great "giving" years are usually in one's 50s and beyond.
When you achieve an alumni base of 150,000 you know you've come a long way. I think we now realize that we should pay increased attention to our alumni. Our students are really alumni in training, and they shouldn't be forgotten after they leave York. We, accordingly, are planning more events, like a multi-faceted homecoming, creating more alumni chapters in various cities and around Toronto and offering more services and communication vehicles for York alumni particularly through the Web. We want to build an enhanced relationship with our alumni.
Q: What about York's image?
A: Again, as with alumni, I think this is an important area to which we will want to pay more attention. We already have a good reputation for innovation (interdisciplinary studies etc.) creativity, accessibility and being student-oriented with renowned professional schools which are among the very best in Canada. However, we haven't been as good in the past at trumpeting some of our many accomplishments and strengths as we might have been. I believe we are considerably stronger than might be our reputation, for instance in Macleans. In other words, we are punching below our weight. We've achieved an enormous number of things. We just haven't made them known well enough to the broader community. York, I believe is coming 'round to the idea that it is worthwhile for all of us, faculty and staff alike, to take the time and to make the effort to communicate those strengths outside the university. A well defined image and quality reputation can and does make a difference in attracting and retaining quality students, faculty and donors.
In terms of our location, about much has been said in the past, don't forget that when we opened at the York campus we were a long way from "The City". Now we're at the heart of the GTA. Almost as many people are coming down to York from areas north, west and east as are coming up from the downtown core. York now finds itself at the centre of all the growth areas. I should add to show how things have changed that Maclean's recently described the York campus as "downright leafy".
Q: Most people probably think of advancement as just being about securing big donors, but is that the complete picture or is there more to it than that?
A: We have had our success with big donors such as the $3 million gift-in-kind secured from IBM just before the end of the year. Advancement, however, University Advancement, is much bigger than just securing donations. It may be difficult to understand what it means, but it's advancing the University in general; it's a whole series of components, for instance, making known our community activities, being active in our surrounding communities - which we are doing. York has initiatives such as the United Way Campaign, our summer camp for kids and the Jane/Finch initiatives. So advancement is about how we relate to our various communities, geographic and otherwise. It's also about how we relate to the GTA. Transportation is a case in point including our lobbying efforts to obtain a subway link to York which would tie into transportation corridors like highways 407 and 400. It also is about communications and dealing with the media, assisting York professors to appear in the electronic and print media, as well as heritage and pride-building. The celebrations surrounding our 40th anniversary (the special logo, the York street banners, the special supplement in the Toronto Star, the creation of the Founders Society, the commemorative issues of Profiles etc.) is a good example. University Advancement is in the forefront of all these efforts and I have had the privilege of chairing the 40th Anniversary Steering Committee.
University Advancement, in short, is being a profile raiser and friend raiser as well as the essential fundraiser. You have to be seen and heard and have a message to deliver.
Q: From an advancement viewpoint, what pressures is York under? Are they unique or are they shared by other newer universities?
A: York's identity. We don't have a consistent visual identity yet. Visual identity relates to the use of symbols and colours. York's colours are red and white. Not everyone uses them, for instance in publications and advertising. While our official crest is well in evidence, there are a plethora of symbols used on t-shirts and hats and there is a need for a unifying brand to be worn by our sports teams.
One pressure is that we're a largely commuter-based university. So it is difficult to keep people on campus and engage them and build allegiance to and affinity with York. This all helps to build recognition and pride. Equally, there are many exciting events happening at York each day (academic, cultural and sporting) and we have to make sure people are aware of this and encourage attendance. We need to examine this including the related issues of social and residence space.
Q: How about trends in advancement?
A: As I mentioned, we no longer can take it for granted that government will take care of everything. My sense is that alumni and others want to contribute more and be more involved with their alma mater.
The success of the National Campaign is a case in point. It was very successful in terms of support from our own people here at the University and our alumni who represented 68 per cent of the number of donors, but most of the dollar amount came from friends of the University and private donors. We are hoping, over the years, that we will see more funding from alumni as they mature. One of the major trends in philanthropy these days is the vastly increasing competition. There are now more than 90,000 registered charities in Canada including universities, colleges, hospitals as well as numerous social and cultural organizations. All of them are pursuing many of the same donors. There, accordingly, is increased demand for competent fundraisers across the country.
Q: Where are we going in the next 10 years?
A: Aside from further engaging our alumni and enhancing our communications, and media and community relations efforts, our next big effort will be the "superbuild" program. We're expecting major student growth in Ontario over the next few years. With the "double-cohort" and the "baby boom echo" there is going to be enhanced demand for postsecondary education. There's also the increasing propensity of young people to go to university. We expect to see an additional 80 to 90 thousand students wanting to enter university in Ontario in the next 10 years - and that means more buildings, more professors to teach, more support staff, more operating funds and more infrastructure to support it all. It isn't just a case of "build more buildings". The planning alone is an enormous task.
The government is setting aside $750 million province-wide this fiscal year for universities and colleges to provide more buildings and York has put in six proposals. If we receive the green light from Queen's Park for the entire six and full supporting operating funding, then it is expected we will be asked to raise approximately $50 million from non-governmental sources. This will be a considerable challenge but one I am confident we can meet with the enthusiastic support of our friends and the York community. We also hope, in the next few years, to expand the number of endowed Chairs and professorships as well as bursary and scholarship awards. Our endowment fund has increased from $20 million to $120 million in the last five years, much of it targeted for student bursaries. That's a great success. We have surpassed many universities with a much longer history than we have here at York. I would like to see the endowment reach $500 million by the time of our 50th anniversary in 2009.