Ramsay Cook Research Scholarship Established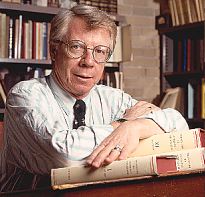 More than 100 prominent Canadian scholars, writers and thinkers gathered recently for a colloquium and dinner to honour Ramsay Cook, York University professor emeritus, and one of Canada's most treasured and well-respected historians.
Poet and novelist Margaret Atwood was among the guests who celebrated Cook's achievements during an afternoon symposium. The festivities acknowledged and celebrated Cook's contribution to history and York University, and marked the establishment of the Ramsay Cook Research Scholarship in Canadian history at York.
To mark Cook's contribution to Canadian history, his colleagues, friends and followers donated $100,000 -- a sum matched by the government of Ontario -- to endow the Ramsay Cook Research Scholarship.
All those in attendance at the colloquium had contributed at least $300 toward the scholarship. Institutions and individuals especially generous in their donations toward the endowment included: Associated Medical Services, the Bennett Foundation, the Jackman Foundation, Gary Lawrence, the George Metcalf Foundation, Sun Life Assurance and Toyota Canada.
The Ramsay Cook Research Scholarship will be awarded to doctoral candidates at York who are studying the history of Canada, to enable them to pursue their studies by travelling to archives, libraries and other repositories to prepare their theses.
Guests who also spoke at the symposium included sovereigntist political scientist Guy Laforest, historian Carl Berger, and art historian François-Marc Gagnon.
In her address, Atwood reflected on her relationship with Cook -- she sought his advice while working on the manuscript that became her prize-winning novel Alias Grace. Berger, Canada's leading intellectual and cultural historian, critically evaluated Cook's contribution to the study of history. And Gagnon, a renowned art historian from the Université de Montréal, spoke about the representation of nature in narratives of discovery and exploration: an interest he shares with Cook.
Cook was a professor at York for 25 years. He has published widely on political and constitutional history, English-French relations, intellectual and artistic life, and, most recently, exploration and European contact with native North Americans.
He is both a fellow of the Royal Society of Canada and an officer of the Order of Canada.