Turning the tables:
Nellie Jacobs wants kids to evaluate teachers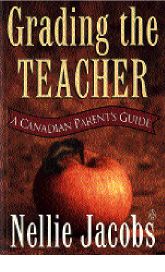 Growing up, Nellie Jacobs attended no less than 13 different schools in Toronto as her family criss-crossed the city time and time again. That didn't make for an easy childhood, but it did give her the impetus to help schoolchildren today.
Jacobs (BA Glendon '88), always the new kid in class, says she was profoundly affected by her teachers. Her experiences eventually gave her the idea for her first book Grading the Teacher, A Parents' Guide.
Jacobs spent four years researching and writing this work, which is now being used by schools, as well as parents. "Basically, I urge parents to recognize that teachers can inspire their children, or they can actually turn them off learning," she says. "As a result, I ask parents to be their kids' advocate, and represent them as best they can."
Her practical easy-to-read guide explains what makes a good or bad teacher and school, and how to look after your child's best interests. It provides a report card for
children, and their parents, to fill out on their teachers, which also helps kids bring issues to light. "Top marks go to those instructors who make a child feel safe to make mistakes, safe to learn," says Jacobs.
A former teacher herself, she left the profession before maternity leave was instituted to have the first of four children. In 1975, Jacobs started a mothers and babies group which spawned MAMMA, a newsletter that blossomed into seminars, conventions, skits, and a weekly cable show. MAMMA operated for five years.
It was while she was expecting her fourth child that she began having "cravings to go back to school." She then embarked on what she calls "the most wonderful learning experience" at Glendon College.
As well as writing and giving workshops based on her book, Jacobs is an artist who is delighted that one of her paintings hangs at Glendon.