Ori Dagan (BFA '07) graduated from AMPD with a BFA in Music. Since his time at York, Ori has been a staple of the Toronto jazz music scene and in recent years, has been showcasing his work on the international stage.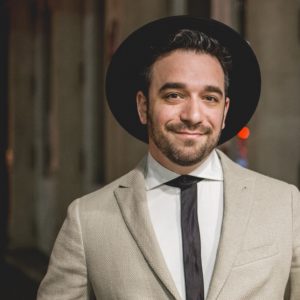 Q: Why did you choose to study at York?
A: From the time I was in high school I thought I was going to be a journalist and always loved creative writing. I went to the University of Toronto for two years as an English student. While at U of T, I fell in love with jazz music and switched to York. Back then and to this day, I consider myself very lucky for following my passion and that it took me to York.
Q: How did your time at York prepare you for your career?
A: I did not grow up singing so I didn't have the best technique. Professor Bill Westcott was evaluating my singing once during and exam, and I clearly remember him saying to me "Ori, I think it is excellent that you're so passionate about Jazz music, but some of those pitches, weren't pitches, and if you'd like to seriously tackle this, I recommend you study 17th century baroque singing." I took it as a sign and switched my major to classical baroque singing. In classical voice, I studied under Professor Benjamin Butterfield, and it was life changing. I learned to use my voice in a stronger way, improved my tone, technique, and explored my limits musically. It was such a blessing and made me a much better musician. The really nice part of this story is that, I think only at York could I take a path like this.
Q: Do you have a favourite memory or place on campus?
A: One of my fondest memories was in 2005, when I was the VP of Programs of the Creative Arts Student Association (CASA). I planned an exciting concert called What a Difference O'Day Made, featuring Anita O'Day – one of the most prolific jazz musicians of our time. Professor Marie Rickard, the Master of Winters College at the time, supported us in bringing in Ms. O'Day to York University. I produced the show and made it a truly interdisciplinary event – held at the Burton Auditorium, Ms. O'Day was accompanied by York U Professors and student dancers were on stage, interpreting her music, arts students painted a portrait of her as well. That was an experience that I will never forget.
Q: Can you tell me a bit about your career path from graduation to present?
A: When I was at York, I went through a phase where I got frustrated with my program, gave up on singing and decided to be a journalist. Over the six months that I took off from jazz music, I was miserable, and I realized that music was my passion, and this is what I wanted to do for the rest of my life. After York, I continued my studies at Humber College. Following this, I focused on performing. I honed my music at many jazz jams, open mics and concerts. I pushed myself to perform everywhere I could.
So far, I've put out three albums and I'm working on my fourth. My last album was by far my biggest success, called Nathaniel: A Tribute to Nat King Cole, and allowed me to do international work at SXSW, headlining a jazz festival in Morocco and a conference in South Korea.
For Nathaniel, I wanted to do something different and as an artist, I always try to push the envelope and bring my music to new audiences. I was inspired by Beyonce, believe it or not, and created a visual album with 12 music videos. I used 7 different directors from around the world and the videos have been featured at over 50 film festivals world-wide. My most popular music video to date is titled Sting of the Cactus and has over 140,000 views on YouTube.
Currently, I'm working on my fourth album which is all original music, so stay tuned for that.
Q: What's the most fulfilling thing about your job?
A: For me, its all about the audience. I love playing to an audience because I'm an entertainer. What makes jazz special is that it is in the moment, its always different and if its good, it will have an element of surprise. That's why I can sing the same song, but it will be different every night.
To learn more about Ori's music and where to catch a performance, visit: oridagan.com or follow @oridaganjazz.
This is your Impact

Volunteer
Use your experience, build your network and keep connected to help York students and alumni.
Find Opportunities
Share your story
York alumni are making an impact. Inspire others by sharing your story.
Start Sharing