Emily Mills (AMPD '02) is the founder of How She Hustles, a network that reaches more than 10,000 diverse women who share their personal and professional journeys through digital content and at sold out events in Toronto. How She Hustles attracts women who want to connect with each other, get inspired, and share tips on how to achieve success. Mills, who recently returned to York for the Women in Film & Television Media Leadership Program, shared some of her memories of the University, and the passion that drives her efforts to see more diverse voices represented in Canada.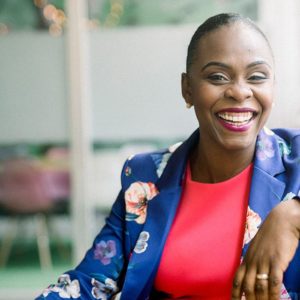 Q: What brought you to York for your studies?
A: Like many kids, I loved music. I continued with music into junior high and high school, playing piano, saxophone and singing. When I was in my early teens I got my very first summer job at Fresh Arts, a provincially-funded youth program. Homegrown stars like Jully Black, Kardinal Offishall and Director X – all high profile names in the Canadian music scene – were part of this program. And that experience kind of made me think, "Yeah, I can have a career in the arts." So, when I was finishing high school and wanted a university degree, I thought of York University.
Q: What do you remember about York?
A: It was wonderful. I've always loved school and York gave me that high school feeling of connection and discovery, but in a much bigger context. Even though it was a big campus, you would connect with the people who mattered to you.
I remember the Black student association at York was very strong and led a lot of the youth dialogue in the city around race and culture and inclusion. It was kind of cool to know that came from the school I attended.
Q: Tell me a little bit about How She Hustles. How did that come to be?
A: After York, I went to journalism school because I figured out pretty quickly that I wasn't going to be a professional musician.
In 2010 I was working in communications at a non-profit in the city and was going to events around leadership, diversity and inclusion. Unfortunately, I didn't see enough people who looked like me or could share some of my lived experiences as a young professional woman of colour. I found that to be true especially when there were more senior executives in the room. There weren't enough people from diverse backgrounds on panels or in the audience, or more importantly, as the organizers deciding how to frame the conversations.
They say necessity is the mother of invention – and that's pretty much what inspired me to create How She Hustles and all that we do. I thought, "If it doesn't exist, or I can't find it, I'll create it." So I posted something on social media about wanting to profile women from diverse backgrounds, and it sparked a conversation.
Our first event soon followed in May of 2010 and through word-of-mouth, 50 women bought tickets. Ten years later, we've hosted more than 20 sold out events with more to come this spring.
How She Hustles is also the proud creator of two high-profile digital projects: one was with CBC called HERstory in Black, profiling 150 black women for Canada's 150 in 2017, and more recently Startup & Slay with lead sponsor CIBC, which is a digital video series profiling diverse women entrepreneurs from British Columbia to Nova Scotia.
Q: Why was it so important to you to see different voices represented?
A: After working in mainstream media as a producer and a marketer, it opened my eyes to some of the areas where certain communities are underrepresented, and as a woman of color I've seen the impact that it has. Stories are powerful and when they're told to a wide audience in a skillful way through media, it has the ability to shape the way that people think, the decisions they make, the way they feel about themselves and others. When people see themselves portrayed in a negative way or not portrayed at all, it's something that requires our attention. That's why I'm trying to create alternative narratives through How She Hustles, and amplify different voices in a positive light. What motivated me 10 years ago is still my passion.
Q: Tell us a bit about the Media Leadership Program and your return to York.
A: I'm really excited about it – it feels like my relationship with York is coming full circle. It's a six month accelerator program through Women in Film and Television in collaboration with Schulich School of Business. I'm joining a really cool group of professionals who are ones to watch in the media industry - we are learning how to take our craft to the next level, how to build successful careers, and how to continue leading either in big organizations, or by building our own brands as media practitioners. I'm pumped because I haven't been back to the York campus until this year – I'm going back to school! It's a lovely way to come back to the university that got me started as a storyteller in the first place.
To learn more about How She Hustles, visit the website or get social with #howshehustles on Twitter and Instagram.
This is your Impact

Volunteer
Use your experience, build your network and keep connected to help York students and alumni.
Find Opportunities
Share your story
York alumni are making an impact. Inspire others by sharing your story.
Start Sharing