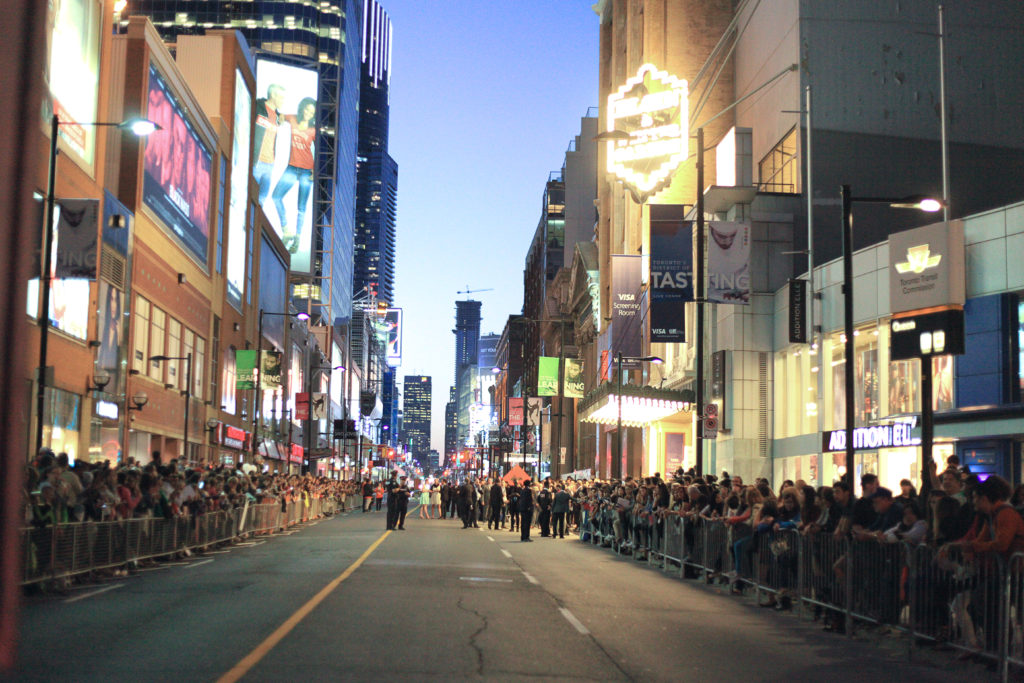 There will be no shortage of York alumni at the 45th edition of the Toronto International Film Festival. While this year's festival, which takes place from Sept. 10-19, will be slightly reimagined to meet COVID-19 guidelines, the show will go on. Many of the talented directors, actors, producers and cinematographers behind the much-anticipated selection of films are proud York graduates.

Filmmaker Madeleine Sims-Fewer (BFA '08) co-wrote, co-directed and stars in Violation, a provocative psychological horror about a woman pushed to her vengeful limits after traumatic betrayal. The film will screen as part of the Midnight Madness programme. "I was hoping for this section," says Sims-Fewer about her feature film debut. "It's my favourite one at TIFF!"

Sims-Fewer shares the writing, directing and producing credits with her creative collaborator, Dusty Mancinelli (BFA '07). While the pair moved in similar film circles as undergraduate students at York, they didn't officially meet until 2015 as part of the TIFF Talent Lab. "We immediately decided to work together," she says, noting they shared similar creative visions and later pursued an MFA in Directing at York together.

For Violation, they collaborated with Adam Crosby (BFA '08), director of photography and Sims-Fewer's friend from her days at York. (Award-winning director and screenwriter Deepa Mehta (DLITT '18), an honorary alumna, is an executive producer.)
Violation will premiere on Monday, Sept. 14 at the TIFF Bell Lightbox, where Sims-Fewer and Mancinelli will be on hand for the Q&A session after the screening. "I'm excited to sit with the audience and see their response to the film," she says.

Read on to meet some of the alumni whose names you'll see when the credits roll on this year's must-watch films.

Chase Joynt (MA '11, PhD '16) – Director, No Ordinary Man
This documentary explores that legacy of 20th-century American jazz musician Billy Tipton, whose trans identity was revealed after his death in 1989. It's co-directed by Chase Joynt (MA '11, PhD '16), a transgender moving-image artist and writer. His latest film, No Ordinary Man, and is already generating early acclaim ahead of its premiere at TIFF.

David Findlay (BFA '07) – Director, Found Me (part of Short Cuts Programme 01)
A young man discovers the world of underground wrestling in the dead of winter. You can view the trailer for director David Findlay's (BFA '07) sweeping short here.

Sofia Bohdanowicz (MFA '20) – Director, Point and Line to Plane (part of Short Cuts Programme 02)
Award-winning Toronto filmmaker and recent graduate Sofia Bohdanowicz (MFA '20) explores themes of loss, remembrance, and perception in this elegant short.
Igor Drljaca (BFA '07, MFA '11) – Director, The Archivists (part of Short Cuts Programme 03)
This short film by Bosnian-Canadian film director and producer Igor Drljaca (BFA '07, MFA '11) stars Schitt's Creek actor Noah Reid, as well as Bahia Watson, and Maxwell McCabe-Lokos as three musicians who discover an old vinyl album in an abandoned home and attempt to reimagine it.
Nicolas Pereda (BFA '05, '07) – Director, Fauna
This is director Nicolás Pereda's (BFA '05, '07) ninth feature film, all of which have premiered at the Toronto International Film Festival over the years. His latest, Fauna, offers a comedic take on how violence in his home country of Mexico has infiltrated popular imagination.
Chris Romeike (MFA '13) – Cinematography, and Gordon Henderson (BA '72) – Executive producer, Inconvenient Indian
This highly anticipated documentary by director Michelle Latimer is based on Thomas King's award-winning book of the same name, which explores the cultural colonization of Indigenous peoples in North America.

Sophy Romvari (MFA '20) – Director, Still Processing (part of Short Cuts Programme 01)
Filmmaker Sophy Romvari (MFA '20) made the short film Still Processing while completing her MFA in Film and Video at York as a way to investigate the possibilities of cinema as therapy. In the short film, Romvari documents her experience of navigating through her father's unseen archive of family photographs and videos.
Are you a York alumni appearing at this year's festival? We want to hear from you. Email us at alumni@yorku.ca to let us know what you're up to.